APSU Sports Information: Austin Peay Softball

Clarksville, TN – Austin Peay State University's softball program has announced the signing of five players for its 2012-13 recruiting class.
A need to find a replacement for current three-year starting catcher Amy Mills was addressed by head coach Casey Dickson with three of the five signees owning catching experience.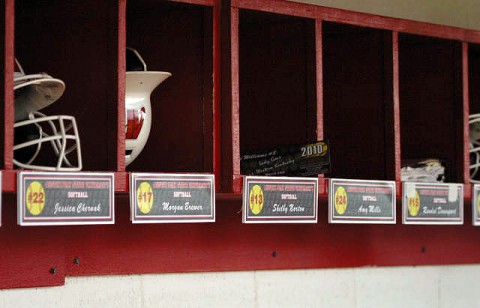 Local prep standout Courtney Brower (Rossview HS) heads the trio of incoming backstops, along with Abbie Cline (Sawyerville, IL/Gillespie HS) and Melanie (Mel) Pavel (Englewood, CO/Cherry Creek HS). They will be joined by pitcher/middle infielder Abby Guest (Madison, AL/Bob Jones HS) and third baseman Niya Sparks (Lexington, TN/Lexington HS).
"We're extremely excited to have this group of girls coming in and I think they will help enhance our current roster," Dickson said. "They can play multiple positions, as well as add to our overall team speed, power, overall hitting as well as defense."
Courtney Brower
Brower is entering her third season behind the plate for Phil Burkhart at Rossview, after playing her freshman season for Fort Campbell High School. She was named to the District 10-AAA all-district team the past two seasons, while also being named to the all-district squad three times for Fort Campbell.
As a junior, Brower hit .389 for the Lady Hawks, with 14 RBI and 25 runs scored from the leadoff spot, following a sophomore campaign where she hit .333, with 27 RBI and 19 runs scored.
As a freshman at Fort Campbell she batter .387 and was named the team's defensive MVP in 2008 and 2009.
Brower has been named to The Leaf-Chronicle all-area first team twice (2009, 2010), while earning a second-team all-area nod in 2011.
Cline has been a three-year starter for coach Michelle Smith at Gillespie High School and is heading into her senior season after batting .488, with a .838 slugging percentage in 2011.
She also totaled 11 doubles, four triples and three home runs, while driving in 22.
Cline was the team's MVP the past two seasons and is a three-time all-conference performer, including the last two in the Prairie State Conference. She named to the State Journal Register 1A/2A and Alton Telegraph Small School all-area teams and well as being selected to play in the Prairie State Conference All-Star game the past two seasons.
Abbie Cline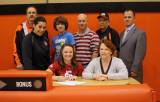 In summer ball, she played for the Midland Magic this past summer and will play for the Midland Magic Gold team in 2012.
Pavel has been a four-year letter winner for coach Whitney Platten at Cherry Creek High School and named team captain for the past two seasons.
She is coming off a senior season which saw her hit .500 overall with a .679 slugging percentage. She also recorded seven doubles, one home run and 32 RBI while scoring 30 times.
Pavel, who has also played first base, has been named first-team all-conference at both positions in her prep career, earning first-team honors at first base as a freshman and first-team catcher her sophomore and junior seasons. She also was named All-State and All-Colorado in 2011, as well as honorable mention Academic All-State in 2010 and 2011.
"Brower and Pavel are a lot like Amy (Mills) in that they are very vocal out on the field and that is something that I like for my players to be," Dickson said. "Cline could be more of a utility player, as well as catch, but it will be on the bases were she will have a huge effect on our team with here speed.
"All three are very talented and will have some big shoes to fill with Mills being a senior this season."
Guest will add depth to both the Lady Govs pitching staff and middle infield positions, having played both pitcher and second base for coach Kent Chambers at Bob Jones High School. She earned team pitching most valuable player honors the past two years.
Mel Pavel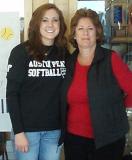 As a junior, Guest led her team to its first-ever trip to the state tournament, where they finished in fifth place. She finished the season with an earned run average of 1.69, while averaging 8.07 strikeouts per game, while authoring nine shutouts and two no-hitters.
Offensively, she finished with a .390 batting average.
As a sophomore, Guest owned 1.73 ERA while hitting .320.
She was named to the Alabama Sports Writers Association All-State honorable mention teams after her junior and sophomore seasons while being named to the Huntsville Times Elite first-team in 2010 and 2011. She also earned a spot on the North Team in the Alabama North-South All-Star game following her junior campaign.
During her travel ball season, Guest plays for the Huntsville Sparks '93.
"As a pitcher, as has good speed and movement on her pitches and comes from a good high school program that has had some success, as well as a strong summer travel ball team," Dickson said. "She also plays in the infield and hits well and that is something that I always try to bring in is pitchers that can also hit the ball and Abby fits that mold of a pitcher that can hit."
Abby Guest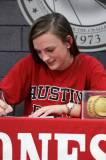 Sparks has been a three-year starter and letter winner at Lexington High School under coach Ronnie Burk, having been a part of two trips to the TSSAA state tournament, including a 2011 runner-up finish. As a junior, Sparks batted .398, with seven home runs and 37 RBI and will enter her senior season already the school's all-time home run leader with 27.
Three times she has earned first-team all-district–regular season and tournament as well as being named first-team All-West Tennessee following her freshman and junior seasons. Sparks also plays basketball, where she earned all-district and all-tournament honors.
"Niya is a Tennessee girl and was being recruited heavily by Tennessee-Martin and Tennessee State and we're glad she chose to come here," Dickson said. "She will come in and help with her power at the plate, as well as her overall hitting. Niya has a chance to big a big part of the middle of or lineup offensively and defensively."
2012-13 Austin Peay Softball Incoming Class
Courtney Brower, C, 5-4, Clarksville, TN. (Rossview HS)
Abbie Cine, C, 5-2, Sawyerville, IL. (Gillespie HS)
Abby Guest, P/2B, 5-7, Madison, AL. (Bob Jones HS)
Niya Sparks, 3B, 5-7, Lexington, TN. (Lexington HS)
Mel Pavel, C/1B, 5-8, Englewood, CO. (Cherry Creek HS)