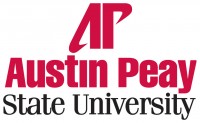 Clarksville, TN – Several faculty and staff members as well as some students at Austin Peay State University announce their recent professional and scholarly activities.
Dr. Tristan Denley, provost and vice president of academic affairs, was interviewed for a story in the December 11th, 2011, issue of The Chronicle of Higher Education about how educational data mining to customize student experiences and selections. His expertise in developing software that recommends courses based on a student's major, academic record and other factors also was noted in the article.
Dr. Brian Johnson, assistant vice president of academic affairs, will be the keynote speaker for a seminar on January 13th at Fort Campbell, KY, to commemorate the Dr. Martin Luther King Jr. holiday. His presentation will be about the societal challenge and necessity of diversity, blending with his expertise on W.E.B. Du Bois' philosophical perspectives on diversity.
Brianna Lombardozzi, coordinator of fraternity and sorority affairs, and Victor Felts, director of Student Life and Leadership, were recognized at the regional meeting of the Association for Fraternity and Sorority Affairs (AFA) held December 2nd, 2011, in St. Louis, MO. They were honored for their continued membership in AFA – Lombardozzi for five years and Felts for 20 years.
Darren Michael, professor of acting and directing and coordinator of the APSU Area of Theatre and Dance, had his 10-minute play, titled "A Widow Safe and Secure," selected for reading at the Ten Minute Playhouse event in May at the Darkhorse Theater in November 2011. His other play, "Willie Nelson Ain't Dead," also was produced for a two-day run at the fall series. He also returned to his alma mater, Ouachita Baptist University in Arkadelphia, AR, to speak to current directing students working in the field as part of the institution's 125-year anniversary.
Margaret Rennerfeldt, assistant professor of dance, presented two sessions at the Tennessee Association of Dance conference held in October 2011 in Chattanooga.
Dr. Melony Shemberger, assistant director of communication, graduated December 17th, 2011, from Tennessee State University in Nashville with a Doctor of Education degree. She successfully defended her dissertation, titled "The Presence of Sunshine Laws in Journalism Curriculum: Qualitative Insights," in October 2011.
Dr. Stephen A. Truhon, associate professor of psychology, and graduate student Lisa Casey presented a paper, titled "An Application of Generalizability to the DEOCS," at the DEOMI Eighth Biennial Research Symposium held recently at Patrick Air Force Base, FL.