Austin Peay Governors at SIU Edwardsville
January 19th, 2012 | Tipoff: 7:00pm | Vadalabene Center | Edwardsville, IL

Edwardsville, IL – This is Austin Peay's first meeting with the Cougars. The Governors come in amidst a three-game winning streak to even its OVC record at 3-3. They are seeking their first league road win.
After scoring 80 points in a 15-point victory against Eastern Kentucky, the Govs ground out wins against Jacksonville State, 60-57, and Tennessee State, 69-63, the latter coming Monday night. The Govs placed four players in double figures, led by the inside duo of John Fraley (16 points) and Melvin Baker (15 points) as they combined for 11 of 19 shooting.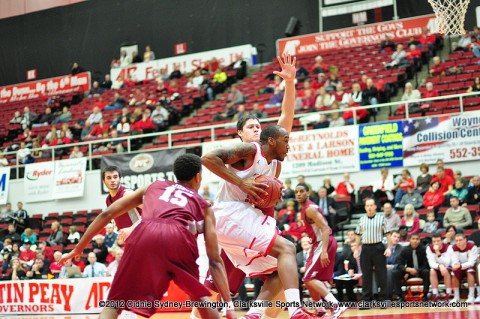 Josh Terry, after some recent struggling shooting performances, finished five-of-six from the field for 12 points while TyShwan Edmondson added 10.
The game will allow sophomore forward Will Triggs to play in his hometown while fellow Edwardsville native Anthony Campbell, who is out for the season with a knee injury, also will be making the trip.
About SIU Edwardsville
It has been a long transition for SIU Edwardsville from Division II to Division I.
SIUE joined the OVC in 2008, but this is its first season competing as a basketball member. The Cougars got off to a flying start, winning three of their first four OVC games, including an impressive 15-point home win against Tennessee Tech. They already own a road win at UT Martin. The Cougars also will host their first ESPNU telecast, Saturday, when Murray State comes to town.
The Cougars, like Austin Peay, comes in at 3-3 in the OVC, having lost two straight road games. Although SIUE is not eligible for the conference tourney, they can help determine teams that participate and seedings.
Junior 6-6 forwards Jerome Jones (13.1 ppg), who is averaging 6.4 rpg, and Mark Yelovich (12.8 ppg), lead the SIUE attack. Freshman guard Kris Davis (12.3 ppg) is one of the OVC's best three-point shooters, making 59 percent of his attempts.
Lennox Forrester, who has led SIUE in the transition to Division I, is in his fifth season as head coach.
Governors Pardon
This is Austin Peay's 80th season of basketball.
Dave Loos, APSU's all-time winningest basketball coach, also is the OVC's all-time wins leader with 357 victories. He also has 439 career coaching wins.
The Dave Aaron Arena playing floor was named Dave Loos Court, Summer 2007. Loos is believed to be one of only three current Division I men's coaches who are coaching on courts that bear their respective names–Duke's Mike Krzyzewski and Syracuse's Jim Boeheim–are the other two. Valparaiso's Homer Drew, who retired after the 2010-11 season, had the floor named after him last season.
Since 1993-94, Austin Peay has finished no worse than fifth in the OVC standings.
Austin Peay has reached at least the OVC tournament semifinals in 13 of the last 17 years.
Austin Peay has made 27 straight appearances in the OVC tournament.
What You Should Know
The Series: This is the first meeting between the new Ohio Valley Conference member SIU Edwardsville and Austin Peay. SIUE joined the OVC in 2008 and is competing for the first time as a league member, although it is not eligible for the post-season tournament.
Deeper Meanings
What A Win Would Mean: The Govs would gain their seventh 2011-12 victory… it would be the Govs' season-best fourth straight win…they would improve to 7-13…it would push the Govs above the .500 mark in the OVC at 4-3…it would make the Govs 4-1 in January…it would make the Govs 4-1 in the 2012 portion of the schedule…it would be Govs first OVC road win…it would be the Govs second road win of 2011-12…it would make Dave Loos 1-0 against SIU Edwardsville…it would make Loos 1-0 against SIU Coach Lennox Forrester…it would be Loos' 440th career coaching victory and his 358th APSU win.
What A Loss Would Mean: The Govs would fall to 6-14 on the season…APSU would slip to 3-4 in the OVC…the Govs would fall to 1-9 on the road this season…the Govs would drop to 0-3 on the road in the OVC…it would make the Govs 0-1 all-time in the series…it would be head coach Dave Loos' 357th career loss and 304th Austin Peay defeat.
Homecoming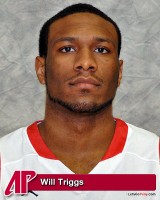 Thursday's game at SIU Edwardsville will be a homecoming for Governors Anthony Campbell and Will Triggs, both Edwardsville natives who played their high school basketball at Edwardsville.
In addition, redshirt freshman Joe Harms grew up less than 25 miles away in Belleville while 2012-13 signee Corey Arentsen is from nearby Breese, IL.
Low Ball
For a second straight game Austin Peay was able to claim victory, Monday, despite failing to break 70 points in the 69-63 decision. In the Govs' 60-57 win against Jacksonville State, Saturday, the 60 points was APSU's lowest victory point total this season, 12 lower than the 72 it in a 72-50 win versus Rochester, December 17th.
Defense Mechanisms
In the Govs' weekend sweep of Eastern Kentucky, Jacksonville State and Tennessee State, the Governors not only held each opponent below 70 points, but they only allowed the trio to shoot a combined 43.8 percent from the floor.
Shooting Rules
A game after winning for the first time this season shooting below 45 percent (43.8 vs. Jacksonville State), the Govs bounced back with only their fifth 50 percent or better shooting performance against Tennessee State. The Govs knocked down 24 of 48 shots (50 percent) against the Tigers.
Boarded
When Austin Peay was outrebounded 38-29 by Tennessee State, it was only the second time in the last eight games it was out-rebounded. In fact, that 29 rebound figure was only the third time all season long the Govs were held to less than 30 rebounds.
Inside out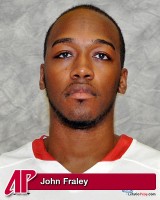 When the Governors swept the weekend set of games, the inside duo of John Fraley (16.3 ppg) and Melvin Baker (14.3 ppg) combined to average 30.6 points per game while shooting a combined 63.8 percent from the floor.
They also averaged 14 rpg, with Fraley averaging 9.0 per game.
Thin Margin For Error
In posting a 3-3 OVC record so far, the Governors are averaging 68.8 ppg compared to allowing 67.8 ppg while shooting 46.3 percent compared to the opponents' 45.2 percent. Opponents have made 21 more three pointers than the Govs while APSU has made 21 more free throws in six games.
Turnover Troubles
When Austin Peay was charged with 20 turnovers Monday against Tennessee State it not only was the most turnovers by the Govs during OVC play and the second most on the season as well–APSU had 23 against Lipscomb. In fact, before the TSU game the Govs had committed just 47 turnovers in the previous four games.
Free-Throwup-Tick
When the Govs made 17 of 26 free throws against Tennessee State, than 65.4 percent shooting was only the second time in OVC play the Govs have shot less that percent from the free-throw line. In fact, the Govs, who are shooting 67 percent overall from the line this season, are at 70.9 percent in OVC play.
Baker's Dozen
Senior forward Melvin Baker has scored in double figures in 13 of the last 14 games.
He is averaging 13.8 ppg, shooting 52.9 percent from the floor during that span while pulling down 7.1 rpg.
Heads Up
Since returning from a concussion that kept him out of nine straight games early this season, senior center John Fraley is averaging 11.4 ppg, shooting 60.6 percent, and 8.3 rpg. He is averaging 13 ppg and 9.3 rpg in six OVC games thus far.
Three Extreme
The Governors remain unranked nationally in three-point percentage as a result of needing an average of 5.0 makes per game. The Govs are averaging just 3.9 makes per game, including just four, Monday, against Tennessee State.
Dime Thrower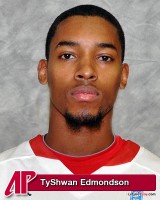 Guard TyShwan Edmondson, APSU's scoring leader (12.7 ppg), attempted a season-low five shots in game against both Eastern Kentucky and Jacksonville State and then just six against Tennessee.
However, the 6-3 senior led the Govs in assists in all three games, dishing out six against Eastern Kentucky, three more against Jacksonville State and four versus Tennessee State. Edmondson did break a four-game streak of single-digit scoring with 10 points against the Tigers.
Block Buster
Senior John Fraley blocked three shots versus Jacksonville State, giving him 108 in his career and moved him past Adrian Henning into third place all-time by himself. He now has 110.
Line-Up Shuffle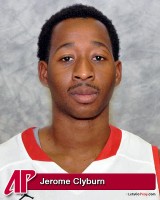 Looking for answers to recent struggles, Austin Peay used different lineups numbers eight and nine during the OVC-opening weekend at Eastern Kentucky.
At Morehead State, the Govs started Jerome Clyburn and TyShwan Edmondson in the backcourt, with Josh Terry and Melvin Baker at forward along with John Fraley at center. The Govs also used that same starting lineup since. APSU used seven different lineups for the entire 2010-11 season.
Starting Block
With Austin Peay utilizing nine different starting lineups this season only senior forward/guard Josh Terry has started all 19 games this season.
Making Most Of Opportunities
Austin Peay won for the first time this season, Saturday, against Jacksonville State where it had fewer free throw attempts (20-19) than its opponent.
Three Doors Down
The Govs' three point victory (60-57) against Jacksonville State was the 30th time in coach Dave Loss' career where his team won by that margin – the most victories by any point total. His record in threepoint games is now 30-23.
Low High
Senior Melvin Baker led the Govs with 12 points against Jacksonville State, Saturday.
Those 12 points were the fewest point total for a Govs leading scorer in a game this year.
Free Throw Perfection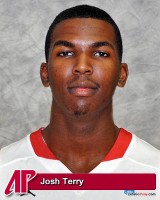 Against Jacksonville State senior Josh Terry tied his single-game best from the free-throw line, finishing six-for-six, matching his effort at Eastern Kentucky, December 27th.
An overall 65.5 percent free-throw shooter for the season, the 6-5 Terry is shooting 76.5 percent (26 of 34) during OVC play.
Herd(ie) Mentality
Freshman guard Herdie Lawrence scored eight points against Eastern Kentucky, his most offensive production since the season's second game at California when he tallied 10 points. However, Lawrence's offense was overshadowed by his defense.
In the final nine minutes, the 6-0 Lawrence, despite a height disadvantage, held EKU leading scorer Jaron Jones to just two points after the 6-5 forward scored 15 points previously. He matched that scoring output again on Saturday against  Jacksonville State, including a three pointer.
Next Game
Austin Peay Governors at Eastern Illinois Panthers
(6:00pm, Saturday, January 21st)
Govs end Illinois swing against Panthers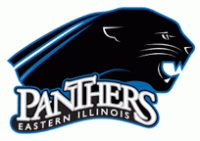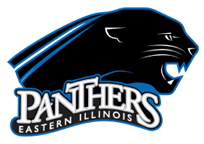 Eastern Illinois has been one of the OVC surprises in 2011-12. The Panthers are off to a 9-7 start, including 2-2 in the OVC. They are led by one of the OVC's top players in point guard Jeremy Granger, who is averaging 17 ppg and 4.3 apg.
Sophomore forward Alfonzo McKinnie is one of the league's most improved players at 11.1 ppg and 7.4 rpg. Head coach Mike Miller also has turned to someone he's familiar with–son Joey is averaging 10.4 ppg as a freshman guard. The Panthers entered the weekend having lost just one home game.