Written by Florine Hurdle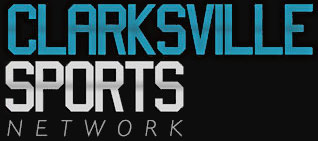 Clarksville, TN – The Kenwood High Lady Knights' offense did the dominating Friday night in their 61-40 win over the Northeast High Lady Eagles at Kenwood Gym.
Kenwood High (8-8, 7-5 10-AAA) was led by Blake Jenkines with her 28 points followed by her teammates Alanja Thomas with 16 points and Jasmine Johnson with 14 points.
Jenkines was hounded by combinations of defenses from a 2-3 zone to man-to-man as Kenwood's main offensive threat. With those different looks, Coach Andrew Johnson decided to keep Jenkines in the whole game. Coach Andrew Johnson says, "Honestly, she knows she can get a break at any time, but I want to prepare her for the next level."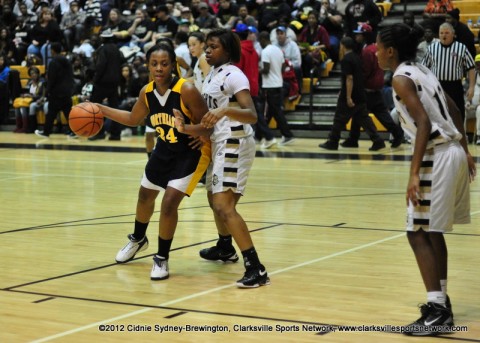 Northeast's Desiree Wilks did her best and led her team with 29 points, but it wasn't enough.
The Lady Knights' defense impeded and bogged down Northeast's offense most of the night and caused 15 turnovers.
The game remained with Kenwood High leading between eight and 11 points in the second quarter. Northeast (1-17, 1-13 10-AAA) went into halftime trailing 34-23.
Back-to-back scores by Jenkines, then a 3-pointer put the Knights ahead 36-25 with 6:03 left in the third.
Northeast got it back down to 41-31 on Wilks' drive to the basket with under a minute left in the third and her going to the free throw line and making both attempts.
Northeast High helped its own cause by trying to make shot after shot but the Lady Knights answered every run with rebounding and trips to the free throw line.
Coach Tracie Mason-Blair called a time out with 5:00 left in the game and switched up defenses. "It was a 2-3 zone they were supposed to be in, but once they got a few good looks…I put them back in man-to-man," she said.
Those looks helped Kenwood outscored Northeast 15-11 in the fourth quarter.
Kenwood 61, Northeast 40
| Box Score | 1 | 2 | 3 | 4 | FINAL |
| --- | --- | --- | --- | --- | --- |
| Northeast |   14 |     7 |     8 |   11 |   —  40 |
| Kenwood |   20 |   14 |   12 |   15 |   —  61 |
Northeast 40
| Player | Points | FGs | 3pts | FTs |
| --- | --- | --- | --- | --- |
| 5 Michelle Donner | 5 | 0 | 0 | 0 |
| 12 Erecha Partis | 4 | 0 | 0 | 0 |
| 40 Ariel Watson | 2 | 0 | 0 | 0 |
| 24 Desiree Wilks | 27 | 0 | 0 | 0 |
Kenwood 61
| Player | Points | FGs | 3pts | FTs |
| --- | --- | --- | --- | --- |
| 10 Blake Jenkines | 29 | 0 | 2 | 0 |
| 4 Jasmine Johnson | 14 | 0 | 2 | 0 |
| 21 Analiese Osborne | 2 | 0 | 0 | 0 |
| 5 Alonja Thomas | 16 | 0 | 2 | 0 |