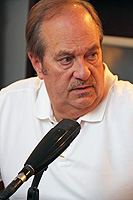 Clarksville, TN – A bankruptcy court has awarded a multimillion dollar judgement against the company hired by the City of Clarksville to build the new marina at fairgrounds park.
In a judgement signed by U.S Bankruptcy Judge Joan Lloyd, dated February 7th 2012, the court determined that Rust of Kentucky was wrongfully terminated by TMS Contracting and held them and their bonding company Fidelity and Deposit Company of Maryland, liable for 4.8 million dollars in damages.
TMS Contracting was awarded the contract to build the new marina, and TMS hired Rust of Kentucky as a sub-contractor, to do excavation and ground work at the Fairgrounds site.  Weather conditions, and soil conditions prevented Rust from doing its work, causing delays in the project.
According to Mark Rust, President of Rust of Kentucky, "TMS threatened to call our bond if we didn't complete the project, and we just couldn't do the work under the conditions that existed.  In our business, if you can't get a bond, you can't work."  Rust was eventually fired by TMS, then filed bankruptcy and sued for wrongful termination.
The judge in the case agreed, and sided with the Kentucky company.
In an exclusive interview with WJZM and Clarksville Online, Rust said the experience has been "Very unfortunate, very unusual and strange.  We were made out to be the bad guy in this deal by the media and everybody connected to the project, when in reality, we never abandoned the project, we just never could work in those conditions, and they (TMS) knew it.  Somebody wanted us gone." Rust said.
When contacted about this story, TMS Contracting President Thom Spigner said he was "not able to comment at this time," but would have plenty to say when he was able to.
Clarksville city council members have been notified by the mayor's office about the judgement, and given a copy of the judges decision. We will continue to update this story as information becomes available.