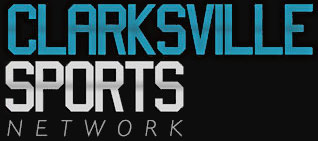 Clarksville, TN – Dying and paying taxes are two inevitable things people to have to do in their lifetime.
The equivalent of that in girls high school basketball is playing against the Clarksville High School Lady Wildcats, who are inevitably going to take control of the game and wear their opponent down much like they did a 55-34 victory Saturday over Brentwood High School at their William Workman Gym.
"That comes from senior leadership. They just weren't going to lose," CHS coach Brian Rush said. "That's just their mentality. They know where they want to be and they have lived up to their expectations."
And almost as certain as death and paying taxes are it is the same for Clarksville High in making its third straight appearance in the Class AAA State Tournament, which gets started Wednesday at 4:00pm in Middle Tennessee State's Murphy Center.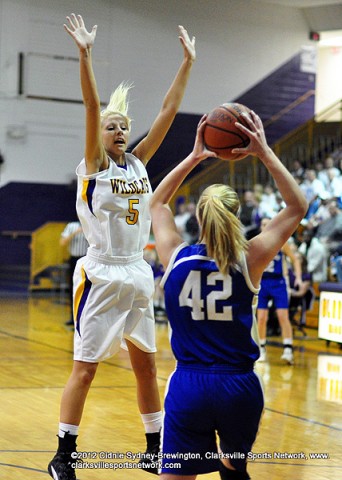 "It's very exciting to be going to state for a third straight time," CHS forward Tia Nicholson said.  "We want to win it so badly. We just have to go and play our game. It's going to be a lot of fun and we have to enjoy this while we can, but we want to go there and win it."
Clarksville High (36-0) will find out their draw when the bracket is unveiled live online at www.tssaa.org at 2:00pm Sunday from the Embassy Suites Hotel and Conference Center in Murfreesboro.
"Whomever we play we just have to be focused and be ready to play them," CHS guard Tiasha Gray said of the draw.
Brentwood (25-6) ends its season as the Region 6-AAA runners up after finishing third in the District 9-AAA Tournament.
Clarksville High was led by Bashaara Graves' 21 points and Jessy Ward's 16. Nicholson chipped in nine points, Gray had five points and Chandler Cooper four.
Halle Jarnagin was Brentwood's top scorer with 12 points. No one else finished in double figures for Brentwood.
Clarksville High came out of the gates on fire as it has all season long and jumped out to a 7-0 lead with 5:53 left in the first on a Graves lay up, Ward 3-pointer and Nicholson jumper and made it 11-2 on Ward's two free throws with 4:06 to go. Brentwood got itself together and cut the lead down to 14-10 with 1:01 left on Millie Tunnel's jumper. But Gray made it the 16-10 score at the end of the first with a steal and lay up with 10.4 seconds left.
The Lady Wildcats really got things going in the second quarter. After a Brentwood free throw by Jarnagin with 4:39 left, Clarksville High scored the next nine points and took a 27-11 advantage with 47.6 seconds left in the first on two free throws by Cooper. Jarnagin made it the 29-15 halftime score with a lay up at the buzzer.
Clarksville High led by 19 points twice in the third, on a Gray 3 that made it 34-15 with 6:13 to go and on Graves' jumper that extended the lead to 41-22 with 1:15 left.
Graves gave the Lady Wildcats their first lead over 20 points, 48-27, with 3:40 to play on a lay up. Brentwood got it down to 48-30 on the next basket, a score by Paige Parker with 2:23 left. But Clarksville High outscored Brentwood 7-4 the rest of the way. Brentwood's Jessi Boozer made it the final with her lay up with 22.4 seconds left.
Box Score
Clarksville High 55, Brentwood 34
| Box Score | 1 | 2 | 3 | 4 | FINAL |
| --- | --- | --- | --- | --- | --- |
| Brentwood | 10 | 5 | 7 | 12 | — 34 |
| Clarksville High | 16 | 13 | 12 | 14 | — 55 |
Brentwood 34
| Player | Points | FGs | 3pts | FTs |
| --- | --- | --- | --- | --- |
| Jessie Boozer | 2 | 0 | 0 | 0 |
| Halle Jarnagin | 12 | 0 | 1 | 0 |
| Hannah-Catherine Lackey | 4 | 0 | 0 | 0 |
| Sydney McCarty | 2 | 0 | 0 | 0 |
| Paige Parker | 5 | 0 | 1 | 0 |
| Olivia Shealy | 5 | 0 | 1 | 0 |
| Millie Tunnell | 4 | 0 | 0 | 0 |
Clarksville High 55
| Player | Points | FGs | 3pts | FTs |
| --- | --- | --- | --- | --- |
| Chandler Cooper | 4 | 0 | 0 | 0 |
| Bashaara Graves | 21 | 0 | 0 | 0 |
| Tiasha Gray | 5 | 0 | 1 | 0 |
| Tia Nicholson | 9 | 0 | 0 | 0 |
| Jessy Ward | 16 | 0 | 4 | 0 |