Story by Spc. Michael Vanpool
101st Sustainment Brigade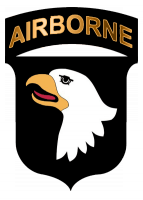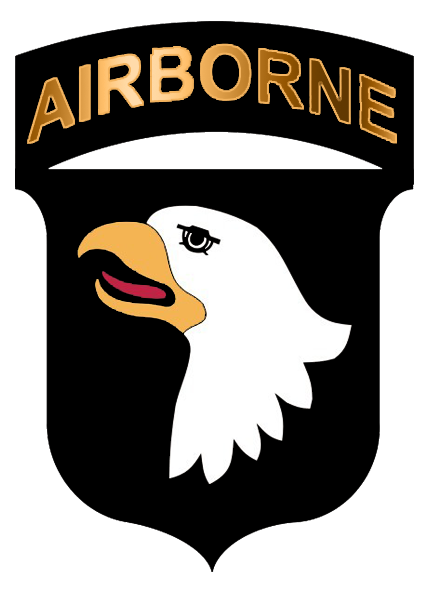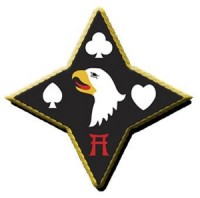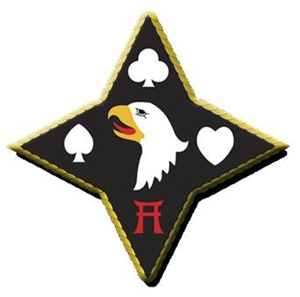 Fort Campbell, KY – A trip to the Department of Motor Vehicles this to get a driver's license this past December resulted in a Fort Campbell soldier getting more than he bargained for.
Bob was recently awarded an Impact Army Achievement Medal for helping save the lives of three children trapped in a minivan as it caught on fire.
The soldier, a cargo specialist with the 372nd Inland Cargo Transfer Company, 129th Combat Sustainment Support Battalion, 101st Sustainment Brigade, received the medal, March 9th, for his heroic actions.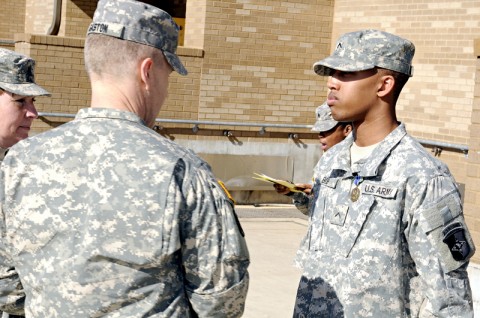 The incident happened, December 8th, 2011, as Bob was standing outside in line with his wife and daughter at the Clarksville DMV waiting to take his test to obtain a driver's license when he said he heard the children screaming.
"There were a bunch of kids screaming," he said. "In my mind I thought they were playing like in a backyard or something. Then the screams started getting louder."
According to Bob, a representative from the DMV came outside to check on everyone's reasons for being there, making sure they had the right paperwork, and so forth.
After the rep talked with Bob, a woman standing behind him said, "That car is on fire."
According to Bob, a minivan was on fire across the street.  "I didn't believe it at first," he said, "because if the car was on fire, then why was nobody running over there."
In a split second, he realized what needed to be done. Bob ran across the street to pull three children from the back seats and to safety.
"I ended up throwing my phone and study papers on the ground and ran over there to see what was going on," he said.
Bob said he was nearly hit by a truck running across the street in the process, causing him to drop his phone.
"It got run over," Bob said. "I didn't care about my phone, I wanted to make sure the kids were alright."
When he was close enough to the van, he saw their faces, three kids, all under 10-years-old. He said they were scared and confused.
"They didn't know what to do," Bob said. "They had their seatbelts off, so I just grabbed them all by the arms and pulled them out the car."
He took them away from the flaming minivan and talked with them to calm them down. He asked them simple questions about school and what they did for fun to keep their minds off the wreckage they were just in. Bob stayed with them until the fire trucks and police arrived.
Once he was sure the kids were in good hands, he walked inside the DMV to take his test.
He passed the test. "The instructor told me I could get six wrong, and I got exactly six wrong," Bob said.
What he did before the test were lost in his mind. Bob said it came as second nature, if his wife and two-year-old daughter were in that situation he would want someone to step up and help them.
Before Bob reported back to his unit, someone had called his rear-detachment commander, Staff Sgt. Lovie Moore, to tell her what Bob had done.
"A captain called me and basically told me that Bob needed to be submitted for an award," said Moore, now the operations sergeant for the 372nd ICTC. "Out of 20 or 30 people, he and Pvt. Bob where the only people that got out of line to help the lady and her kids."
As Bob walked back into the 372nd offices, Moore decided to joke around with him a little.
"I asked him, 'What happened at the DMV, and he was like, 'I didn't do anything, sergeant,' Moore said.
"I told him again, 'Really, Bob?! You didn't do anything at the DMV?' I guess it didn't dawn on him," Moore said. "So I asked him about the van that caught on fire. He was like, 'I thought I was in trouble!'"
After they laughed it off, Moore went to work on an award for Bob to recognize his actions that day, doing something that not a lot of people would do.
Moore said that this not only demonstrates other soldiers what to do, but it also shows the community what the Army stands for.
"We don't always think about ourselves," she said, "but we do think about other people."