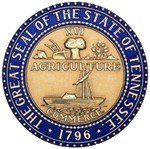 Nashville, TN – Tennessee State Representative Curtis Johnson (R-Clarksville) passed a resolution on the House floor late last week commending the staff at the Fort Campbell Warrior Transition Battalion (WTB) for their meritorious service to our troops. House Joint Resolution 711 enjoyed the full support of the House and has been signed by Governor Haslam.
The Warrior Transition Battalion staff is tasked with supporting more than 800 troops who are in transition after returning from missions overseas. Representative Johnson applauded the important work they do, emphasizing the range of care provided by the battalion.
"There is no doubt that Tennesseans have a heart of service," said Representative Johnson. "Standing on the floor of the House with these heroes, who assist those troops coming home with medical care, risk mitigation, and a comprehensive transition, was an honor of the highest order. I appreciate their service, and I join my colleagues in thanking them for the often difficult job they perform. This was a great opportunity for the veterans currently serving in the legislature to connect with these brave warriors."
Also on hand for the ceremony was Many-Bears Grinder, Commissioner of Veterans Affairs for the State of Tennessee.
Video