APSU Sports: Austin Peay Men's Tennis

Murfreesboro, TN – Austin Peay State University men's tennis split matches, Sunday, at MTSU's Sun Belt Shootout, falling to Troy, 4-3, in the morning and winning an afternoon match with Southern Illinois, 4-0.

The Shootout was designed to emulate a conference tournament, while also allowing teams to play a full consolation bracket. Also unlike conference tournament play, each match started with singles play and used doubles – as one decision – in the event of a singles tie.

Singles first worked to the Govs advantage in the afternoon, as they won four of six singles matches to shut out Southern Illinois.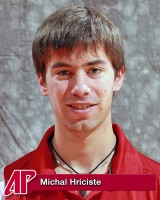 Depth worked to the Govs advantage as it was freshman Michal Hriciste winning the deciding match in a tiebreak at No. 6 singles. Austin Peay also picked up straight-set wins from Aleksas Tverijonas at No. 4, Dimitar Ristovski  at No. 3 and Jasmin Ademovic at No. 2.
"Michal really came up big for us today," head coach Malik Tabet said. "It was much hotter than we're used to and playing two matches with only about an hour break was hard on both teams. We showed some depth today and came up with a big win. It was good to see the guys rallying together all day."
For Tverijonas and Ristovski, the afternoon wins helped them complete the day without a singles loss. Sean Bailey, meanwhile also was without a singles loss as his No. 1 singles match against Southern Illinois was unfinished.

In the morning match, the Govs were tasked with a rematch against a Troy team that defeated the Govs, 5-2, March 6th.

Austin Peay and Troy split the singles matches with Tverijonas winning a three-set match at No. 4 singles. Bailey won at No. 2 singles and Ristovski won at No. 3 singles. In doubles action, the Govs win came from Ademovic and John Storie at No. 2.

"We wanted to keep the same lineup from the (March 6th) match," Tabet said. "We were on to something at No. 1 doubles, but couldn't break their serve. We are starting to really play some good tennis. Even though we only came away with one win, this weekend was encouraging in the way we played and came together. This gives us good momentum as we get back into OVC play."

After a brief respite from league play, the Govs will return to Ohio Valley Conference action this week with a trio of late-week matches. The will play at Tennessee Tech on Thursday before playing host to Tennessee State, Friday, and Jacksonville State, Saturday.
Austin Peay 4, Southern Illinois 0
Singles competition
1. BAILEY, Sean (APSU) vs. Badr Cherradi (SIU) 6-2, 5-7, 0-4, unfinished
2. ADEMOVIC, Jasmin (APSU) def. Stanislas Rodier (SIU) 6-1, 7-5
3. RISTOVSKI, Dimitar (APSU) def. Brandon Florez (SIU) 6-3, 6-4
4. TVERIJONAS, Aleksas (APSU) def. Orhan Spahic (SIU) 6-2, 6-3
5. STORIE, John (APSU) vs. Rafael Cuadrillero (SIU) 7-6 (4-0), 3-6, 1-1, unfinished
6. HRICISTE, Michal (APSU) def. Szymon Opieczonek (SIU) 6-2, 7-6 (3-0)
Troy 4, Austin Peay 3
Singles competition
1. Anas Rouchdi (TROY) def. ADEMOVIC, Jasmin (APSU) 6-2, 6-3
2. BAILEY, Sean (APSU) def. Sami Ghorbel (TROY) 6-4, 6-3
3. RISTOVSKI, Dimitar (APSU) def. Jamie Eccleton (TROY) 6-0, 6-1
4. TVERIJONAS, Aleksas (APSU) def. Patrick Eichler (TROY) 6-3, 6-7, 6-2
5. Mansingh Athare (TROY) def. STORIE, John (APSU) 6-1, 6-2
6. Tadju Davies (TROY) def. HRICISTE, Michal (APSU) 6-2, 7-5
Doubles competition
1. Sami Ghorbel/Mansingh Athare (TROY) def. BAILEY, Sean/RISTOVSKI, Dimitar (APSU) 8-4
2. ADEMOVIC, Jasmin/STORIE, John (APSU) def. Jamie Eccleton/Ture Skinner (TROY) 8-6
3. Anas Rouchdi/Patrick Eichler (TROY) def. HRICISTE, Michal/SEFFRIN, Iago (APSU) 8-6
Sections
Sports
Topics
Aleksas Tverijonas, APSU, APSU Athletics, APSU Men's Tennis, APSU Sports, APSU Tennis, Austin Peay State University, Dimitar Ristovski, Governors, Govs, Jacksonville State, Jasmin Ademovic, John Storie, Malik Tabet, Middle Tennessee State University, Murfreesboro TN, Ohio Valley Conference, OVC, Sean Bailey, Southern Illinois, Sun Belt Shootout, Tennessee State, Tennessee Tech, Troy