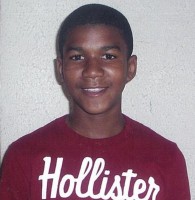 Clarksville, TN – A Black Balloon rally was held in memory of Trayvon Martin, the Florida youth who was fatally gunned down by George Zimmerman, an overzealous neighborhood watch captain. The rally was held outdoors in the free speech area at Austin Peay State University's (APSU), Morgan University Student Center.
The Black Balloon theme was the idea of Lelann Evans and several other APSU students and was suppose to include a moment on the agenda when everyone present would be given a balloon, and then let it go so that it would continue to fly upwards to heaven so that Trayvon Martin would know that he and his family were in the attendees hearts and prayers.
However, after concerns were raised that releasing the hundreds of balloons into the air would be pollution, and hurt our environment; it was decided that each person would instead be given a black ribbon to wear to show their support. Afterwards everyone would form a giant circle for a monument of silence and prayer.
The memorial rally was opened up with a welcome from Lelann Evans the APSU student who organized the event. He told Trayvon Martin's story including how his death came about. Before the rally index cards that had been passed around campus and students were asked to write down anything they wish to say about this tragic situation. Their comments were then read to the attendees. The comments ranged from: We love you Trayvon and family; Rest in peace Trayvon; to justice is coming soon Trayvon; etc.
This was followed by playing the 911 call that was made by George Zimmerman on that tragic night, and another 911 call made by a concerned citizen who had heard the screams for help which were then followed by gun shots. Many in attendance including myself were brought to tears as you heard the young voice calling out several times for help, followed by a gunshot. Then one last scream filled with pain, and then silence.
Several speakers came to the podium to talk about Trayvon's death, and to give their opinions on what happened that night. They called upon the powers that be to arrest George Zimmerman and let the courts decide, but at least make an arrest!
The main speaker at the memorial rally was Mrs. Wanda McMoore, an APSU alumnus, and current regent's student. Some of the topics she touched upon included how disappointed she was with the venom that was spewing forth from bloggers and some of the media demonizing Trayvon Martin who was dead and thus not able to defend himself.
She reiterated the fact that from all reports, Trayvon Martin was simply walking home from the store in the rain and so had a hoodie up to keep his head dry. She then stressed the rule that we are all taught as children, to be careful of strangers and especially when they approach you.
Based on the 911 call, this fact is important because she challenged those in attendance to put themselves in Trayvon Martin's mindset and to walk a mile in his shoes, a boy who was still a child with a stranger following you in the middle of the night and worrying about whatever ill-intent that this stranger might have towards you.
The call for an arrest then allowing Lady Justice to sit in judgment, was again brought up by Mrs. McMoore to the heavy applauses from all in attendance. Mrs. McMoore made the point to bring with her a can of ice tea and skittles to demonstrate for the audience what was found in the pockets of Trayvon Martin when the police arrived on the scene and found him dead. George Zimmerman followed Trayvon Martin who for all accounts was simply minding his own business. Zimmerman was the person who brought a gun, and was the one who used it with deadly force on that tragic evening.
I challenge each of you to think of what would have been going through your mind, as you walked home from the store, in the rain and a unknown man began to follow you. I am pretty sure that each of you, knowing that all you had to defend yourself with was a can of iced tea and a bag of skittles, would have been wondering how could you protect yourself when this strange man came up to you in the dark of night, in the rain, and then began a confrontation with you. It was Trayvon Martin, not George Zimmerman, who had the right to stand his ground that night.
Photo Gallery
Wanda McMoore's Speech
Here is the full text of Mrs. McMoore's speech on Trayvon Martin given at Austin Peay State University
Good afternoon everyone, my name is Wanda McMoore; I am an APSU alumnus, a wife and a mother. I actually wrote this little speech several days ago after reading an update on Trayvon Martin's murder. At the end of that short, update in the online newspaper, although I normally resist the temptation because I don't like to read the negativity that usually gets posted there, regardless of the subject, in Trayvon's case I was compelled on this day to see what venom was spewing forth from the bloggers.

I actually was surprised to see that there was a fair share of postings that possessed a higher degree of civility. So because of that civility, I stopped what I was doing at that moment and wrote these words down, at first, it was to send to the editor, then just to get it off of my chest and onto paper, and now, I bring my feelings and thoughts of that day to each of you.

As you all know, Trayvon Martin, a teenager, a mere child, was violently shot and killed by George Zimmerman, a professed neighborhood watch captain on February 26, 2012 as Trayvon was returning from the store. Trayvon Martin was walking home and speaking to his girlfriend on his cell phone, unaware that he was being profiled as a suspicious character. As we all continue to watch and listen as this saga continues to unfold, there are a few things that I challenge each of you to keep in mind, because each of you have the potential to be an influential aspect of several other peoples' lives and opinions on this matter.

First of all, what matters most is the fact that you must go back to the initial reports on this case to remember the relevant points that have been made public to date. The most important of these relevant points is that George Zimmerman called 911 to report a so-called suspicious person, NOT, a person in the act of committing any type of crime. Next relevant point is the fact that the 911 operator told George Zimmerman not to follow this person. Then as Zimmerman continued to follow Trayvon Martin, he set himself up for a confrontation with someone who, probably was suddenly put on edge and wondering why he was being followed at night, by a strange male figure. So the relevant fact remains that Zimmerman created a situation by continuing to follow Trayvon.

Upon his initial arrival to the Stanton police station, video clearly shows that Zimmerman does not have any injury to the back of his head, or to his face, and no indication of a broken nose, there was no indication of blood of any amount on his shirt, face, back of his head or his or on his jacket which is clearly seen in the video. Nor is there any other indication of a struggle, such as wet grass on his clothes. Finally, let's not forget that George Zimmerman is the only one saying that he was retreating when Trayvon started to follow him and attacked him. How convenient an alibi considering this child, is now dead, and will never be able to tell his side of the story.

If it were me, walking home in the rain with my hood on, (which is what the average person does in the rain, even though we end up soaked anyway), as soon as I felt I was being followed I would be wondering what kind of pervert was following me and what type of harm he might be planning. So, Zimmerman created an avoidable situation that has resulted in the death of a CHILD. So, in spite of what spin the media tries to place on all of this, including trying to demoralize this CHILD's reputation.

I challenge each of you to think of what would have been going through your mind, as you walked home from the store, in the rain and a male figure began to follow you. I am pretty sure that each of you, knowing that all you had to defend yourself with was a can of iced tea and a bag of skittles, would have been trying to think of what to do to protect yourself if this strange, unknown, male figure came up to you in the dark, in the rain and started a confrontation with you. So, put aside race, from every angle and place yourself in that hood on a rainy, evening and think of how an unknown pursuer would have made you react.

So, I challenge each of you to let go of any subconscious prejudices, you may have and put yourself into Trayvon's Hoodie, picture yourself, walking home, from the store talking to a loved one on the phone, and then being approached by an unknown male from behind, and remember, the man following you is an adult, you at this moment are just a kid, with a bag of skittles and a can of iced tea.

George Zimmerman's action, of assuming someone was suspicious just because the person was wearing a hoodie, and the outcome of his actions, the violent shooting death of an unarmed child, are exactly why this type of incident gives any degree of self-defense laws a bad name.

I'm just saying……….