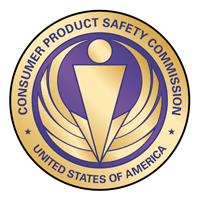 Washington, D.C. – Spring has sprung. Warm weather means kids are playing outside and families are firing up their grills and working on the lawn.
Before you use spring-related products this season, check to see if they have been recalled. It could save your family's lives.
You can find out more about these product recalls at www.cpsc.gov.
Recalled Recreational and Home Products

Product

Recall Press Release

Hazard

Photo

Adventure Playsets
(240,000 units)
11-262

The wood in the posts of the fort sections on the swing sets can weaken due to rotting, posing a fall hazard.

Pacific Cycle Dartmouth Swing Sets
(5,500 units)
11-313

The sling-style swing seats can crack or split prematurely, posing a fall hazard to consumers.

Slalom Glider
(900 units)
12-109

The Slalom Glider is a playground slide that lacks a transition platform on the top and sides on the chute. Children can fall when moving from the ladder to the slide and when descending the chute.

Uni-O Portable LP Gas Grills
(4,530 units)
12-077

The regulator on the grill can leak gas, which can ignite, posing a fire and burn hazard to consumers.

Westinghouse Ceiling Fans
(7,000 units)
12-135

The two 60-watt light bulbs included with the ceiling fans exceed the fan's maximum wattage, which can cause the ceiling fans to overheat or fail. This poses fire and shock hazards to consumers.

Pourable Gel Fuel
(2.5 million bottles)
11-255
11-336
11-337
11-338
11-339
11-340
11-344
11-346
12-002
12-007
12-020

The pourable gel fuel can ignite unexpectedly and splatter onto people and objects nearby when it is poured into a firepot that is still burning. This hazard can occur if the consumer does not see the flame or is not aware that the firepot is still ignited. Gel fuel that splatters and ignites can pose fire and burn risks to consumers that can be fatal.

Kiddieland Toys Fairies Plastic Racing Trikes
(12,000 units)
12-029

The plastic fairy figures protrude from the top of the handle bar, posing a laceration hazard if a child falls on them.

Build-A-Bear Swimwear Set With Inflatable Inner Tube
(19,720 units)
12-041

The inner tube accessory can be pulled over a small child's head, posing a strangulation hazard.

American Honda Grass Trimmers
(14,000 units)
12-121

The shaft can crack and cause the lower gear case and cutting attachment to detach, posing a laceration hazard to the operator and bystanders.
—
The U.S. Consumer Product Safety Commission (CPSC) is still interested in receiving incident or injury reports that are either directly related to this product recall or involve a different hazard with the same product. Please tell us about your experience with the product on SaferProducts.gov
About the U.S. Consumer Product Safety Commission
CPSC is charged with protecting the public from unreasonable risks of injury or death associated with the use of the thousands of consumer products under the agency's jurisdiction. Deaths, injuries, and property damage from consumer product incidents cost the nation more than $900 billion annually. CPSC is committed to protecting consumers and families from products that pose a fire, electrical, chemical, or mechanical hazard. CPSC's work to ensure the safety of consumer products – such as toys, cribs, power tools, cigarette lighters, and household chemicals – contributed to a decline in the rate of deaths and injuries associated with consumer products over the past 30 years.
Under federal law, it is illegal to attempt to sell or resell this or any other recalled product.
To report a dangerous product or a product-related injury, go online to: SaferProducts.gov, call CPSC's Hotline at 800.638.2772 or teletypewriter at 301.595.7054 for the hearing and speech impaired. Consumers can obtain this news release and product safety information at www.cpsc.gov. To join a free e-mail subscription list, please go to www.cpsc.gov/cpsclist.aspx.