Clarksville, TN – On Friday, May 18th, 2012, most of Liberty Park will be open for public use.
"We are thrilled that the day is here when we can allow the public to use most of these incredible facilities. The boat ramps have seen significant use already as has the marina basin. Now, more of the park will be available for fishing, walking, picnicking and all kinds of outdoor fun," said Clarksville Mayor Kim McMillan.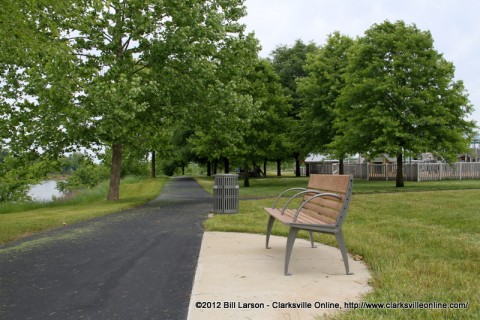 In addition to the boat ramps, the 10 acre fishing pond, 2 ½ miles of walking trail, the smaller pavilions, the playground area, the Bark Park, and the picnic areas will all be open for use. The Wilma Rudolph Pavilion, the pavilion at Freedom Point and the sports fields will not be open until later in the summer. These areas, as well as the slips and dock at the marina, are still under construction.
"We are asking the public to respect the boundaries for the work that is continuing. It's important for safety purposes but we also want to make sure that the workers on the site can continue to make progress to complete the facilities," said the Mayor. "I also want to remind everyone that the marina and docks are open 24 hours a day but the other sections of the park, including the fishing pond and Bark Park, will be open until dusk."