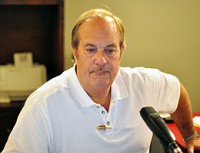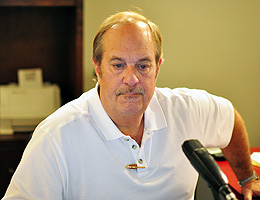 Clarksville, TN – Tim Ghianni was one of the most popular reporters for the Leaf-Chronicle, almost from the day he started in 1974.  Our careers got started at about the same time, he at the paper, me at the radio station.
We would have occasion to run into each other from time to time, but back in the day, the news business was very competitive, and we weren't supposed to "fraternize with the enemy."
Tim was a soft spoken guy who, as he told me this week, "always wanted to be a newspaper man."  Now, with the release of his collaboration with fellow "news brother" Rob Dollar, "When Newspapers Mattered" tells the story of the newspaper business and how two tragedies gripped a community, caused great grief in the newsroom, and how this fraternity of journalists came together to help deal with reporting the news, when the news was bad.
Kathy Nishiyama and Rodney Long never knew each other, but their murders paralyzed Clarksville. Long was a football player at Austin Peay State University, and Nishiyama, a 16 year old Northwest High School student. Long went missing February 11th, 1982 and his body was found February 28th, 1982 in a field near where Exit 1 is located. Nishiyama was kidnapped in November 1981, and her body was found the next day after the discovery of Long.
I covered those stories, and it was brutal. Clarksville was in a serious state of anxiety and concern. "Nothing like that ever happens here" was what everybody was saying.
"When Newspapers Mattered" chronicles how Tim and Rob dealt with the tragedy and the responsibility of reporting such an important story.  They "decompressed" by banding together with some of their fellow journalists, including the late Scott Shelton of WJZM, and formed "the News Brothers." Together they poured themselves into outside projects to take their minds off of the reality of those two murders.
The book details the mood in the Leaf-Chronicle newsroom, the mood of our community at the time,  and chronicles the lives of some of the men and women who were involved.
"I think the book is more nostalgic than it is an opinion of what newspapers have become today, Ghianni said.  Corporate greed has changed the model of what newspapers are today.  I don't fault anyone who is wealthy, but the pursuit of the almighty dollar has changed everything at the newspaper.  The people are important, and I miss that."
You can hear my interview with Tim Ghianni at www.wjzm.com.  Visit the podcast archives at "Clarksville in Review.