Clarksville, TN – On June 10th, 2012, around 7:00pm, Clarksville Police responded to the area of Golf Club Lane in reference to a shooting which already occurred.
When Police arrived, they found Harley Daniel Bronaugh, 20,who had sustained a gunshot wound to his left side. He told Police, Qwentin (no last name) had shot him. He was taken by Lifeflight to Vanderbilt University Medical Center, underwent surgery, and is in stable condition.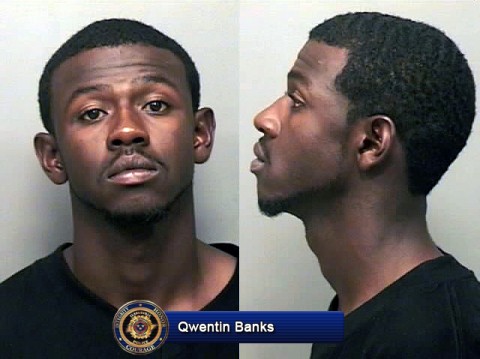 An investigation by Detective Dave Bramel revealed that on June 10th, around 6:40pm, the victim, Harley Bronaugh arrived at Alma Lane to meet with the suspect, Qwentin Banks to buy an unknown amount of Roxicodone pills.
At some point, during the transaction they got into a verbal argument. Bronaugh was sitting in the driver's seat of a vehicle and Banks was standing outside of the vehicle; there were other people inside of the vehicle.
The argument heated up and Banks fired one shot from a .380 caliber handgun, into the vehicle striking Bronaugh under his arm on the left side of the body. According to a witness, as Banks ran from the vehicle, he threw the handgun in a wooded area off of Alma Lane. A warrant for Aggravated Assault was taken out for Banks.
Around 8:30am this morning, Qwentin Lamar Banks came to Police Headquarters and surrendered himself.
The lead investigator if Detective Dave Bramel, 931.645.8477.
Qwentin Banks
Name: Qwentin Lamar Banks (B/M)
DOB: 11/26/90
Given Address: 421 Alma Lane, Apt. B, Clarksville, TN
Arresting Officer: David Bramel
Charged With: Aggravated Assault
Booked Into: Montgomery County Jail
Bond: $15,000.