Nashville, TN – As if the welcoming aroma of the freshly brewed coffee weren't enough to entice your senses, local coffee houses around the country have added another weapon to their culinary arsenal, the pastry display case.
Soft, delicate pastries line up inside the shiny, glass case beckoning coffee house patrons to choose the perfect treat to compliment their coffee. Although this is a luxury we allow ourselves every now and then – or maybe daily – these delectable treats get a little pricey by the dozen.
In the time of high gas prices and escalating food costs, there is certainly no reason to give up your special pastry, muffin or scone completely, but wouldn't it be nice to have the tools to make these and other favorites at home?
"Many people don't realize how simple and inexpensive some of these treats are to make," explained Martha White® baking expert Linda Carman. "Most of us probably have many of the ingredients right in our kitchens already. But don't be surprised when your friends and family start making special requests for your signature coffee house delicacies."
Invite family over on Sunday morning and turn your house into the local coffee joint by brewing some fresh coffee and offering Cinnamon Sugar Pastries to your guests as you relax and welcome the day. Reminiscent of those little cinnamon sugar sprinkled pastries your grandmother made with leftover pie dough, these will bring back sweet memories and rave reviews.
Perhaps you could make Lemon Blueberry Cream Cake – a moist dense pound cake studded with fresh blueberries – to serve up after a dinner party. Pair the cake with a strong cup of decaf from your French press and you'll have your friends believing they've been whisked away to a bistro in Paris. And surprise your neighbor with a steaming cup of coffee and a Loaded Bran Muffin abounding with healthy bran, dried fruit and nuts.
Here are some great recipes that will be the perfect accompaniment to your coffee or tea, when you have some time to linger over a cup and enjoy a sweet.
Cinnamon Sugar Pastries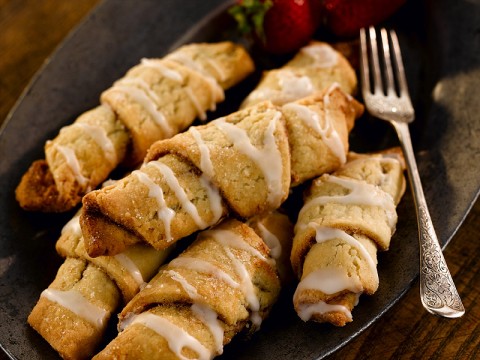 Pastry
1 (3 oz.) pkg. cream cheese, softened
1/2 cup butter or margarine
1 1/2 cups Martha White® All-Purpose Flour
1/2 teaspoon salt
Filling
2 tablespoons butter or margarine, melted
1/4 cup sugar
1 teaspoon cinnamon
Sugar to sprinkle over top
Glaze
1 cup powdered sugar
2 tablespoons milk
1/2 teaspoon vanilla
Directions
Heat oven to 375° F. For easy clean-up, cover baking sheet with foil or parchment paper; spray with no-stick cooking spray.
Combine cream cheese and 1/2 cup butter in large bowl; beat until smooth. Add flour; blend well. Form into a smooth ball; flatten to a disk about 1-inch thick. If dough is too soft to handle easily, wrap with plastic wrap and refrigerate 20 to 30 minutes.
Roll out dough on floured surface into a 12-inch round. Brush with 2 tablespoons butter. Combine sugar and cinnamon; sprinkle over butter. With floured pastry wheel, pizza cutter or sharp knife cut into 8 or 12 wedges. Roll up dough, beginning with side opposite point. Place on prepared baking sheet with points underneath. (Pastry shape will be similar to a straight croissant, but will not puff as it bakes.)
Bake at 375° F. for 20 to 25 minutes or until golden brown. Remove from pan to wire rack with metal spatula. Cool. Combine glaze ingredients in small bowl; stir until smooth. Drizzle over pastries.
8 large or 12 small pastries
Loaded Honey Bran Muffins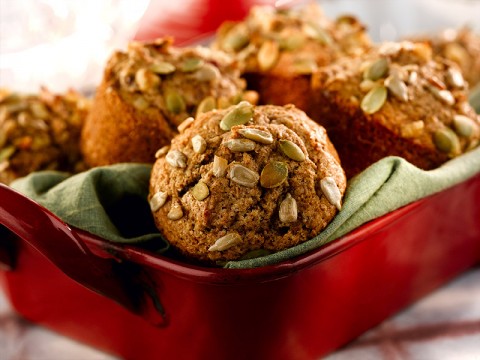 2 (7.4 oz.) pkg. Martha White® Honey Bran Muffin Mix
2 tablespoons wheat germ
1/2 cup walnuts
1/2 cup raisins, sweetened dried cranberries and/or sweetened dried dates
1/4 cup sunflower seeds
1 1/3 cups milk
Sunflower seeds, pumpkin seeds and/or walnuts, optional
Directions
Heat oven to 425° F. Spray 12 muffin cups with no-stick cooking spray. Combine muffin mix, wheat germ, 1/2 cup walnuts, raisins, 1/4 cup sunflower seeds and milk in large bowl; stir just until blended. Fill muffin cups 2/3 full. Sprinkle with seeds and/or nuts, if desired.
Bake at 425° F. for 14 to 17 minutes or until golden brown. Cool in pan 2 to 3 minutes.
12 muffins
Lemon Blueberry Cream Cake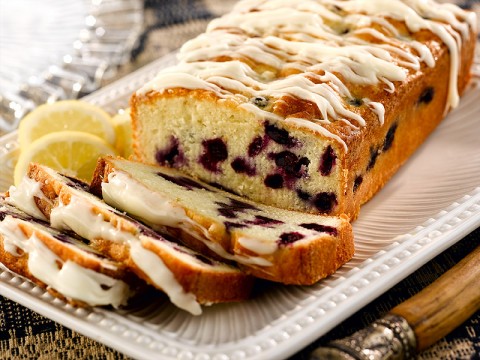 Cake
1/2 cup butter, softened
1 1/4 cups sugar
3 eggs
1 teaspoon vanilla
2 teaspoons grated lemon peel
1 1/2 cups Martha White® All-Purpose Flour
1/4 teaspoon salt
1/2 cup heavy whipping cream
1 1/2 cups fresh blueberries
Glaze
1 cup powdered sugar
2 tablespoons butter, melted
1 tablespoons lemon juice
Directions
Do not preheat oven. Grease and flour a 9×5-inch loaf pan. Combine 1/2 cup butter and sugar in large bowl; beat until light and fluffy. Add eggs one at a time, beating well after each addition. Blend in vanilla and lemon peel. Whisk together flour and salt. Add half to creamed mixture; blend. Blend in cream; then blend in remaining flour mixture.
To better distribute blueberries, spoon about a third of the batter into pan. Fold blueberries into remaining batter; spoon over batter in pan. Place in cold oven. Turn oven to 325° F. Bake 1 hour and 10 minutes or until toothpick inserted in center comes out clean. Cool in pan 10 minutes. Turn out onto wire rack and cool completely.
Combine glaze ingredients in small bowl; blend until smooth. Spoon over cake.
1 (16 slice) loaf cake
---
©/® The J.M. Smucker Company.
FiveStar® Professional Cooking Equipment is a registered trademark of Brown Stove Works, Inc.
Lodge® is a registered trademark of the Lodge Manufacturing Company.