Clarksville, TN – On September 14th, 2012 around 7:45pm, Clarksville Police Officers were called to 1121 Riverwood Place in reference to a 7 year old male child found walking in the apartment complex parking lot without adult supervision.
The child did not know which apartment was his residence. Neighbors were able to tell officers where the child lived.
When officers went to the apartment, they found the door unlocked and made entry into the apartment.  There were no adults inside, but there was an infant found in a back bedroom asleep.

Around 9:20pm, the mother, Jennifer Waller, returned to the residence and told officers she had went to the store. The father of one of the children showed up a short time later and had the smell of marijuana on him, so the children were turned over to Department of Children's Services.

The lead on the case IS Officer David Sohn.
Jennifer Waller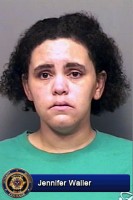 Name: Jennifer Waller (B/F)
DOB: 3/7/84
Given Address:  1121 Riverwood Place, Clarksville, TN
Arresting Officer: David Sohn
Charged With: Two Counts of Child Abuse/Neglect
Booked Into: Montgomery County Jail
Bond: $500.00
Sections
News
Topics
Bond, Child, Child Abuse and Neglect, Clarksville Police Department, Clarksville TN, CPD, DCS, Department of Children's Services, Montgomery County jail, Riverwood Place