APSU Sports: Austin Peay Men's Golf

Hebron, KY – Austin Peay State University men's golf team rallied in the final round with a 2-under 286 to repeat as the Bearcat Invitational champion, Tuesday, at the Traditions Golf Club.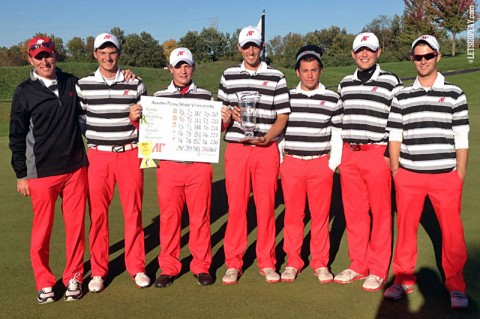 Trailing by four shots entering the round, the shot the tourney's low round to soar past new Ohio Valley Conference member Belmont, the tourney's leader after the first two rounds, to win by six shots with an 3-over 867. Belmont finished second while Marshall was third (878) and Northern Kentucky (883) fourth. The Govs' other two OVC rivals, Eastern Kentucky (901) and Morehead State (927), finished tied for seventh and 12th, respectively. Host Cincinnati finished in ninth place (903).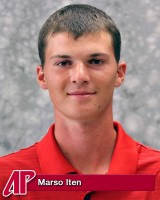 It was the second straight year the Govs rallied on the final 18 to capture the tournament. Last year, the Govs came back from nine shots down in the final round to win it.
The Govs' Anthony Bradley, who shot 3-under to finish in a first-place tie with Northern Kentucky's Corey Richmond, shot a final-round 72 for a 213 total. Bradley lost medalist honors on the first playoff hole (No. 10) when his 20-foot birdie trickled left of the cup. Richmond dropped in a 15 footer to win.
"We played really well today," ASPSU coach Kirk Kayden said. "We got off to a good start this morning, finishing up the second round, and really played well this afternoon.  It was a really good comeback for us.
"The conditions were much tougher today-it was windier, but we just play really good consistent golf all day long."
Junior Marco Iten and senior Dustin Korte tied for the final 18's low round with 70s. Iten finished tied for third place (2-under 214) while Korte also gained a Top 10 finish, his 217 (75-72-70) good enough for a ninth-place tie.
Freshman Austin Kramer was the final round's fourth counter with a 74, his three-round 226 (74-78-74) placing him in a 30th-place tie. Redshirt freshman Korey Smith, meanwhile, was just one stroke behind with a 227 (76-75-76).
Freshman Chris Baker finished with an impressive even-par 72 to finish in a tie for 28th with a 225 (78-75-72).
"Marco and Dustin played 2-under in the final round while Anthony was even," Kayden said. "The key in this tournament is we got some good play from our No. 4 and No. 5. Korey had a 75 in the second round and Austin had a solid 74 this afternoon."
This was the Govs' first of three straight weeks of tournaments. APSU next will travel just down the road to Bowling Green, KY, to play in the inaugural WKU Kenny Perry Invitational. The 12-team 54-hole tourney will be played Sunday-Tuesday at the Club of Olde Stone, the site of last spring's NCAA Regional.
Bearcat Invitational – Final
Traditions Golf Club
Hebron, KY
Dates: Oct 8th-Oct 9th
| | | | | | |
| --- | --- | --- | --- | --- | --- |
| Finish | School – Players | Round 1 | Round 2 | Round 3 | Totals |
| 1 | Austin Peay State University | 292 | 289 | 286 | 867 |
| T 1 | Anthony Bradley (2) | 70 | 71 | 72 | 213 |
| T 3 | Marco Iten (3) | 73 | 71 | 70 | 214 |
| T 9 | Dustin Korte (1) | 74 | 72 | 70 | 217 |
| T 30 | Austin Kramer (5) | 75 | 78 | 74 | 226 |
| 33 | Korey Smith (4) | 76 | 75 | 76 | 227 |
| | | | | | |
| T 28 | Chris Baker | 78 | 75 | 728 | 225 |