Clarksville, TN – On October 19th, 2012, around 10:15am, a Dalewood Drive man came home, found someone had entered his residence and several items were taken. He found Kylan Brock, a man he knew but not authorized to be in the house, standing in the back yard with a beer in hand and another beer in his back pocket.
The homeowner told Clarksville Police Officers that when Brock was confronted about his presence in the backyard, he said he been inside of the residence and got the beer out of the fridge. Police were called, but Brock fled on foot prior to their arrival.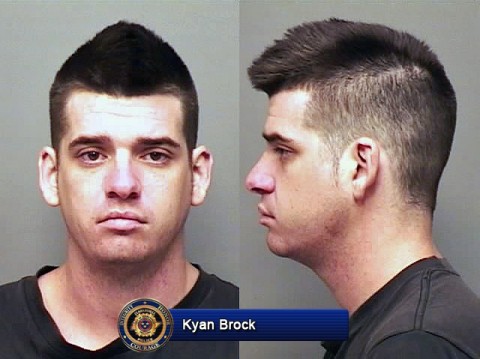 He was located by Officer Steve Holman walking in the area of 107 Bluegrass Road. The property taken from the house was found in Brock's possession. Additionally, Brock had left his ID inside of the victim's residence.
Furthermore, Brock was already a suspect in a December 2011 burglary of the New Providence United Methodist Church, 1317 Fort Campbell Boulevard. in which the church had been broken into, money stolen, and several interior windows were broken throughout the church. During the processing of the crime scene, a discarded rubber glove was found in the office near the floor safe.
The rubber glove was collected and sent off for DNA analysis. The analysis indicated the DNA profile obtained from the glove from the crime scene area was a possible match to Kylan Brock.
Detective Raymon Carroll interviewed Brock who admitted entering into the church, donning a pair of rubber gloves so as not to leave fingerprints. He also further detailed that while inside the church he cut his hand on a broken window and discarded the rubber glove.
Brock has previous criminal history involving Aggravated Burglary.
The lead investigator is Detective Raymon Carroll, 931.648.0656, ext 5174.
Kyan Brock
Name: Kylan Christopher Brock (W/M)
DOB: 4/30/85
Given Address: 203 Riley Road, Clarksville, TN
Arresting Officer: Raymon Carroll
Charged With: Aggravated Burglary and Burglary
Booked Into: Montgomery County Jail
Bond: $35,000.