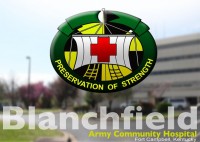 Fort Campbell, KY – Fort Campbell Soldiers, Families and Blanchfield Army Community Hospital employees released butterflies Wednesday, October 24th, 2012 following the 6th Annual Walk to Remember honoring parents who have experienced infant loss.
Each butterfly released symbolized children who are no longer with us, but are still in our memories. More than 80 community members participated in the walk, butterfly release and remembrance ceremony. Parents who have experienced infant and pregnancy loss, like Kaymie Johnston, said they appreciated the outpouring of support.
Johnston said that the Walk to Remember gave Families a chance to reflect, an opportunity that they may not have had at the time they experienced their loss. "It allowed us to come together for support and in some cases to help provide closure," she said.
Johnston explained that although people may not know how to comfort someone who has experienced such a loss, it is important that the community support those who have suffered.  "For most people, just knowing that someone is there to listen to them is a great help," she said. Johnston recommended acknowledging their loss, rather than avoiding it.
The Parents Helping Parents Grieving Support Group offers parents who have experienced child loss a chance to share and learn from one another. The group meets the first Wednesday of every other month from 7:00pm–9:00pm in Blanchfield Army Community Hospital's Classroom 2. For more information call 270.798.8777.
"It helps open the door to communication and to let families know it is okay to grieve. Many people just want to know that their feelings and emotions are normal," said Johnston.
"By providing support to one another and helping to start the healing process, we can reach out and make a difference in the lives of so many who are suffering," said Johnston.