APSU Sports: Austin Peay Football

Clarksville, TN – Austin Peay State University rolled up 49 first-half points to snap a 10-game losing streak as it defeated outmanned Culver-Stockton, 56-0, Saturday, in a non-conference game at Governors Stadium.
The victory gives Austin Peay a 1-8 overall record while NAIA foe Culver-Stockton, a member of the Heart of America Athletic Conference, slipped to 1-9.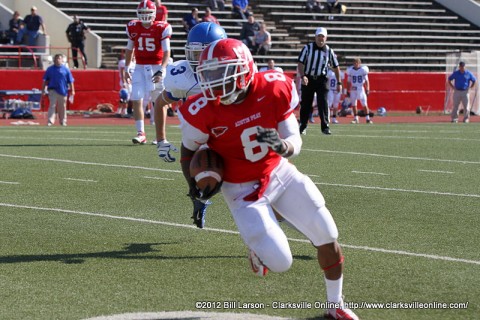 The Governors cracked the scoring column just four plays in, using two Wildcats personal four penalties to reach the Culver-Stockton 20. Ean Pemberton then raced up the middle to give APSU a 7-0 lead.
Two minutes later the Governors scored again. Defensive end Iosua Siliva sacked Wildcat quarterback Curtis Widener at the Culver-Stockton nine, with Anthony Marion recovering. Two plays later Terrence Oliver knifed into the end zone as APSU quickly was up 14-0.
Almost the same scenario occurred on the next possession. Widener was sacked Zach Lane, fumbling the football. This time it was Malcolm Goines falling on it on the four-yard line.
Jake Ryan then hit Devin Stark on a fade route to become only the second Governors quarterback in history to throw for 30 or more touchdown passes. It was one of only eight passing attempts by Ryan on the day
By quarter's end the Govs led 28-0 and they scored three more times in the second quarter, including Pemberton's second score, this time from 14 yards out. Pemberton finished with 112 rushing yards on eight carries. It was the sixth time this season a Governor rushed for 100 or more yards as APSU finished with 378 rushing yards.
Running back Terrence Oliver also had two scores for the Governors.
APSU finished with 447 yards in total offense while Culver-Stockton had just 41.
Photo Gallery
Box Score
Culver-Stockton (1-9,0-8) vs. Austin Peay (1-8,0-6)
Date: Nov 3rd, 2012 • Site: Clarksville, TN. • Stadium: Governors Stadium • Attendance: 2856
| | | | | | |
| --- | --- | --- | --- | --- | --- |
| Score by Quarters | 1 | 2 | 3 | 4 | Score |
| Culver-Stockton | 0 | 0 | 0 | 0 | 0 |
| Austin Peay | 28 | 21 | 0 | 7 | 56 |
SCORING SUMMARY
CSC -APSU

1st

14:09

APSU

PEMBERTON, Ean 20 yd run (STANSELL, Stephen kick)

4 plays, 71 yards, TOP 0:51

0 – 7

12:17

APSU

OLIVER, Terrence 7 yd run (STANSELL, Stephen kick)

2 plays, 9 yards, TOP 0:51

0 – 14

10:44

APSU

STARK, Devin 4 yd pass from RYAN, Jake (STANSELL, Stephen kick)

1 play, 4 yards, TOP 0:06

0 – 21

04:48

APSU

PEMBERTON, Ean 14 yd run (STANSELL, Stephen kick)

9 plays, 51 yards, TOP 5:03

0 – 28

2nd

14:45

APSU

CLENDENEN, Tyler 10 yd pass from RYAN, Jake (STANSELL, Stephen kick)

5 plays, 49 yards, TOP 1:39

0 – 35

11:19

APSU

ADAMS,Ashlon 6 yd run (STANSELL, Stephen kick)

3 plays, 31 yards, TOP 1:16

0 – 42

01:48

APSU

OLIVER, Terrence 11 yd run (STANSELL, Stephen kick)

7 plays, 80 yards, TOP 4:12

0 – 49

4th

07:26

APSU

SEXTON, Jacob 27 yd run (SPEARS, Walter kick)

8 plays, 47 yards, TOP 4:41

0 – 56
Kickoff time: 1:02 pm • End of Game: 3:26 pm • Total elapsed time: 2:24
Referee: Stephen Hazie • Umpire: Bill Ballard • Linesman: Mike Freeman • Line judge: Daryl Crosthwai • Back judge: Meddie Kalegi • Field judge: Jimmy Colwell • Side judge: Greg Eddy • Scorer: APSU Stat Crew •
Temperature: 68 • Wind: Calm • Weather: Clear