Austin Peay Governors vs. Southeast Missouri
January 3rd, 2013 | 7:00pm
Show Me Center| Cape Girardeau, MO

Cape Girardeau, MO – Austin Peay will open its Ohio Valley Conference season on the road for a third straight season when it travels to the Show Me Central to face Southeast Missouri, 7:00pm Thursday.
This will be the fourth time in the last five seasons the Govs have opened with SEMO, but it will be the first time the two teams will play a divisional game.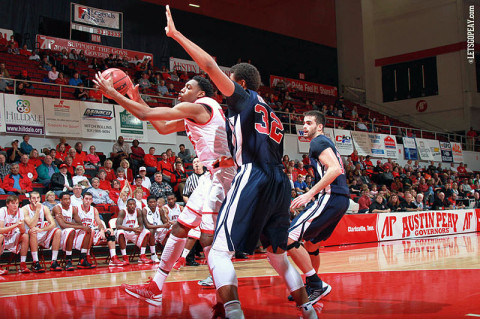 This is the first time in OVC history the league has been divided into the Western and Eastern Divisions. APSU and SEMO are members of the Western Division. In fact, SEMO already has not only an OVC victory, but a Western Division victory as well, having beaten UT Martin, Saturday, at home to open league play.
SEMO comes in at 9-6 overall. The Redhawks possess one of the OVC's top performers in 6-8 forward Tyler Stone, who is averaging 17.7 ppg and 8.6 rpg. He was a preseason All-OVC performer as was sharpshooting guard Marland Smith.
But like last season when SEMO had Leon Powell to play alongside Stone, they have sophomore Nino Johnson to help form one of the league's top inside duos. Johnson is averaging a double-double, 12.1 ppg to go with 10.1 rpg.
In addition, it is another senior guard Corey Wilford (13.7 ppg/44.3 3FG%), and not Smith, who has emerged as the Redhawks top three-point threat.
The Govs will face that difficult challenge in hopes of snapping a six-game losing streak.
Fastbreak
This is Dave Loos' 23rd season as Austin Peay head coach and he is 368-320 at APSU-the winningest basketball coach in Ohio Valley Conference history-while 449-373 all-time in his 27th season as a college head coach
Austin Peay was picked to finish third behind Murray State and Southeast Missouri in the newly formed OVC West Division in the preseason poll.
This will be APSU's first Western Division game. SEMO comes in after defeating UT Martin in its first division game.
This will be the fourth of five straight games played by the Govs away from Dave Aaron Arena, which concludes Saturday at UT Martin.
This will be the fourth time in the last five years Austin Peay has opened OVC play against Southeast Missouri.
APSU enters the game seeking to snap a six-game losing streak after losing 74-72, Saturday, against High Point in the Dr. Pepper Classic consolation game.
Southeast Missouri comes in owning a 9-6 record amidst a three-game winning streak. That streak includes a 65-60 home win against UT Martin, Saturday.
Dickey Nutt is in his fourth season at Southeast Missouri, owning a 40-67 overall record and 19-34 OVC mark. He is 230-254 in his 16th season as a college head coach.
Junior forward Tyler Stone and senior guard Marland Smith earned Preseason All-Ohio Valley Conference honors.
Stone is averaging 17.7 ppg so far this season while guard Corey Wilford is at 13.8 and sophomore center Nino Johnson is averaging a double-double, 12.1 ppg and 10.1 rpg.
Austin Peay's Anthony Campbell has scored 20 or more points in four consecutive games. He was named to the Dr. Pepper Classic all-tourney team.
Freshman center Chris Horton blocked six shots for the second time this season against High Point.
What You Should Know
The Series: This is the 49th meeting between Austin Peay and Southeast Missouri, a pair of Ohio Valley Conference rivals. Having won 13 of the last 15 meetings, the Governors hold a 32-16 lead in the series, with the two foes splitting last season's two games. APSU lost in Cape, 65-60, January 26th, before wrapping up OVC regular-season play with a 68-59 decision, February 25th, in Clarksville, TN.
Deeper Meanings
What A Win Would Mean: The Govs would snap a six-game losing streak, improving to 5-10…they would go to 1-0 in OVC play…they would open January with a victory…it would be the Govs' first road victory of 2012-13…they would go to 33-16 all-time against SEMO…the Govs would move to 23-27 all-time in OVC openers, and 12-11 in conference openers under head coach Dave Loos… it would make Loos 9-2 against SEMO coach Dicky Nutt…it would be Loos' 450th career victory.
What A Loss Would Mean: The Govs would drop seven games below the .500 mark at 4-11…the Govs lose their seventh straight game…the Govs would drop their OVC opener for the second straight season…Austin Peay would fall to 22-28 all-time in OVC openers, and 11-12 under head coach Dave Loos… the Govs would drop to 0-6 on the road this season…the Govs would fall to 0-1 in January… it would be Dave Loos' 321st APSU loss and 374th all-time.
Losing Streak
After opening the season with a modest 4-4 record, the Governors are amidst a six-game losing streak heading into this year's first game. Statistics tell much about the Govs' December struggles. In the first eight games, the Govs were averaging 72.6 ppg, shooting 46 percent from the floor while permitting only 71.1 ppg, allowing only 43 percent shooting.
In the last five games the Governors are scoring only 69.0 ppg while permitting 80 ppg. The Govs are still shooting a respectable 47 percent from the floor but the opponents are shooting 49 percent from the floor. In addition, the Govs are averaging an almost unfathomable 18.7 turnovers per game in that six-game stretch, including three games with more than 20 turnovers.
11 And Counting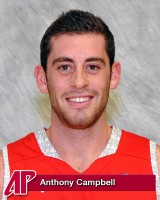 In the previous two seasons, forward Anthony Campbell never got to play in Game No. 11. After game No. 10 of 2010-11, he tore the ACL in his left knee during practice. In 2011-12, Campbell tore the ACL in the same knee in Game No. 10 against Arkansas State.
He celebrated No. 11 this season by scoring a career-high 25 points, including a trio of three pointers against Lipscomb. But he followed that up with three more 20-point outings against Illinois State, including five three pointers; Utah Valley and High Point, a game in which he also was one rebound shy of a double-double.
Campbell is shooting 53 percent (42 percent from three-point  territory) over the four-game span while averaging 5.5 rebounds per game.
All-Tournament
After scoring 45 points in two games, fifth-year senior Anthony Campbell earned Dr. Pepper Classic all-tourney honors. Against Utah Valley, he scored 22 points on 8-of-16 shooting, including a trio of three pointers, while also grabbing five rebounds.
He followed that up with a team-high 23 points in the consolation contest against High Point. Went 7-of-13 from the floor while being perfect (7-of-7) at the free-throw line. He narrowly missed double-double by finishing with nine rebounds
Top 10 Travis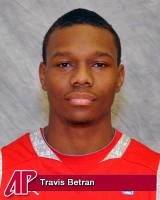 Despite struggling through a 1-of-5 night from three-point range against High Point, junior transfer guard Travis Betran entered this week ranked ninth nationally in three-point field goal percentage at 48.1 percent.
Betran went 6-of-10 from three-point range against Utah Valley. Those six three pointers were a season-high for the junior and matched the APSU high by Cory Arentsen against Berea.
Turnover Downturn
After averaging nearly 25 turnovers over the previous five games heading into the Dr. Pepper Classic, the Governors had just 18 in two games, including a season low seven against Utah Valley.
Double-Double Minus One
Two Govs, Anthony Campbell (23 points) and Chris Horton (13) points, missed by one rebound of gaining respective double – doubles against High Point.
Insider Trading
After being outscored 241-113 (48.2-22.6 ppg) in the paint during the previous five games, the Governors out-scored High Point 40-32 in the paint.
Willful
Will Triggs enjoyed one of his season's best performances against High Point, scoring 14 points on 7-of-11 shooting, while grabbing eight rebounds. He also had a block and two steals.
Horton Hears A Who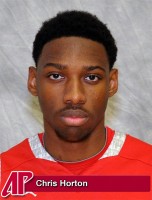 After struggling against both Illinois State and Utah Valley, freshman center Chris Horton re-emerged against High Point by scoring 13 points, grabbing nine rebounds and blocking six shots.
The six blocks matched his previous season high set against Lipscomb. He is averaging 3.0 blocks per game are ranked ninth nationally.
Media Center
Radio: Governors Radio Network
Play-by-Play: Greg Walker
Analyst: David Loos
Statistics: Patrick Miller
WVRY 105.1-FM