Austin Peay Lady Govs vs. Tennessee Tech
Saturday, January 26th, 2013 | 5:30pm (CT)
Cookeville, TN | Eblen Center (9,282)

Clarksville, TN – Austin Peay begins a two-game road trip against OVC East Division teams when it meets Tennessee Tech in a 5:30pm, Saturday contest at the Eblen Center.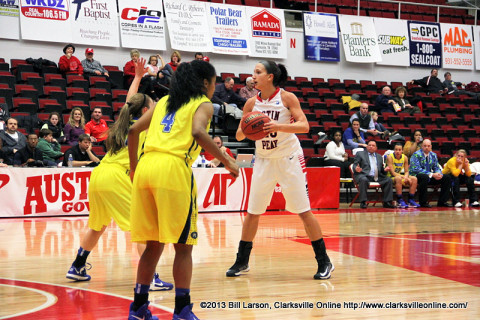 The Lady Govs have ratcheted up the defense in their last two outings, holding both Eastern Illinois and SIUE below their season averages in last week's action.
However, Austin Peay enters this week's road trip seeking its first OVC win. Tennessee Tech enters Saturday's contest with losses in its last two outings – against West Division co-leaders Eastern Illinois and UT Martin – falling into a second-place tie in the East Division.
Lady Govs Ledger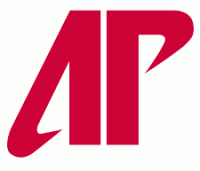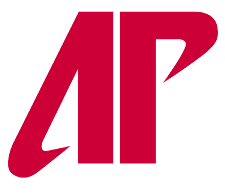 Austin Peay head coach Carrie Daniels changed her starting lineup for the second consecutive game, Monday. The Lady Govs' defense has struggled in the team's 0-6 OVC start, allowing five of their first six OVC opponents to shoot better than 40 percent from the floor (44.3 percent combined) and average 69.6 points per game.
Still, Austin Peay held its last two opponents below their respective season scoring averages, including limiting SIUE to 54 points, Monday. APSU has won the turnover battle in 11 games this season and owns a plus-1.9 turnover margin.
Senior Leslie Martinez (11.8 ppg, 10. rpg) is one of two players (EKU's Jade Barber is the other) averaging a double-double in OVC play. Six APSU players have played in every contest. Each of those six players are averaging five or more points per game, with two averaging double figures (Meghan Bussabarger and Leslie Martinez at 12.3 and 10.7 points per game, respectively).
Golden Eagles Glossary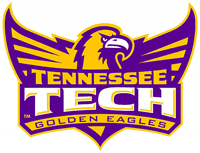 Tennessee Tech opened OVC play with four straight wins, but has suffered losses in its last two outings (89-79 at Eastern Illinois and 81-63 to UT Martin). In OVC play, the Golden Eagles rank second in scoring offense – behind the two teams they recently suffered losses against – thanks to a league-leading 47.6 field goal percentage which includes a OVC-best 43.2 percent shooting from three-point range.
Senior Jala Harris is averaging a team-best 17.2 points per game in league play and ranks 4th among OVC players. Sophomore Diamond Henderson is right behind Harris at 16.8 points per game in league action (7th in OVC), thanks to shooting 62.5 percent in league play (2nd in OVC).
An Austin Peay Win Would
End its six-game losing streak… be its first OVC win this season… end its two-game losing streak against Tennessee Tech… end its two-game road losing streak… be its second win away from the Dunn Center (2-7)… make it 1-6 in January… improve Daniels' record to 78-129 overall and 51-65 in OVC play… make the Lady Govs 431-602 overall since 1976-77.
An Austin Peay Loss Would
Be its seventh consecutive loss… be its first 0-7 OVC start since 1990-91… be its third straight loss to Tennessee Tech… be its third straight road loss… make it 1-8 away from the Dunn Center… make it 0-7 in January… drop Daniels' record to 77-130 overall and 50-66 in OVC play… make the Lady Govs 430-603 overall since 1976-77.
Notes and Notables From Last Outing
Austin Peay Lady Govs vs. SIUE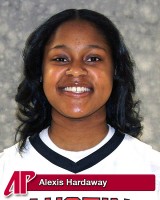 Freshman Alexis Hardaway scored a career-high 12 points. Senior Meghan Bussabarger finished with a team-best 13 points – her fourth straight double-digit scoring outing. Bussabarger's posted career highs in field-goal attempts (18) and three-point attempts (8) – both totals were season highs by an Austin Peay individual.
Senior Leslie Martinez's had 12 points and 8 rebounds but her five steals tied a team sing-game high set by Meghan Bussabarger at UT Martin, January 7th. Sophomore Shelby Olszewski made a three-pointer for the first time since November 24th against William & Mary. Sophomore Shira Buley did not commit a turnover in 25 minutes and was credited with three assists and four steals.
After SIUE posted a 13-0 advantage in first half second-chance points, Austin Peay recovered with a 12-8 advantage in the second half but still suffered a 21-12 deficit in second-chance opportunities. Austin Peay was held below 30 rebounds for the second time this season (Vanderbilt, November 28th), finishing the game with 28 rebounds.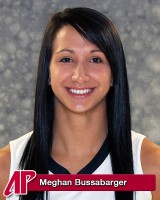 The Lady Govs nabbed a season-high tying 14 steals, equaling the mark set against Middle Tennessee December 4th. The 49 points scored by Austin Peay marks the fourth time this season they have finished with fewer than 50 points in a contest, including its last two outings. The Lady Govs led for a total of 1:45 in the contest – all in the second half.
In the first half, Austin Peay missed 11 straight shots over an 8:18 stretch, but SIUE could not extend its lead to more than nine points during that drought. SIUE committed a season high 29 turnovers, which also was a season-high for a Lady Govs opponent this season. SIUE grabbed 52 rebounds marking the second straight game Austin Peay has given up more than 50 rebounds.
Previous Meeting Against Tennessee Tech
Clarksville, TN – Austin Peay State University women's basketball team did not score in the final four minutes of a 68-65 OVC loss to Tennessee Tech at the Dunn Center.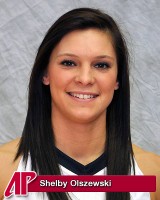 Austin Peay led 65-64 with 4:04 remaining after Shelby Olszewski intercepted a pass and drove the length of the court for a basket. She nearly had an opportunity to put the Lady Govs up three points on the next possession, stepping into a Tennessee Tech handoff for a steal. However, before she could cross half court the play was whistled dead due to an inadvertent whistle.
The Lady Govs were unable to convert after the resulting media timeout, the first of three missed field goals in the final four minutes. Tennessee Tech also had four possessions in the final minutes, committing a pair of turnovers. But the Golden Eagles made both of their shots – the first by Kellie Cook for the lead at 2:07 left and the final basket by Jala Harris with 22 seconds remaining – to take a three-point lead.
Austin Peay had two opportunities to tie the game in the final 19 seconds. Leslie Martinez' three-point attempt was blocked out-of-bounds giving APSU the ball with 6.8 seconds remaining. The Lady Govs tried several times to work Whitney Hanley free on the ensuing play but she was caught 25 feet from the basket and was unable to do anything before the final horn sounded.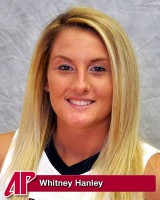 The late offensive woes belied the fact that the Lady Govs led for most of the contest. Austin Peay held an eight point advantage twice in the first half before settling on a six-point, 38-32 lead at the break.
Tennessee Tech used a 10-4 run to start the second half and tied the game with 15:51 left on Rachel Glidden's three-pointer. Austin Peay would not give up the lead and built it back to six points, 55-49, on Whitney Hanley's three-pointer with 11:08 remaining.
The Golden Eagles chose that moment to make their big run, outscoring the Lady Govs 15-5 over the next five-plus minutes to build their largest lead, 64-59, after another Glidden three-pointer with 5:43 left.
Austin Peay scored the game's next six points – culminating with Shelby Olszewski's steal and a layup with 4:04 left.
Last Time Out
Austin Peay Falls to SIUE
Clarksville, TN – Austin Peay women's basketball team battled back from a double-digit deficit but went cold in the game's deciding moments en route to a 54-49 OVC loss to SIU Edwardsville at the Dunn Center.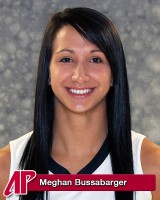 Austin Peay (5-13, 0-6 OVC) trailed by 10 points with 18:55 remaining in the second half an SIUE basket by CoCo Moore. The Lady Govs then went on an extended 15-2 scoring run that lasted 7:25 to take a 34-31 lead with 11:11 left. Freshman Alexis Hardaway had six points during the burst while senior Meghan Bussabarger hit a three-pointer to give Austin Peay the lead.
SIU Edwardsville (9-10, 3-4 OVC) allowed Austin Peay to lead for 58 seconds, scoring the game's next four points to regain the lead. Austin Peay would again briefly lead for 47 seconds after sophomore Shelby Olszewski's three-pointer gave it a 39-38 lead, but SIUE made two free throws to gain the lead for good with 7:33 left.
The Lady Govs did not allow the Cougars to run away and hide – keeping the deficit within four points the game's remainder. Senior Leslie Martinez hit a three-pointer with 3:29 left, cutting the lead to 50-49, but it would be Austin Peay's final points of the night.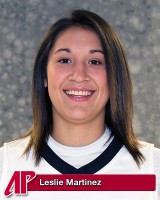 SIUE dominated the first half thanks to a 31-12 rebounding edge in the period, including 11 offensive rebounds that it turned into 13 second-chance points. Austin Peay did not help its cause when it went over eight minutes without a field goal in the period, but saw SIUE expand its lead to only nine points during that span. The Cougars would settle for a 27-19 halftime advantage.
Bussabarger led Austin Peay with 13 points on 3-of-18 shooting. Hardaway added a 12-point, six-rebound performance. Martinez chipped in 12 points and eight rebounds.
SIUE's Raven Berry finished with 13 points and 13 rebounds after posting 13 points and 10 rebounds in the first half. Tierny Austin chipped in 15 points and nine rebounds. The Cougars finished the game with a 52-28 rebounding edge, but committed a season-high 29 turnovers.
Media Center
Radio: Governors Sports Network (David Loos, play-by-play)
Live Stats: www.TTUSports.com
Live Audio: www.LetsGoPeay.com
ipTV: www.OVCDigitalNetwork.com
Head Coaches
Austin Peay – Carrie Daniels (Austin Peay, 1996) is 77-129 (.374) in her seventh season as a head coach at Austin Peay.
Tennessee Tech – Jim Davis (Tennessee Wesleyan, 1970) is 10-9 (.526) in his first season at the school and 511-214 (.705) in his 19th season as a head coach.
Series
TTU leads, 59-17 (TTU leads 29-6 in Cookeville) | Streak: TTU, two wins | Daniels vs. TTU: 5-7