Austin Peay Lady Govs vs. Jacksonville State
Monday, January 28th, 2013 | 7:00pm (CT)
Jacksonville, AL | Mathews Coliseum (5,300)

Clarksville, TN – Austin Peay continues its Ohio Valley Conference East Division swing when it meets Jacksonville State in a 7:00pm, Monday contest at Mathews Coliseum. Both teams enter the contest seeking their first OVC victory.
The Lady Govs suffered a seventh-straight loss, 73-51 on Saturday, at Tennessee Tech. The Gamecocks fell to 0-9 in league play with a 68-58 loss to Murray State, Saturday. Jacksonville State won a 74-73 decision in Clarksville last season, ending an APSU four-game winning streak in the series.
Lady Govs Ledger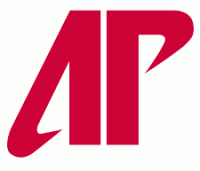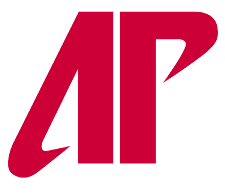 The Lady Govs' defense has struggled in the team's 0-7 OVC start, allowing six of their first seven OVC opponents to shoot better than 40 percent from the floor (46.5 percent combined) and average 72.0 points per game.
APSU has won the turnover battle in 12 games this season – forcing its last two opponents into a total of 50 turnvoers – and owns a plus-2.3 turnover margin. In addition, the Lady Govs defense has recorded 10-plus steals in its last three games and 11 times this season.
Five APSU players have played in every contest. Seven players are averaging five or more points per game, with two averaging double figures (Meghan Bussabarger and Leslie Martinez at 12.5 and 10.8 points per game, respectively).
Gamecocks Chronicle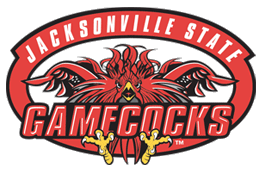 Jacksonville State has lost 19 consecutive OVC contests dating back to its 74-73 victory at Austin Peay last season. The Gamecocks also have lost 31 consecutive regular-season contests.
Still JSU led Murray State by three points at halftime, Saturday, and only trailed by 10 points in the  game's final 20 seconds. The Gamecocks rank fifth in rebounding (40.2 rpg) and sixth in blocked shots (3.0 bpg).
Jacksonville State has been hampered by turnovers, committing 21.4 per game (only team averaging 20-plus turnovers) and suffering a minus-5.5 turnover margin. Marikate Gardler leads Jacksonville State, averaging 11.0 points per game in league action (23rd in OVC).
An Austin Peay Win Would
End its seven-game losing streak… be its first OVC win this season… end its three-game road losing streak… be its second win away from the Dunn Center (2-8)… end January with a 1-7 record… improve Daniels' record to 78-130 overall and 51-66 in OVC play… make the Lady Govs 431-603 overall since 1976-77.
An Austin Peay Loss Would
Be its eighth consecutive loss… be its first 0-8 OVC start since 1989-90… be its second straight loss to Jacksonville State… be its fourth straight road loss… make it 1-9 away from the Dunn Center… end January winless (0-8)… drop Daniels' record to 77-131 overall and 50-67 in OVC play… make the Lady Govs 430-604 overall since 1976-77.
Notes and Notables From Last Outing
APSU Lady Govs vs. SIUE
Senior Meghan Bussabarger recorded her second double-double this season, finishing with 16 points and 10 rebounds – it was the fourth double-double by any Lady Govs player this season. Senior Leslie Martinez led Austin Peay with five assists – the fourth consecutive game she has led the team in assists.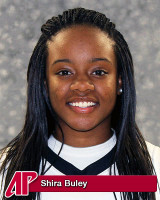 Sophomore Shira Buley played 13 minutes without a turnover at Tennessee Tech and has played 38 consecutive minutes without a turnover in the last two games. Freshman Tiasha Gray tied a career high with four steals. Austin Peay was held to a season-low three three-pointers made for the fifth time this season.
The Lady Govs 10-of-12 (83.3 percent) performance at the free-throw line was their second best effort (by percentage) this season. APSU was credited with 12 steals, its third straight game and 11th time this season they have recorded double-digit steals. Austin Peay forced Tennessee Tech into a season-high 21 turnovers, the second straight game they have forced 20-plus turnovers.
Despite holding a 21-12 advantage in turnovers, Austin Peay settled for a 16-16 tie in points off those turnovers. Tennessee Tech made a season-high 13 three pointers, the most by an Austin Peay opponent this season.
Previous Meeting Against Jacksonville State
Clarksville, TN – Jacksonville State's Briana Morrow hit a three-pointer as time expired, handing Austin Peay women's basketball team a 74-73 OVC loss at the Dunn Center.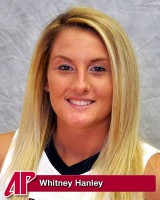 Austin Peay, which led by 13 points at halftime, saw senior Whitney Hanley score back-to-back baskets to give APSU a two-point, 71-69, lead with 34 seconds remaining. JSU got three looks at the basket on their ensuing possession, Danielle Vaughn converting on the third try to tie the game with eight seconds left.
Hanley again answered the call for the Lady Govs, driving down the right side of the lane and making an off-balance jumper to give APSU another two-point lead with 6.5 seconds remaining. JSU attempted to drive the length of the court, but got trapped in their offensive end and called timeout with 1.9 seconds remaining.
On the ensuing in-bounds play, Morrow started in the low post but moved up to the three-point line and received a pass with her back to the basket. She turned and faced the rim as she put the shot up and the shot found nothing but net as the horn sounded.
Austin Peay led by as much as 15 points – 42-27 with 18:54 left – in the second half. The Lady Govs held a 13-point, 53-40 advantage with 14:08 left on a Hanley three-pointer. However, Jacksonville State roared back with a 20-7 run over the next eight minutes, tying the game on a Candace Morton free throw.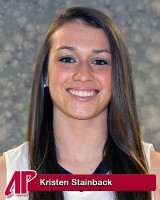 The first half was a see-saw affair with the team's trading the lead six times. Austin Peay scored the half's final 13 points, including back-to-back three-pointers by Hanley and freshman Kristen Stainback, to take build a 37-24 halftime lead.
The Gamecocks' last second heroics wiped out a career-outing for Hanley who finished with a career-high 32 points on 12-of-21 shooting, including 5-of-11 from three-point range. It was the fifth-consecutive game – all in OVC play – she has scored more than 20 points.
Junior Leslie Martinez added 12 points off the bench and sophomore Nicole Olszewski chipped in eight points and a career-high seven assists.
Jacksonville State won thanks to a tremendous rebounding performance that saw it post a 52-30 advantage on the glass. That effort translated into 24 second chance points, including 16 in the second half.
Last Time Out
Austin Peay Falls At Tennessee Tech
Cookeville, TN – Austin Peay women's basketball team saw a barrage of Tennessee Tech three-pointers undo a second-half comeback attempt in a 73-51 Ohio Valley Conference loss to Tennessee Tech, Saturday at the Eblen Center.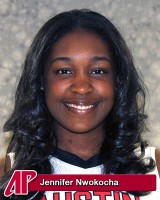 Austin Peay (5-14, 0-7 OVC) opened the second half with a 9-2 run and closed within one point, 35-34, with 14:28 remaining. Senior Leslie Martinez contributed the run's first four points while freshman Jennifer Nwokocha and sophomore Shira Buley each added a pair of free throws.
Tennessee Tech (11-9, 5-2 OVC) kept Austin Peay from taking the lead over the next two minutes before scoring 11 consecutive points, including three three-pointers, to start a 16-2 run that pushed the lead to 15 points, 53-38, with eight minutes remaining. Austin Peay would mount a charge and cut the lead to 12 points, 58-46, with 5:58 left but would get no closer.
The Lady Govs controlled the game's early momentum, holding the Golden Eagles to 2-of-10 shooting over the opening 7:43. However, Austin Peay was able to build only a 5-4 lead in that opening stretch.
Tennessee Tech broke through offensively over the next five minutes, compiling a 17-3 run thanks to senior Kellie Cook's four three pointers, and built a 13-point, 21-8 lead with 7:53 left. Austin Peay's offense went cold during that same stretch, going without a field goal over a span of over seven minutes.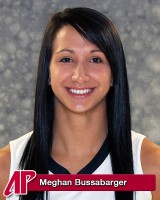 Austin Peay ended the half with an 18-12 run, making eight of its final 11 shots. Senior Meghan Bussabarger scored eight of her 10 first half points during the run. However, the Lady Govs entered halftime trailing 33-26.
Bussabarger led Austin Peay with a 16-point, 10-rebound – her second double double this season – but was only 7-of-19 from the floor. Martinez added 13 points and finished with six rebounds and five assists.
Tennessee Tech made 13 three-pointers in the victory – the most by an Austin Peay opponent this season. Kellie Cook made 7-of-9 from three-point range and finished with a game-high 23 points. Jala Harris converted on 5-of-6 from outside the arc and added 17 points and eight assists.
Daniels Coaches 206th Game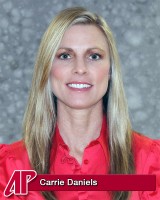 Head coach Carrie Daniels, who is in her seventh season, coached her 206th game against SIU Edwardsville, January 21st, making her the longest-serving head coach in terms of games coached.
Earlier this season she became only the second head coach to lead the Lady Govs in 200 contests with Austin Peay's victory at Alabama A&M, December 29th.
Former head coach Susie Gardner (1996-2003) was the only other coach to surpass 200 games coached, finishing her career with 205 games, the most by any Lady Govs coach.
Media Center
Radio: Governors Sports Network (David Loos, play-by-play)
Live Stats: www.JSUGamecockSports.com
Live Audio: www.LetsGoPeay.com
ipTV: www.OVCDigitalNetwork.com
Head Coaches
Austin Peay – Carrie Daniels (Austin Peay, 1996) is 77-130 (.372) in her seventh season as a head coach at Austin Peay.
Jacksonville State – Annette Watts (East Tennessee, 1981) is 14-61 (.173) in her third season at the school and 158-188 (.457) in her 12th season as a head coach.
Series
APSU leads, 12-7 (JSU leads 5-4 in Jacksonville) | Streak: JSU, one win | Daniels vs. JSU: 7-4