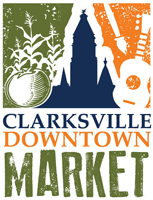 Clarksville, TN – Are you interested in being a vendor in this year's Downtown Market season?
The Clarksville Downtown Market is currently seeking vendors of all types; vendors selling local produce, dairy, honey, flowers, cheeses, meats, food products, baked goods/breads, artisan items are strongly encouraged to apply, but all applicants will be considered. All items must be handmade, homegrown or gathered by the seller or family member.
The 2013 market season will take place on Public Square, every Saturday from 8:00am to 1:00pm, beginning May 18th through October 19th.
Applications
Applications are available now at our Main office or online at www.clarksvilledowntownmarket.com. Cost is only $75.00 per vendor per booth for the entire market season for those providing their own white 10×10 tent, table and chairs. If equipment is needed, the cost is $200.00 per vendor per booth.
Be sure to become a fan or follower on Facebook by searching Clarksville Downtown Market and stay "in the know" about the upcoming season.
For more details on the Clarksville Downtown Market please contact the Clarksville Parks and Recreation Department at 931.645.7476 or visit www.clarksvilledowntownmarket.com.