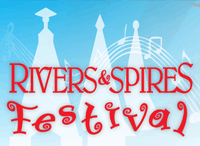 Clarksville, TN – The Rivers and Spires Festival is pleased to announce that they were the recipient of two Gold Awards at the Southeast Festivals and Events Association (SFEA) Conference this past week in Auburn, AL.
The Festival won Gold Awards for being the "Best Festival With A Budget Over $75,000" and for the "Best Creative Idea". The 2012 Festival Media Kit was submitted for the creative award.
"For the past 11 years Ajax Distributing and Coors Light have proudly supported the Rivers & Spires Festival. We know what a great community event the Festival is, and we're thrilled the rest of the Southeast has recognized the hard work of the Festival staff, sponsors and volunteers," said Paul Turner with Ajax Distributing.
These two awards were given based on presentation and a list of criteria the Festival had to meet including; impact on the community, marketing and promotion efforts, community involvement, and budget of the 2012 Festival. The team submitted a thorough proposal, as well as a complete media kit to SFEA in December in order to be considered for the awards. Rivers & Spires was one of 250 other festivals present, some with much larger budgets. The judges were impressed, not only by the professional appearances of the pieces, but also by the quality of the event.
"As a corporate newcomer to Clarksville, we can't imagine anything else that could make us feel more part of the community than having a role in a local tradition others have worked so hard to build – the Best Festival in the Southeast," said Cathy Tylutki of Agero. "Our participation in Rivers & Spires represents a small step to repaying the community for the extremely warm welcome and support we have received since opening our business last October."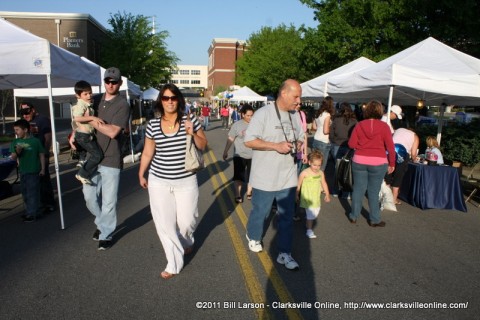 Rivers & Spires has more than a decade-long history of bringing free family entertainment to the streets of downtown Clarksville. As a community led event whose mission, in part, is to provide a positive atmosphere for families and friends to enjoy history, heritage and the arts, Rivers & Spires is dedicated to promoting Clarksville to the region.
Montgomery County Mayor Carolyn Bowers states, "We are so proud of the recent awards received by our Rivers & Spires Festival. Montgomery County is fortunate to have a nationally recognized festival in our community that provides free entertainment, vendors and fun for all ages. The Festival continues to grow in attractions and participation each year and the positive impact it has on our community is outstanding. We look forward to continued success at this year's event."
The SFEA awards come after the Festival was also awarded four other international awards in September of last year. These included the: Best Festival Overall (Silver), Best New Event Within An Existing Festival (Gold – Brewfest), Best Media Package (Gold), Best Radio Promotion (Silver).
The Festival will add these two new honors to the long list of awards given during the last 10 years including those from the International Festival & Event Association, Southeast Tourism Society, American Bus Association, Southeast Festival & Events Association and more.
"Rivers & Spires is one of the most important events we host for the community. Not only is it a time to showcase Clarksville but it's a time when we can celebrate together as a community who cares about and supports each other. On behalf of all our City employees, I want to thank and congratulate everyone involved in planning  and making the Festival happen year after year. All of the hard work, creativity and dedication is truly appreciated,"  said City of Clarksville Mayor, Kim McMillan.
About the Festival
The 11th annual Rivers & Spires Festival will be held April 18th-20th, 2013 in Historic Downtown Clarksville. This event has five stages of entertainment with over 100 entertainers performing all three days. From children's activities, arts & crafts, car shows, military exhibits, Brewfest, shopping and so much more this is truly an event for the whole family. Admission to the Festival is free including all concerts and many games and activities.
For more information about Rivers & Spires contact Doug Barber at or visit us at www.riversandspires.com. Become a fan on Facebook, follow us on Twitter @riversandspires and join our text club by texting 'SPIRES' to 68255.