APSU Sports: Austin Peay Women's Track and Field

South Bend, IN – Chantelle Grey's indoor track and field season came to an end, Saturday, at Notre Dame's Alex Wilson Invitational.
The Austin Peay State University senior finished 17th overall in the 800m run and will not qualify for next weekend's NCAA Indoor Track and Field Championships.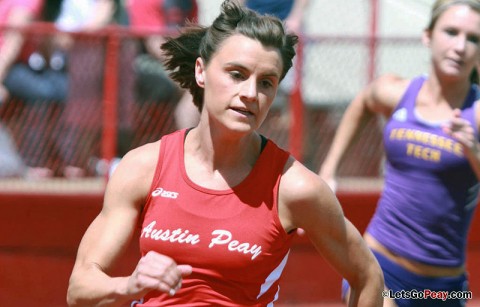 The Missoula, MT, native ran fifth in section three of the 800m event. Her 2:08.12 mark was the second-fastest she posted during indoor season, behind her 2:07.69 at the Spire Invitational, February 9th.
"She ran a really good race," said head coach Doug Molnar. "She went through the first 600 meters faster than anyone in the first three heats and led up until the last 30 meters. That last 30 just ate her up; if she gets a little stronger, she can get down into the 2:05 range."
Grey was matched against an impressive field at the Loftus Sports Center. The top three – Duke's Cydney Ross, Iowa State's Ejiroghene Okoro and Kent State's Melinda Sawnor – qualified for the indoor championships in the 800m, while Michigan's Rebecca Addison and Jillian Smith had already earned top-16 marks nationally prior to Saturday's event. In all, 19 of the nation's top 50 800m runners competed in the event at the Alex Wilson.
Grey and her Austin Peay teammates open up outdoor season, March 23rd, at the Vanderbilt Black and Gold in Nashville, TN.