Clarksville, TN – The tale of Romeo and Juliet is one which truly transcends time and place — and beginning March 8th, the Roxy Regional Theatre will prove it by setting one of William Shakespeare's most famous plays during the American Civil War.
This historical twist to the classic love story could not come at a more fitting time, as we commemorate the 150th Anniversary of the American Civil War, a time when deeply rooted hatreds often pitted neighbor against neighbor and family against family, compelling lovers to risk everything to be together.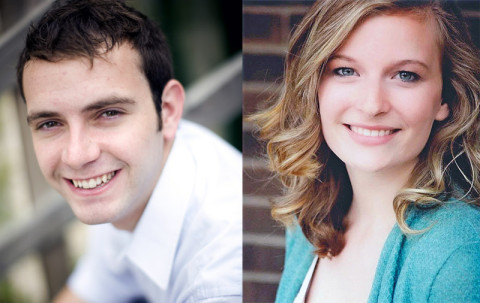 Celebrating the captivating language and enduring characters of Shakespeare's masterpiece, "Romeo & Juliet" will leave Roxy audiences with a renewed appreciation of The Bard's work.
Starring Matt Casey and Hannah Church as the pair of star-crossed lovers, "Romeo & Juliet" also features Josh Bernaski as Benvolio, Ryan Bowie as Tybalt and the Apothecary, Ashton Crosby as Friar Lawrence and the Chorus, Leslie Greene as the Nurse and Lady Montague, Ted Jones as Lord Capulet, Colin Ryan as Prince Escalus and Friar John, Michael Spaziani as Paris, Kendall Anne Thompson as Mercutio and Lady Capulet, and Phil Whittinghill as Lord Montague. The role of Peter is shared by Addisyn Bryant, Cheyenne Deibert, Emma Justice, Ashley Knowles and Sidney McCarty.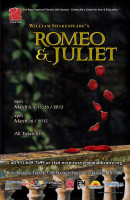 Directed by John McDonald with fight choreography by Darren Michael, Shakespeare's timeless tale of love and tragedy will unfold alongside a soundtrack by local Celtic and old-time music group, Red River Breeze.
With "Romeo & Juliet", the Roxy Regional Theatre marks 28 consecutive years of producing and presenting the works attributed to William Shakespeare, an annual tradition on the corner of Franklin and First since 1986. This production is made possible in part through the generous support of the City of Clarksville.
"Romeo & Juliet" plays at 8:00pm on March 8th, 9th, 15th and 16th, with a 2:00pm matinee on Saturday, March 16th.
All tickets are $10.00 and may be reserved online at www.roxyregionaltheatre.org, by phone at 931.645.7699, or at the theatre during regular box office hours (9:00am to 2:00pm, Monday through Friday, and one hour prior to curtain).
The Roxy Regional Theatre is located at 100 Franklin Street in Downtown Clarksville.