Clarksville, TN – Kirby Cannon, who served as secondary coach at Central Michigan the last three years after spending 11 seasons as head coach at Missouri S&T, has been hired as Austin Peay State University's 18th head football coach.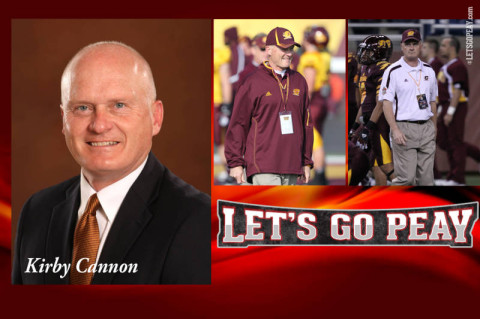 Cannon will be introduced as Austin Peay's head coach at a 10:00am, Tuesday news conference in the Austin Peay Athletics Hall of Fame lobby located in the Dunn Center.
Cannon joined Central Michigan, an FBS school, in 2010 from Division II Missouri S&T and was part of a rebuilding process that culminated last December with the Chippewas defeating Western Kentucky—their fourth straight win—in the Little Caesars Pizza Bowl in Detroit.
"Kirby has the reputation of building programs, both as a head coach and assistant throughout his career," APSU Athletics Director Dave Loos said. "More recently he did so as head coach at Rolla (Missouri S&T), where they had not had a winning team in years before he arrived, and then was part of a Central Michigan program the last three years that had to rebuild, with it ending with them gaining a bowl bid. Kirby understands how to build a program and will be able to build upon our existing foundation.
'He also has also has the reputation of being a man of great character. We look forward to him leading our football program."
"I see this as a great opportunity," Cannon said. "I wanted to be a head coach again. I wanted to go to a place that needed me and needed my skills. With my familiarity with the program and the conference, I felt real comfortable I could fit the needs of Austin Peay football.
"I think there is great potential here. One of the best experiences in coaching is winning where they have not won. It a great experience for the coach, great experience for the fans and great experience for the players. I enjoy that challenge—the challenge of improving is what coaching is about."
Cannon comes to APSU after fulfilling a longtime promise of working with former coaching cohort, Don Enos, at Central Michigan. Several members of that coaching staff once coached together at Northern Michigan in the mid-1990s and vowed to come together if one was able to land a major college coaching position. Enos took over the Chippewas in 2010. While there, Cannon coached the program's first defensive back to earn All Mid-America Athletic Conference honors in more than a decade.
Prior to that, Cannon took over a nearly dormant Missouri S&T program (formerly known as Missouri-Rolla), in 1999 that had won seven games over the previous four seasons. The rebuilding effort took patience at the engineering school but the Miners recorded winning seasons in three of his last five seasons, including a 7-4 2005 record, marking the program's first winning campaign since 1985.
Cannon was named Independent Football Alliance Coach of the Year in 2005—a season that included a decisive victory against the Governors in Clarksville. When the Miners came back with a 6-5 2006 record, including another victory against the Govs, it completed the first back-to-back winning seasons for the program since 1984-85.
Two seasons after Missouri S&T became a founding member of the Great Lakes Football Conference Cannon was named GLFC Coach of the Year in 2008 after leading the Miners a 7-4 overall mark and their first conference title since 1983.
The 2008 squad that won the GLFC led the league in total offense and ranked 12th nationally, averaging 449.5 yards per game. The Miners also ranked 13th nationally in scoring in 2008, averaging 37.1 points per game.
"Kirby has a proven track record of not being married to a system, he is someone who will coach to the talent he has," Loos said. "When we saw Rolla here (2005), he spread the field because he had a quarterback who could really throw the football. He also has had teams that have been able to run the football quite well."
The Alexandria, MO, native is a 1981 graduate of Missouri State, with a bachelor's of science degree in physical education, Cannon played quarterback for the Bears but starred on the mound in baseball, being inducted into the school's Athletics Hall of Fame in 2011.
But Cannon's coaching career all has been on the gridiron. After spending 1983-84 in the high school ranks in southwest Missouri, he began his college coaching career as a graduate assistant at Iowa State in 1983. He was at Iowa State two seasons before being named defensive coordinator at North Central College (Ill.) in 1985. He also coached the defensive backs at North Central from 1985-88.
Cannon moved to Northeast Missouri (now Truman State) in 1989, where he served as the defensive backs coach and recruiting coordinator for four seasons. The duties of defensive coordinator were added for the 1993 and 1994 campaigns. Northeast Missouri qualified for three Division II playoffs appearances during his six seasons on staff.
In 1995, Cannon was named assistant head coach, defensive coordinator and recruiting coordinator at Northern Michigan. He worked directly with the defensive backs both seasons, and he served on the same staff as Enos in 1996. Northern Michigan finished 7-3 in both 1995 and 1996.
Cannon spent the 1997-98 seasons coaching defensive backs at Western Illinois. He helped lead the program to back-to-back Gateway Conference championships and a berth in the 1998 Division I-AA national semifinals. Western Illinois finished both the 1997 and 1998 seasons ranked in the top three nationally in the Division I-AA polls.
From there, he returned to his home state to gain his first college head coaching position in Rolla.
Cannon believes his greatest strength as a coach is working with student-athletes.
"I think I have had great relations with players," he said. "As an assistant, as a coordinator and as a head coach to motivate, discipline or correct them you must know them and they must trust you and your criticism.
"You will be labeled a players' coach at times but being labeled a players' coach is still disciplining them when you need to. I think that always has been my strength. I have been able to discipline, correct, motivate because I have taken the time to know my players well enough to know what buttons to push and which ones to stay away from."