Clarksville, TN – Austin Peay State University women's tennis team picked up its seasons first win, knocking off Morehead State, 6-1, Sunday, to split its Ohio Valley Conference opening weekend.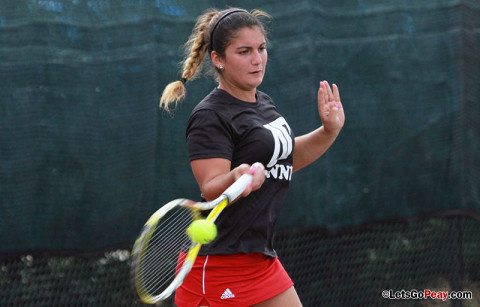 The Lady Govs (3-9, 1-1 OVC) bounced back from losing the doubles point to sweep all six singles matches against the Eagles (1-11, 0-2 OVC). With the win, Austin Peay has now won at least one match during the season's first conference weekend since 2010.
The bottom of the Lady Govs lineup carried the day for Austin Peay against Morehead State. Sophomores Ornella Di Salvo, Vanessa Tavares and Jovana Karac, the Lady Govs No. 3-5 players, each won in straight sets, with none losing more than two games en route to victory.
"We did a great job bouncing back today," said head coach Ross Brown. "After we lost the doubles point, it was very important to come back out strong, and we did. It was a great win for us."
In other Lady Gov action, sophomore Alison Carre knocked off Victoria Cran 4-6, 6-1, 6-3 at No. 1 singles and junior Andra Cornea defeated Lissa Pacheco-Brousseau, 7-5, 6-1 at No. 2 singles.
Austin Peay returns to the court Tuesday, when the Lady Govs host Northern Iowa, beginning at 1:30pm.
Box Score
Singles competition
1. CARRE, Alison (APSUW) def. CRAN, Victoria (MOR-W) 4-6, 6-1, 6-3
2. CORNEA, Andra (APSUW) def. PACHECO-BROUSSEAU (MOR-W) 7-5, 6-1
3. DI SALVO, Ornella (APSUW) def. McLEAN, Dominique (MOR-W) 6-1, 6-1
4. TAVARES, Vanessa (APSUW) def. BEAULE, Sandrine (MOR-W) 6-1, 6-1
5. KARAC, Jovana (APSUW) def. WRIGHT, Morgan (MOR-W) 6-2, 6-1
6. COVINGTON, Julie (APSUW) def. PRESTON, Briar (MOR-W) 4-6, 2-0, retired
Doubles competition
1. CRAN, Victoria/McLEAN, Dominique (MOR-W) def. DI SALVO, Ornella/CORNEA, Andra (APSUW) 8-5
2. TAVARES, Vanessa/CARRE, Alison (APSUW) def. PACHECO-BROUSSEAU/BEAULE, Sandrine (MOR-W) 8-5
3. WRIGHT, Morgan/PRESTON, Briar (MOR-W) def. KARAC, Jovana/KUBEK, Mary Theresa (APSUW) 8-6