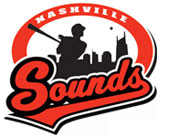 Nashville, TN – First baseman Hunter Morris enjoyed a solid Triple-A debut on a rainy Thursday evening at Greer Stadium, homering and driving in four runs to power the Nashville Sounds to a 5-4 victory over the New Orleans Zephyrs in their season opener.
Morris — the 2012 Southern League Most Valuable Player who finished second in the minors in RBIs a year ago– started this season seemingly where he left off, going 2-for-4 with a double and homer to go along with his four RBIs.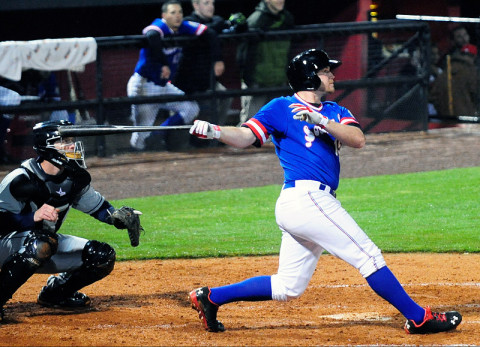 The Sounds were able to win their season debut despite being out-hit by the Zephyrs, 7-4, in the game. Six of the 11 hits in the contest went for extra bases.
Right-hander Tyler Thornburg, the Brewers' #2 prospect, turned in a strong first outing of the season, striking out seven batters while allowing one run on three hits over five innings of action. He retired his final seven batters faced and departed with a 2-1 lead but took a no-decision after the Zephyrs rallied against the Sounds' bullpen.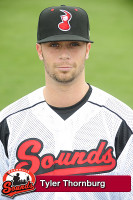 New Orleans starter Tom Koehler matched Thornburg's solid effort, allowing only one hit (a two-run Morris double) in his five innings of work and also struck out seven batters while walking a pair. He allowed two runs (one earned) and took a no-decision.
Thornburg got off to a strong start by accomplishing a rare feat — striking out four batters in the first inning. The game's leadoff hitter, Kevin Mattison, reached on a wild pitch on strike three, then the 24-year-old hurler proceeded to fan the next three Z's hitters in succession.
Morris delivered a two-run double in his first Triple-A at-bat in the bottom of the first inning to stake the Sounds to a 2-0 lead.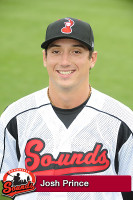 Nashville leadoff hitter Josh Prince led off the Sounds' first by drawing a walk from Koehler and moved to second when Scooter Gennett reached on a catcher's interference call before both runners came plateward on Morris' two-bagger.
New Orleans halved the Nashville lead to 2-1 in the third when Matt Downs led off with a double to left off Thornburg and later scored on Mattison's one-out RBI single to left.
The Z's tied the game with an unearned run against reliever Donovan Hand in the top of the sixth inning. Ed Lucas greeted Hand with a double to left, moved to third on a passed ball charged to Nashville catcher Blake Lalli, and knotted the contest at 2-2 when he raced home on a Ben Lasater groundout to short.
Morris wasted no time putting the Sounds back in front, drilling a massive two-run homer to right off Z's reliever Dan Jennings in the home half of the sixth. Gennett, who preceded Morris with a single, also scored on the slugger's first Triple-A roundtripper, which provided Nashville a 4-2 lead.
Hand (1-0) was the beneficiary of Morris' blast, picking up the win after allowing one unearned run on two hits in 1 2/3 frames of work.
The Sounds tacked on an insurance run in the seventh against Jennings when Josh Prince delivered a well-placed opposite-field, two-out single through the right side of the infield to plate Stephen Parker, who had opened the frame by reaching on an error.
Jennings (0-1) was saddled with the loss for the Zephyrs after surrendering three runs in his 1 2/3 innings of relief work.
New Orleans threatened late, pulling within a run at 5-4 with an unearned run off Jesus Sanchez in the eighth and another run off Rob Wooten in the ninth.
In the ninth, the Z's had a pair of runners in scoring position against Wooten after Koyie Hill singled and Downs walked before ex-Sound Jordan Brown laid down a sacrifice bunt.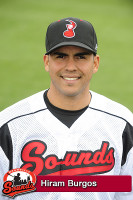 Mattison plated Hill with a groundout to short before Wooten brought a close to the contest by inducing a game-ending flyout from Lucas to secure his first save of the year.
The Sounds and Z's will play game two of their four-game series at 7:05pm on Friday night at Greer Stadium.
Right-hander Hiram Burgos, the Brewers' 2012 minor league pitcher of the year, will get the nod for Nashville opposite southpaw Brad Hand for New Orleans.
The first 2,500 fans to the park will receive Magnet Schedules courtesy of Great Clips. Following the game, Great Clips presents the first fireworks extravaganza of 2013.
Box Score
| | 1 | 2 | 3 | 4 | 5 | 6 | 7 | 8 | 9 | | | R | H | E |
| --- | --- | --- | --- | --- | --- | --- | --- | --- | --- | --- | --- | --- | --- | --- |
| | 0 | 0 | 1 | 0 | 0 | 1 | 0 | 1 | 1 | | | 4 | 7 | 3 |
| | 2 | 0 | 0 | 0 | 0 | 2 | 1 | 0 | X | | | 5 | 4 | 2 |
a-Popped out for Phillips in the 8th.
BATTING
2B
: Downs, M (1, Thornburg), Lucas 2 (2, Thornburg, Hand).
3B
: Lasater (1, Sanchez, Je).
TB
: Downs, M 3; Lasater 3; Lucas 4; Mattison; Hill, K.
RBI
: Mattison 2 (2), Lasater 2 (2).
Runners left in scoring position, 2 out
: Lasater 2; Diaz; Mattison; Valdez, W; Lucas.
SAC
: Koehler; Brown, J.
Team RISP
: 1-for-15.
Team LOB
: 7.
BASERUNNING
SB
: Mattison 2 (2, 2nd base off Thornburg/Lalli, 3rd base off Thornburg/Lalli).
CS
: Mattison (1, 2nd base by Thornburg/Lalli).
FIELDING
E
: Hill, K (1, catcher interference), Lucas (1, fielding), Downs, M (1, fielding).
DP
: 2 (Lucas-Green-Lasater, Green-Lucas-Lasater).
a-Struck out for Thornburg in the 5th. b-Grounded into a forceout for Webb in the 7th.
BATTING
2B: Morris (1, Koehler).
HR: Morris (1, 6th inning off Jennings, 1 on, 1 out).
TB: Prince; Gennett; Morris 6.
RBI: Morris 4 (4), Prince (1).
2-out RBI: Prince.
Runners left in scoring position, 2 out: Parker, S; Gennett.
SAC: Lalli.
GIDP: Morris, Davis, B.
Team RISP: 2-for-7.
Team LOB: 3.FIELDING
E: Parker, S 2 (2, fielding, fielding).
PB: Lalli (1).
WP: Thornburg, Wooten.
Pitches-strikes: Koehler 81-50, Jennings 33-18, Phillips 3-2, Albaladejo 11-7, Thornburg 70-47, Hand 19-14, Webb 2-1, Sanchez, Je 15-11, Wooten 16-11.
Groundouts-flyouts: Koehler 6-0, Jennings 5-1, Phillips 0-1, Albaladejo 0-0, Thornburg 6-1, Hand 4-0, Webb 1-0, Sanchez, Je 0-0, Wooten 2-1.
Batters faced: Koehler 18, Jennings 10, Phillips 1, Albaladejo 3, Thornburg 19, Hand 8, Webb 1, Sanchez, Je 5, Wooten 5.
Inherited runners-scored: Phillips 2-0, Webb 1-0.
Umpires: HP: Quinn Wolcott. 1B: D.J. Reyburn. 2B: Brandon Misun. 3B: Spencer Flynn.
Weather: 47 degrees, overcast.
Wind: 2 mph, Varies.
T: 2:40.
Att: 1,901.