Market Commentary by Scott J. Brown, Ph.D., Chief Economist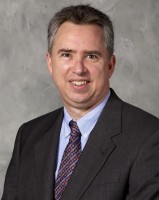 The economic data were generally on the weak side of expectations. The advance estimate of 1Q13 GDP growth came in weaker than anticipated (at a 2.5% annual rate, vs. expectations of +3.0% or +3.1%). Consumer spending was stronger than anticipated at the start of the quarter, while business fixed investment rose more slowly than expected. Inventories rose at a faster pace, adding a full percentage point to overall growth. Government (mostly defense) remained a drag on overall growth. The PCE Price Index continued to trend far below the Fed's 2% target (suggesting little need for the Fed to taper its rate of asset purchases).
Earnings reports were mixed, but generally with some caution in the forward outlooks. Relatively slow global growth isn't going to help and fiscal policy has dampened the outlook domestically.
Next week, the economic calendar is packed. The ISM Manufacturing Index has market-moving potential, but investors will be more interested in the April Employment Report. Quarterly personal income and spending figures, included in the GDP report, imply a moderately strong gain in income in March, but spending is expected to be weak.
The ISM Manufacturing Index fell sharply in March, but some of that could have been due to the weather. The weather was also a likely factor restraining nonfarm payrolls in March. Job growth is expected to have picked up in April. Note that the economy typically adds more than 900,000 jobs in March prior to seasonal adjustment.
The unemployment rate has continued to trend lower, but that's largely because individuals have left the labor force – little change is anticipated for April. The Fed policy meeting is expected to be a non-event – officials will discuss the factors that would lead to a reduction in the rate of asset purchases, but should refrain from taking action anytime soon.
Indices
| | | | |
| --- | --- | --- | --- |
|   | Last | Last Week | YTD return % |
| DJIA | 14700.80 | 14537.14 | 12.18% |
| NASDAQ | 3289.99 | 3166.36 | 8.96% |
| S&P 500 | 1585.16 | 1541.61 | 11.15% |
| MSCI EAFE | 1728.51 | 1667.67 | 7.76% |
| Russell 2000 | 940.28 | 901.51 | 10.71% |
Consumer Money Rates
| | | |
| --- | --- | --- |
|   | Last | 1-year ago |
| Prime Rate | 3.25 | 3.25 |
| Fed Funds | 0.14 | 0.14 |
| 30-year mortgage | 3.41 | 3.88 |
Currencies
| | | |
| --- | --- | --- |
|   | Last | 1-year ago |
| Dollars per British Pound | 1.543 | 1.615 |
| Dollars per Euro | 1.301 | 1.320 |
| Japanese Yen per Dollar | 99.370 | 81.480 |
| Canadian Dollars per Dollar | 1.020 | 0.984 |
| Mexican Peso per Dollar | 12.126 | 13.159 |
Commodities
| | | |
| --- | --- | --- |
|   | Last | 1-year ago |
| Crude Oil | 93.29 | 103.70 |
| Gold | 1457.60 | 1633.13 |
Bond Rates
| | | |
| --- | --- | --- |
|   | Last | 1-month ago |
| 2-year treasury | 0.22 | 0.24 |
| 10-year treasury | 1.67 | 1.85 |
| 10-year municipal (TEY) | 2.97 | 3.26 |
Treasury Yield Curve – 04/26/2013
S&P Sector Performance (YTD) – 04/26/2013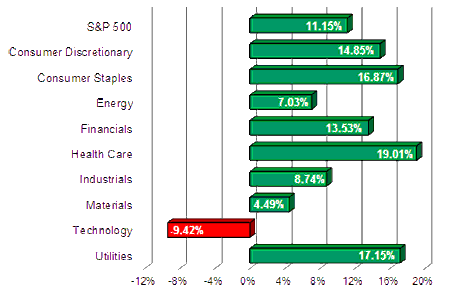 Economic Calendar
April 29

 —

Personal Income and Spending (March)
Pending Home Sales Index (March)
April 30

 —

Employment Cost Index (1Q13)
S&P/Case-Shiller Home Price Index (February)
Chicago PM Index (April)
Consumer Confidence (April)
May 1

 —

ADP Payroll Estimate (April)
ISM Manufacturing Index (April)
FOMC Policy Decision (no press briefing)
Motor Vehicle Sales (April)
May 2

 —

Jobless Claims (week ending April 27)
Trade Balance (March)
May 3

 —

Employment Report (April)
Factory Orders (March)
ISM Non-Manufacturing Index (April)
May 13

 —

Retail Sales (April)
May 27

 —

Memorial Day Holiday – markets closed