Clarksville, TN – The mindset of Austin Peay State University men's golf team is more than just discovering its NCAA Golf Regional destiny, 8:00pm, Monday, when APSU athletics host a viewing party in the second floor Governors Club Room.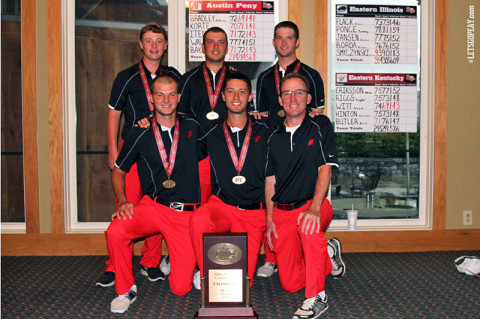 The Golf Governors, in fact, are looking forward to finding out their destination to begin preparing for what they have done all year—compete for championships. The Governors have won a school record six tourney titles this season, including the Ohio Valley Conference championship by nine strokes.
But just as importantly, they have finished no worse than fifth in any of the 11 tournaments in which they have participated this year. If they attain a top 5 finish, May 16th-18th, they will advance to the NCAA Championship, May 28th-June 2nd at the Capital City Club/Crabapple Course in Atlanta, GA.
"I think this team is motivated to do well in the regionals and to compete at the highest level," APSU coach Kirk Kayden said. "They guys are extremely happy we won the OVC championship, but they still feel they can play and compete with these teams at the NCAAs.
Having played against and defeating multiple Top 100 programs—they downed three Top 50 programs at Memphis, TN — this season, the Governors certainly will not be intimidated by the opposition.
"With the difficulty of our schedule this year, we're hoping that really has prepared the guys for something like this come the NCAA regionals," Kayden said. "They have shown this season they can compete against some of the best."
The Governors were ranked 73rd by the most recent Golfstat rankings and should receive their highest seed ever in five trips—APSU was a No. 12 seed in 2009.
They will travel to one of six regional sites – Baton Rouge, LA. (University Club); Tallahassee, FL (Golden Eagle Country Club); Columbus, Ohio (Scarlett Course); Fayetteville, AR (The Blessings Golf Club); Tempe, AZ (Karsten Golf Course), and Pullman, WA (Palouse Ridge Golf Club).
"My guess will be an 8, 9 or 10 seed," Kayden said. "I don't think we have a preference on where we go as all of the golf courses are going to be demanding and the competition will be demanding as well."
APSU golf fans, Governors Club members, Governors Golf alums and students are invited to attend the viewing party, which will begin 7:30pm. The actual announcement will come during the 8 o'clock hour via www.NCAA.com.