Nashville Homers Four Times In Loss; Stephen Parker With Two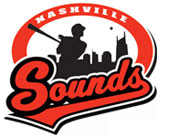 Tacoma, WA – Despite 15 hits and four home runs Tuesday night at Cheney Stadium, the Nashville Sounds fell 8-7 to the Tacoma Rainiers.
The Sounds tied the game in the ninth inning after loading the bases with no outs. Outfielder Khris Davis, 3-for-5, drove a base hit up the middle to score Josh Prince, who reached base on balls. An intentional walk to catcher Blake Lalli loaded the bases again, but Nashville did not plate another.
Instead, Tacoma finished the game in the home half of the inning with two hits off Sounds reliever Kyle Heckathorn (1-1), who entered the game on a stretch of 11 consecutive scoreless frames. Designated hitter Stefen Romero sent the game-winning hit to the base of the left-field wall to score Alex Liddi from second. Heckathorn was charged with the loss.
From the start, the Sounds jumped out to a quick lead against Rainiers starting pitcher Hector Noesi with home runs from Caleb Gindl and Stephen Parker.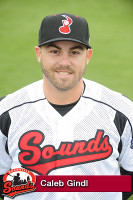 Gindl lifted a two-run shot off the top of the wall in right-field to score Scooter Gennett for the 2-0 start. Gennett, 3-for-4, slipped a single through the infield prior to Gindl's fifth home run of the season. The Sounds added another run in the first on Sean Halton's sac-fly.
Parker attacked Noesi in the second inning with a leadoff home run to right field. The solo shot made it 4-0, but the Rainiers quickly answered the Sounds with a five-spot in the bottom of the inning off of Sounds starter Johnny Hellweg.
After working a 1-2-3 first inning, Hellweg let the first six batters of the second to reach base on four hits and two hit by pitches. Run-scoring doubles from Mike Zunino and Almonte tied the game before their first out. Nick Franklin gave the Rainiers their first lead of the game with a single into left-center field.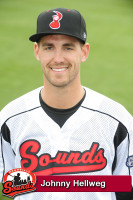 Hellweg only allowed one hit to the Rainiers outside of the second inning, and left with the lead, in line for his second consecutive victory if not for Tacoma's rallies. He allowed the Rainiers five runs on six hits through five innings, walking two with one strikeout.
The Sounds regained the lead with another pair of homers in the fourth inning. Parker sent the first to right field to tie the game at five runs apiece and becomes the third Sounds hitter this season to record multiple homers in a single game. He joins Hunter Morris and Khris Davis.
Parker's second homer was followed later in the inning by a solo shot from Prince for the go-ahead run. The blast, Prince's first of the year, extends his season-long hit streak to six games.
The four homers from Sounds hitters match a season-high for the club and give the team a season-best six consecutive games with at least one dinger.
Tacoma's Nick Franklin helped the Rainiers tie the game in the seventh inning by moving around the horn on a walk, stolen base and a fly ball, before scoring on a wild pitch by reliever Donovan Hand. The home team plated the go-ahead run in the eight on Almonte's drag bunt single towards first base.
Reliever Bobby LaFromboise (3-0) netted the win for Tacoma, with his two bases-loaded outs against Hunter Morris and Dayton Buller in the ninth.
The Sounds play game three against Tacoma on Wednesday night at 9:05 p.m. RHP Tyler Thornburg (0-5, 6.80) looks to bounce back from his rough start earlier in the road trip for Nashville. The Rainiers will send RHP Andrew Carraway (4-1, 3.19) to the hill.
Baseball returns to Greer Stadium on Friday, May 24th, as the Sounds host the Albuquerque Isotopes (AAA-Dodgers) to a four-game set. The game will feature a postgame fireworks show presented by Music City Sports Festival.
Box Score
Tacoma Rainiers (28-18) 8, Nashville Sounds (12-31) 7
May 21st, 2013
1
2
3
4
5
6
7
8
9
R
H
E
Nashville Sounds
3
1
0
2
0
0
0
0
1
7
15
1
Tacoma Rainiers
0
5
0
0
0
0
1
1
1
8
10
0

One out when winning run scored.
BATTING
2B: Lalli (1, Noesi), Davis, K (2, Noesi).
HR: Gindl (5, 1st inning off Noesi, 1 on, 1 out), Parker, S 2 (6, 2nd inning off Noesi, 0 on, 0 out; 4th inning off Noesi, 0 on, 0 out), Prince (1, 4th inning off Noesi, 0 on, 1 out).
TB: Prince 4; Lalli 2; Davis, B; Parker, S 8; Gennett 3; Davis, K 4; Gindl 6; Morris, H.
RBI: Gindl 2 (26), Morris, H (19), Parker, S 2 (14), Prince (9), Davis, K (15).
Runners left in scoring position, 2 out: Buller 4; Morris, H.
SF: Morris, H.
GIDP: Prince.
Team RISP: 2-for-11.
Team LOB: 9.FIELDING
E: Parker, S (10, fielding).
PB: Lalli (2).
DP: (Gennett-Davis, B-Morris, H).
1-Ran for Poythress in the 8th.
BATTING
2B: Peguero, C (7, Hellweg), Zunino (10, Hellweg), Almonte, A (1, Hellweg).
TB: Poythress; Romero, S 2; Peguero, C 2; Zunino 2; Triunfel; Liddi; Almonte, A 3; Franklin.
RBI: Zunino 2 (35), Almonte, A 3 (6), Franklin (19), Romero, S (16).
Runners left in scoring position, 2 out: Poythress 2; Zunino; Franklin.
GIDP: Liddi.
Team RISP: 6-for-15.
Team LOB: 8.BASERUNNING
SB: Romero, S (3, 2nd base off Hellweg/Lalli), Liddi (6, 2nd base off Hellweg/Lalli), Franklin (6, 2nd base off Hand, D/Lalli).FIELDING
Outfield assists: Almonte, A (Gindl at 3rd base).
DP: (Franklin-Triunfel-Poythress).
Gillheeney pitched to 3 batters in the 9th.
WP: Hand, D, Heckathorn.
IBB: Lalli (by Nunez, J).
HBP: Romero, S (by Hellweg), Triunfel (by Hellweg).
Pitches-strikes: Hellweg 106-59, Hand, D 46-28, Heckathorn 11-9, Noesi 80-61, Gillheeney 54-32, Nunez, J 10-3, LaFromboise 8-6.
Groundouts-flyouts: Hellweg 11-0, Hand, D 3-2, Heckathorn 0-0, Noesi 4-6, Gillheeney 4-1, Nunez, J 0-0, LaFromboise 1-0.
Batters faced: Hellweg 25, Hand, D 13, Heckathorn 3, Noesi 25, Gillheeney 14, Nunez, J 2, LaFromboise 2.
Inherited runners-scored: Nunez, J 3-1, LaFromboise 3-0.
Umpires: HP: Brandon Misun. 1B: Spencer Flynn. 3B: Quinn Wolcott.
Weather: 57 degrees, partly cloudy.
Wind: 12 mph, Out to CF.
T: 3:19.
Att: 2,205.