Written by Maj. Brandon Bissell
5th Special Forces Group (Airborne) Public Affairs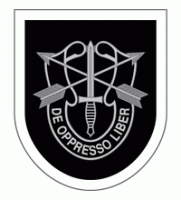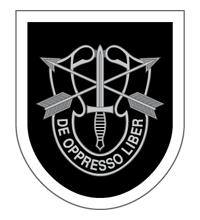 Fort Campbell, KY – Soldiers, family members, and friends of the 5th Special Forces Group (Airborne), also known as The Legion, gathered together on Gabriel Field to remember their fallen during a Memorial Ceremony, May 18th.
To a passerby, Gabriel Field may resemble a typical parade field where units conduct ceremonies, training or host unit events, but to the families and Soldiers of the Legion, it is more than that. It is hallowed ground. It is a place of remembrance.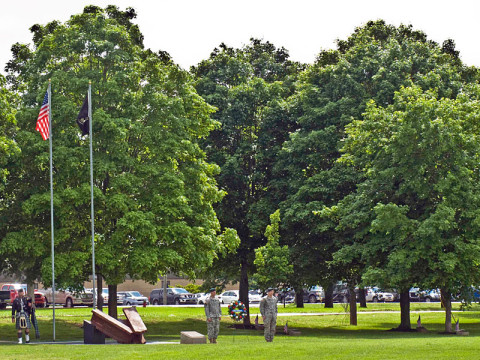 Gabriel Field was named in honor of Specialist 5 James P. Gabriel, who was one of the first Green Berets to be killed in Vietnam. It is memorialized with 57 markers placed around the perimeter of the field, each shadowed by an oak tree in remembrance of those who paid the ultimate sacrifice in training or combat operations.
Although the landscape surrounding Gabriel Field changed slightly throughout the last year with the destruction of several older buildings, the commitment from the Legion to remember the fallen and their families was unaffected.
"We [members of the Legion] choose to continue to serve; carrying on the work and the mission that these men were so dedicated to.  We choose not to forget, to never forget," Col. Scott Brower, commander of 5th SFG (A), said. "We also choose to remember the families of our fallen. They have dealt with incredible loss, often helping us to deal with that same loss, and they continue once again helping us to understand how to move forward."
Everyone in attendance was reminded of the shining example of commitment and service many Legion Gold Star families' provide to other families dealing with similar sacrifices. It is through their selfless sacrifice that they work supporting casualty assistance centers, talking with families, or helping care givers to understand what it means to come into a home of a grief stricken family.
Brower echoed the sentiments felt by every Legionnaire as he reaffirmed the Legion's commitment to the Gold Star families.
"Your sacrifice is not lost to the men and women standing before you on the field today and not to the men and women that continue to serve around the world each and every day. We understand what these families have sacrificed because we are all part of the same family – the Legion family," Brower stated. "Our commitment to this family, much as to this Nation, is not dictated by a date on the calendar or tied to a specific event.  Our commitment is eternal."
On this day, whether they were standing in formation, sitting in the stands, or placing a symbolic rose on a memorial marker, everyone at the ceremony and those who could not attend, were connected and committed to one another. The ceremony displayed how strong a bond is within a family; never fading regardless of time or distance.