Woodstock, GA – Austin Peay State University's Dustin Korte finished his final round at the 2013 NCAA Men's Golf Championship May 30th, at the Capital City Club Crabtree facility, with back-to-back birdies to card a two-over 72 for the second straight day.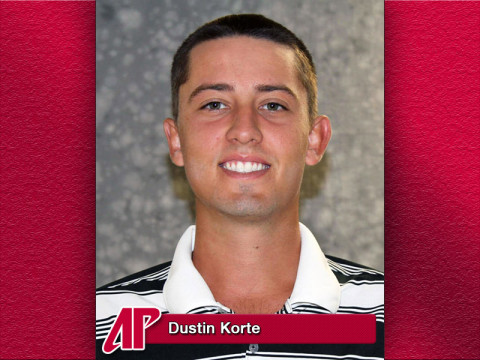 Korte finished the three-day event in a tie for 116
th
place – out of 156 total golfers – with a nine-over total of 219 (75-72-72).
Korte, a senior from Metropolis, IL, is the first Governors golfer to represent the university since the late Craig Rudolph back in 1987, and earned the berth by being the highest finisher in the Tempe Regional — exclusive of the top five qualifying teams.
University of California's Max Homa was the low medalist, finished with a three-round total of nine-under 201 – three shot better than six golfers, who finished with six-under 204 totals.
Korte opened up his final round going one-under through his first five holes – with a birdie three on the second hole.
He would run into trouble late on the front side with a bogie four on the sixth hole and a bogie five on hole eight to make the turn at one-over 36.
Korte would regroup on the back side, carding pars on the first four holes, but ran into a string of three straight bogies on holes 14, 15 and 16 to move to four-over on his round.
But he would close with a flourish, carding back-to-back 3's on holes 17 and 18 to close out the back side with a one-over 36 and a two-over total of 72 for the day.
Overall in the tournament, Korte recorded six birdies, nine bogeys and three double bogeys to go with 36 holes played at par.
On the team side of the tournament, the University of California leads eight teams that advanced to match play – starting May 31st – with a three-round total of 16-under 824, followed by Georgia Tech University (-10-under/830), University of Alabama (7-under/833), University of Texas (7-under/833), University of Illinois (5-under/835), University of New Mexico (2-over/842), University of Las Vegas (2-over/842) and Arizona State University (2-over/842).
Texas A&M University also finished with a 2-under 842 total, but lost out on advancing by shooting a one-over on the playoff hole.