Brentwood, TN – After an impressive four-year career that included Ohio Valley Conference Player of the Year honors, four all-conference nominations and an OVC Tournament Championship, Austin Peay State University men's tennis player Sean Bailey has been named the Steve Hamilton Sportsmanship Award recipient for the 2012-13 academic year.
The honor will officially be presented at the annual OVC Honors Brunch, May 31th, in Nashville, TN. In the 15 years the honor has been awarded, an Austin Peay athlete has won the award nine times, including four of the last five years.
The Steve Hamilton Sportsmanship Award is given annually to an Ohio Valley Conference male or female student-athlete of junior or senior standing who best exemplifies the characteristics of the late Morehead State student-athlete, coach and administrator Steve Hamilton. Criteria include significant athletics performance along with good sportsmanship and citizenship. The award is voted on by the Conference's athletics directors and sports information directors.
Hamilton competed on OVC Championship teams in each baseball, basketball and track while at Morehead State. He earned his bachelor's degree in 1958 and a master's degree also from Morehead State in 1963.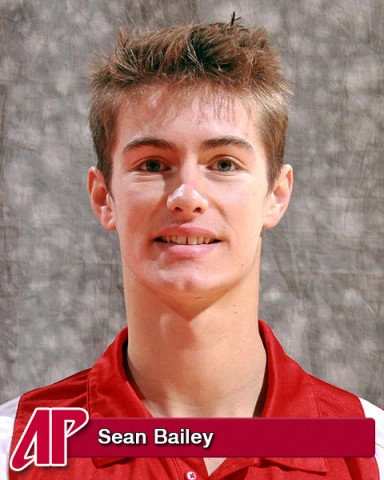 He went on to have an 11-year major-league pitching career and coached in the minor leagues before returning to MSU in 1976 to become head baseball coach. He held that position for 13 years and compiled a 305-275 record while leading the Eagles to five divisional championships and two OVC titles.
He was named Morehead State's Director of Athletics in July 1988 and served in that position until his death in 1997. As the A.D., Hamilton led the program to success on the field, in facilities and in the classroom.
During his tenure, a weight room was built, an academic counselor for athletes was added, graduation rates of student-athletes improved and the University won the OVC Academic Achievement Banner four times.
Hamilton is the only individual to play in the NCAA Basketball Championship, a Major League Baseball World Series (New York Yankees) and a National Basketball Association Championship Series (Minnesota Lakers).
The 2013 campaign was one to remember for Bailey and the Govs. After a coaching change brought head coach Ross Brown to Clarksville, Bailey, representing his teammates, met with assistant athletic director Cheryl Holt to thank the administration for the hire.
He and his teammates showed their appreciation by winning the Govs first OVC Tournament Championship since 1974 and earning their first-ever NCAA Tournament Championship appearance. Bailey was one of four Govs to embark on double-digit winning streak during Austin Peay's 15-match winning streak as a team, helping him earn first-team all-conference honors for the third consecutive year.
Prior to the regular season, Bailey was awarded one of six OVC Scholar-Athlete awards, the 20th Austin Peay athlete to earn such an honor since the award's inception for the 1981-82 year. In addition to Bailey's 2012 OVC Player of the Year honor, he was named Austin Peay's Most Outstanding Male Athlete for the 2011-12 year.
Bailey was a four-time all-conference honoree, including three first-team nods (2011-13) and OVC Player of the Year in 2012. He concluded his career with a 68-24 record, including 20-win seasons in 2011 (21-6) and 2013 (20-4).
In the classroom, the Manitoba, Canada, native carried a 3.95 grade-point average, double-majoring in French and corporate communications. He was a member of the Athletic Director's Honor Roll (3.0 GPA) all eight semesters of his Austin Peay career, earning a President's List (4.0 GPA) honor six times and Dean's List (3.5 GPA or better) twice. He was also a three-time member of the OVC Commissioner's Honor Roll (3.25 GPA for the year). He also was a member of the Phi Kappa Phi honor society during his time at Austin Peay.
Twice, Bailey earned CoSIDA (College Sports Information Directors of America) Academic All-District III honors and was named APSU Male Scholar-Athlete of the Year on two separate occasions.
Bailey also found time to be active in the community. He served as the director for the Wounded Warriors Benefit Dinner and as a volunteer for GHOST, the FCA Food Drive, Govs Give Back, AP Kids Day and the Liberty Elementary School Book Fair.
In addition, Bailey was President of the Student-Athlete Advisory Council (SAAC) for the 2012-13 year, and vice-president for 2011-12. He also was a member of the Public Relations Student Society of America (PRSSA) and the Austin Peay French Club.
Austin Peay Steve Hamilton Sportsmanship Award winners
1998-99 – Julie Virta
2002-03 – Brooke Armisted
2004-05 – Cassandra Brown
2005-06 – Zac Schlader
2006-07 – Adonia Bivins
2008-09 – Carrie Burggraf
2009-10 – Carrie Burggraf
2011-12 – Jon Clinard
2012-13 – Sean Bailey