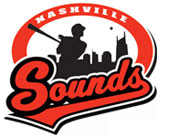 Memphis, TN – Right-hander Johnny Hellweg turned in another outstanding start, hurling seven scoreless frames, to lead the Nashville Sounds to a 2-1 victory over the Memphis Redbirds on Thursday evening at AutoZone Park.
Hellweg (5-4) scattered three hits over his seven scoreless innings to pick up his fourth win in the last five starts. He walked three batters and struck out three during his 93-pitch effort, his third straight quality start.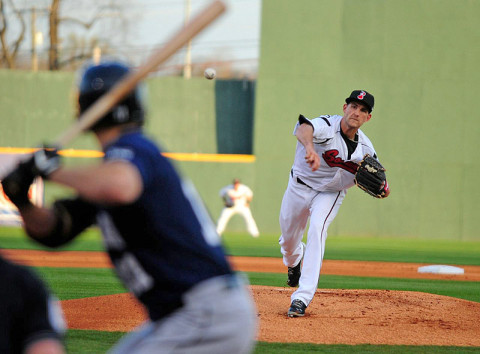 The Sounds scored first in the low-scoring affair on Blake Lalli's two-out RBI single in the top of the fourth inning. Hainley Statia (2-for-2), who drew an inning-opening walk from Memphis starter Richard Castillo (0-2), scored on the knock to break a scoreless tie.
Nashville doubled the lead in the eighth with a run off Redbirds reliever Marc Rzepcynski. Sean Halton led off with a single and went station to station on a Blake Davis sacrifice and Statia single before scoring on Caleb Gindl's RBI single to center.
Memphis got a run back in the home half of the eighth against Michael Olmsted. Adron Chambers drew a one-out walk and later scored on a two-out RBI double off the bat of Ryan Jackson. Olmsted left Jackson stranded at second by popping up Brock Peterson to end the inning.
Rob Wooten closed out the victory with a scoreless ninth. The right-hander worked around a leadoff Greg Garcia doubled, retiring the next three batters to nail down his ninth save of the year.
The teams continue the series with another 7:05pm meeting on Friday. Right-hander Jimmy Nelson will make his Triple-A debut with a start for the Sounds. Memphis will counter with right-hander Scott McGregor (1-2, 7.31).
Box Score
Nashville Sounds (19-39) 2, Memphis Redbirds (31-28) 1
June 6th, 2013
1
2
3
4
5
6
7
8
9
R
H
E
Nashville Sounds
0
0
0
1
0
0
0
1
0
2
7
0
Memphis Redbirds
0
0
0
0
0
0
0
1
0
1
5
0
a-Singled for Hellweg in the 8th.
BATTING
2B: Gindl (13, Castillo, R).
TB: Lalli; Halton; Davis, B; Gindl 3; Statia 2.
RBI: Lalli (10), Gindl (35).
2-out RBI: Lalli.
Runners left in scoring position, 2 out: Prince; Morris, H 2.
SAC: Davis, B.
GIDP: Davis, K.
Team RISP: 3-for-11.
Team LOB: 6.BASERUNNING
CS: Davis, B (1, 2nd base by Castillo, R/Johnson, Ro).FIELDING
DP: (Parker, S-Statia-Morris, H).
a-Grounded out for Castillo, R in the 6th. b-Flied out for Rzepczynski in the 8th.
BATTING
2B: Chambers (9, Hellweg), Jackson, R (16, Olmsted), Garcia, G (9, Wooten).
TB: Chambers 3; Wong; Garcia, G 2; Jackson, R 2.
RBI: Jackson, R (20).
2-out RBI: Jackson, R.
Runners left in scoring position, 2 out: Peterson 3; Johnson, Ro.
GIDP: Jackson, R.
Team RISP: 1-for-6.
Team LOB: 7.BASERUNNING
CS: Garcia, G (1, 2nd base by Hellweg/Lalli).FIELDING
Outfield assists: Romak (Statia at home).
DP: (Garcia, G-Wong-Peterson).
Nashville Sounds
Player
IP
H
R
ER
BB
SO
HR
ERA
Johnny Hellweg (W, 5-4)
7.0
3
0
0
3
3
0
3.25
Michael Olmsted (H, 8)
1.0
1
1
1
1
0
0
5.33
Rob Wooten (S, 9)
1.0
1
0
0
0
0
0
2.97
Totals
9.0
5
1
1
4
3
0
4.61
HBP: Romak (by Hellweg).
Pitches-strikes: Hellweg 93-54, Olmsted 20-12, Wooten 11-5, Castillo, R 94-54, Rzepczynski 30-19, Blazek 12-8.
Groundouts-flyouts: Hellweg 13-3, Olmsted 1-1, Wooten 1-2, Castillo, R 9-2, Rzepczynski 3-1, Blazek 0-1.
Batters faced: Hellweg 26, Olmsted 5, Wooten 4, Castillo, R 23, Rzepczynski 9, Blazek 3.
Umpires: HP: Spencer Flynn. 1B: Brandon Misun. 3B: Jackie Caldwell.
Weather: 81 degrees, partly cloudy.
Wind: 9 mph, In from LF.
T: 2:34.
Att: 4,536.
Venue: AutoZone Park.
June 6, 2013