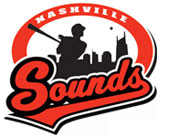 Des Moines, IA – The Nashville Sounds split a doubleheader with the division-rival Iowa Cubs on Wednesday evening at Principal Park. Each team recorded a one-run victory in the twinbill as Nashville captured the opener, 5-4, before dropping the nightcap, 1-0.
In the opener, Chris Narveson (1-2) made his fifth rehab start for the Sounds and held the I-Cubs to two runs on four hits over five-plus innings of work, tossing 80 pitches to earn the victory. He walked one batters and struck out two.
The Sounds got off to a quick start against Iowa left-hander Brooks Raley (5-5), plating two runs in the top of the first inning.
Nashville loaded the bases with no outs on a pair of walks followed by an opposite-field Blake Lalli single to left. Sean Halton was subsequently hit by a Raley pitch to drive home the first run of the contest. Hunter Morris followed and grounded into a double play, with Khris Davis (2-for-2) scoring from third on the play to make it a 2-0 contest.
The I-Cubs responded in the home half of the opening frame. Logan Watkins led off with a triple to right off Narveson and scored on a Donnie Murphy groundout to cut the Sounds' lead to 2-1.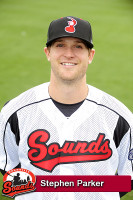 The Sounds increased their lead to 5-1 in the third with three two-out runs off Raley. After Nashville loaded the bases on a Khris Davis double and a pair of walks, Cole Garner plated a pair of runs with a two-out, bases-loaded single up the middle. Stephen Parker (2-for-3) followed with a first-pitch RBI single to center.
Iowa rallied in the bottom of the sixth inning against Kyle Heckathorn, plating a pair of runs before leaving the bags full in making it a 5-3 contest.
The I-Cubs loaded the bases with no outs as a result of a single, walk, and throwing error by Parker before former Sound Brad Nelson cut the Nashville lead to 5-2 with a sacrifice fly. Junior Lake followed with an RBI single and Brett Jackson drew a walk to re-load the bags with one out. Heckathorn recovered to retire the next two hitters to escape the inning and protect the two-run lead.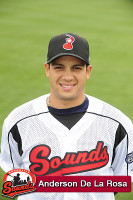 Closer Rob Wooten took over for the Sounds in the seventh. Watkins greeted the right-hander with his second triple of the night and pulled the Cubs within a run at 5-4 when he scored on a Murphy groundout. Wooten retired the next two batters in succession to close out the win and record his 14th save of the year.
Iowa rebounded with a 1-0 victory in the evening's second game. Three I-Cubs pitchers held the Sounds to only one hit — an Anderson De La Rosa single — in the seven-inning contest.
The game featured a pitchers' duel between Tyler Thornburg and Barret Loux as neither team scored over the first five innings of action.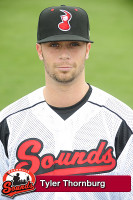 Thornburg (0-9) took another in a series of recent hard-luck losses for Nashville, allowing one unearned run on five hits while striking out seven batters over six innings. The game's only run scored as a result of his own throwing error. Thornburg threw 91 pitches and received credit for a complete game.
With the clubs locked in a scoreless deadlock, Iowa finally broke through in the bottom of the sixth, plating an unearned run follow a throwing error on the Sounds hurler.
Logan Watkins led off the inning with a single. Later, Steve Clevenger hit a one-out comebacker to the mound which should have been an inning-ending double play but Thornburg misfired to second, leaving runners on first and second. Former Sound Brad Nelson drew a four-pitch walk to load the bases for Brent Lillibridge, who fanned for the second out. With pinch-hitter Donnie Murphy at the plate, Thornburg uncorked a wild pitch to allow Watkins to race home with the game's only run.
Brian Schlitter came on for the bottom of the seventh and retired the Sounds' 2-3-4 hitters in order to secure his fourth save of the year.
Hisanori Takahashi (1-0) worked one scoreless inning of relief to pick up his first win of the year for Iowa.
The teams continue the series with a 7:05pm meeting on Thursday. Right-hander Frankie De La Cruz (1-6, 7.77) will toe the slab for the Sounds. Iowa will counter with right-hander Yoanner Negrin (1-2, 3.67).
Box Score – Game 1
Nashville Sounds (25-46) 5, Iowa Cubs (34-38) 4
June 19th, 2013
1
2
3
4
5
6
7
8
9
R
H
E
Nashville Sounds
2
0
3
0
0
0
0
x
x
5
7
1
Iowa Cubs
1
0
0
0
0
2
1
x
x
4
6
0
BATTING
2B: Davis, K (7, Raley).
TB: Lalli; Parker, S 2; Davis, K 3; Garner; Statia.
RBI: Halton (30), Garner 2 (18), Parker, S (20).
2-out RBI: Garner 2; Parker, S.
Runners left in scoring position, 2 out: Garner; Chavez, O; Lalli; Halton.
GIDP: Morris, H, Chavez, O.
Team RISP: 3-for-10.
Team LOB: 5.BASERUNNING
SB: Davis, K (5, 2nd base off Raley/Boscan), Statia (4, 2nd base off Bowden/Boscan).FIELDING
E: Parker, S (14, throw).
a-Struck out for Raley in the 6th.
BATTING
2B: Raley (1, Narveson).
3B: Watkins 2 (6, Narveson, Wooten).
TB: Raley 2; Murphy; Lake; Watkins 7.
RBI: Murphy 2 (23), Nelson (44), Lake (5).
Runners left in scoring position, 2 out: Bogusevic; Watkins; Torres, T 2.
SF: Nelson.
Team RISP: 1-for-8.
Team LOB: 6.FIELDING
Outfield assists: Bogusevic (Lalli at 2nd base).
DP: 2 (Murphy-Nelson, Nelson-Murphy-Nelson).
Nashville Sounds
Player
IP
H
R
ER
BB
SO
HR
ERA
Chris Narveson (W, 1-2)
5.0
4
2
2
1
2
0
7.00
Kyle Heckathorn
1.0
1
1
0
2
1
0
4.08
Rob Wooten (S, 14)
1.0
1
1
1
0
1
0
2.65
Totals
7.0
6
4
3
3
4
0
4.45
Iowa Cubs
Player
IP
H
R
ER
BB
SO
HR
ERA
Brooks Raley (L, 5-5)
6.0
6
5
5
4
5
0
5.40
Michael Bowden
1.0
1
0
0
0
0
0
4.66
Totals
7.0
7
5
5
4
5
0
4.68
Narveson pitched to 1 batter in the 6th.
HBP: Halton (by Raley).
Pitches-strikes: Narveson 80-48, Heckathorn 32-17, Wooten 18-13, Raley 90-50, Bowden 10-7.
Groundouts-flyouts: Narveson 6-4, Heckathorn 1-2, Wooten 2-0, Raley 7-3, Bowden 1-2.
Batters faced: Narveson 20, Heckathorn 7, Wooten 4, Raley 27, Bowden 4.
Inherited runners-scored: Heckathorn 1-1.
Umpires: HP: Scott Mahoney. 1B: Blake Davis. 2B: Stephen Barga. 3B: Alex Ortiz.
Weather: 84 degrees, partly cloudy.
Wind: 14 mph, Out to LF.
T: 2:12.
Venue: Principal Park.
June 19, 2013
Box Score – Game 2
Iowa Cubs (35-38) 1, Nashville Sounds (25-47) 0
June 19th, 2013
1
2
3
4
5
6
7
8
9
R
H
E
Nashville Sounds
0
0
0
0
0
0
0
x
x
0
1
1
Iowa Cubs
0
0
0
0
0
1
x
x
x
1
5
0
BATTING
TB: De La Rosa, A.
Team LOB: 1.BASERUNNING
CS: Morris, H (1, 2nd base by Loux, B/Clevenger).FIELDING
E: Thornburg (3, throw).
DP: (Davis, B-Morris, H).
Pickoffs: Thornburg (Bogusevic at 1st base).
a-Grounded out for Loux, B in the 5th. b-Flied out for Torres, T in the 6th.
BATTING
TB: Nelson; Clevenger; Bogusevic; Watkins 2.
Runners left in scoring position, 2 out: Lillibridge; Murphy 2.
Team RISP: 0-for-3.
Team LOB: 5.BASERUNNING
CS: Bogusevic (2, 2nd base by Thornburg/De La Rosa, A).
PO: Bogusevic (1st base by Thornburg).FIELDING
DP: (Clevenger-Lillibridge).
Nashville Sounds
Player
IP
H
R
ER
BB
SO
HR
ERA
Tyler Thornburg (L, 0-9)
6.0
5
1
0
2
7
0
5.74
Totals
6.0
5
1
0
2
7
0
4.41
WP: Thornburg.
Pitches-strikes: Thornburg 91-52, Loux, B 65-39, Takahashi 12-8, Schlitter 6-6.
Groundouts-flyouts: Thornburg 4-3, Loux, B 6-2, Takahashi 1-2, Schlitter 2-0.
Batters faced: Thornburg 24, Loux, B 16, Takahashi 3, Schlitter 3.
Umpires: HP: Blake Davis. 1B: Stephen Barga. 2B: Alex Ortiz. 3B: Scott Mahoney.
Weather: 81 degrees, partly cloudy.
Wind: 10 mph, Out to LF.
T: 1:39.
Att: 5,058.
Venue: Principal Park.
June 19, 2013