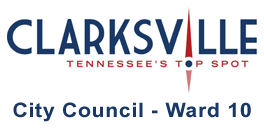 Clarksville, TN – The council met in a shorter budget special council session (about 4.5 hours) after first conducting the required executive session.
Executive Session – An interesting topic of the executive session was Mayor McMillan's submission of her nominees for the Clarksville Ethics Commission.
After seeing the nominee list and doing some homework, I asked the mayor to affirm that at least one of her nominees (Pastor Willie Freeman) is a financial donor to her 2014 mayoral re-election campaign.  She confirmed this was true.
Remember, this mayor wanted to establish a ethics commission, because the old system could lead to unfair and political "let's get even" processes. Seems the council fell (again) for the polished bovine scatology of the mayor.
Remember, Mayor McMillan fought against letting each council member nominate a citizen from their ward that required no political connections to those on the council to ensure fairness. Now we see why.
One must question the motives and ethics of our mayor when such a blatant conflict of interest is paraded before the public and she acts surprised that anyone should be concerned about it. More to come on this.
Budget
The budget was passed in a 8-yes & 5- no vote. I voted no.
I'll provide more details in the coming days, but briefly Mayor McMillan broke tie votes of the council to defeat amendments to add police officers to counter population growth needs and add firefighters to staff a new fire station planned for opening next year.
She supported spending money ($50.00 per employee) as a bonus and inducement to get city employees to use the free city health care clinic. According to the mayor and staff we need to basically bribe employees to use the free health care services she obligated the city to pay for before she had secured council funding.  Otherwise, they might not use it.
The bonus and inducement money was promised to employees before the council voted on it   She also supports taxpayers spending $600.00 per employee, for employees to use the free health clinic even though they had refused to sign up for city health care insurance and cost the city nothing before this.  Employees also do not have to sign out on sick leave if they decide to use the city health clinic, while those that may use their own doctor will be charged sick leave.
The mayor touts that no tax increase was needed. That is true, but you now pay principal and interest on money the mayor borrows for 5, 10, 15 years to pay for new studies that cost $100,000 or less while the mayor refused to commit to follow-on actions to carry out past studies recommendations conducted with borrowed money. If you don't have the cash, just borrow seems to be the process these days.
More to come.