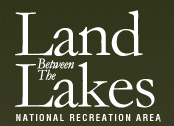 Golden Pond, KY – Hey parents! Bring your kids to Land Between the Lakes Cool & Crawly Critters Day where they can get an up-close look at bugs, snakes, turtles, fish, and more!
Land Between The Lakes (LBL) National Recreation Area offers the event at Woodlands Nature Station on Saturday, July 13th, 2013, from 10:00am to 4:00pm. Event admission fee is $5.00 ages 13 and up, $4.00 ages 5-12, age 4 and under are FREE. All programs are included with admission fee. Lunch will be available for purchase.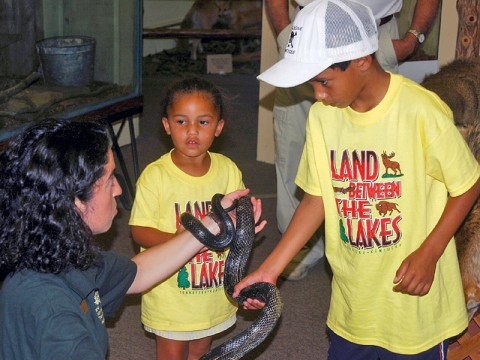 The day's events include games, crafts, programs, and lots of cool and crawly critters. Stop by ongoing exhibits such as the Insect Road Show, Rescued Reptiles, Aquatic Animals, and Slithery Snakes.
Throughout the day, scientists and naturalists will be on hand conducting programs and answering questions. Be sure to say hello to Smokey Bear when he stops by for a visit.
The day offers a variety of activities for everyone, especially ages 5-12. Home educators use this day as part of their science and nature curriculum.
Featured programs include:
Schedule Programs
11:00am
Live Animal Show; Meet a Fruit Bat, Prairie Dog and more!
12:00pm
6th Annual Turtle Race
1:00pm
Live Animal Show: Meet a Fruit Bat, Prairie Dog and more!
2:00pm
Amazing Animals Puppet Show
3:00pm
Live Animal Show: Meet a Fruit Bat, Prairie Dog and more!
Ongoing Activities
Times: 10:00am-4:00pm
Check out incredible live insects from the University of Kentucky's Insect Road Show
Meet a 3-toed Amphiuma, Straw-colored Fruit Bat, Caiman, Prairie Dog, Red-footed and Sulcata Tortoises, and a few surprises, during the Cool & Crawly Live Animal Show with Natural History Educational Company of the Midsouth
Get up close and personal with Murray State's Herpetological Society snakes and turtles
Discover LBL area fish, reptiles, and amphibians with experts from Austin Peay State University Center for Excellence for Field Biology
Learn about reptiles from Reptiliacs Pet Reptile Rescue and meet their rescued boas, pythons, and rat snakes
Sit back and enjoy the Amazing Animal Puppet Show
Explore tiny aquatic creatures with students from Murray State's Hancock Biological Station
Enjoy the 6th Annual Cool & Crawly Critters Turtle Race!
Cool & Crawly games, visits
"If your children like animals, they will love Cool & Crawly Critters Day! Everyone will delight in the many up-close encounters they will experience with animals of all kinds," said Nature Station naturalist, Aviva Yasgur. "Families can spend the day having fun while learning about these animals hands-on. You may find out that these critters are cooler and less creepy than you thought."
Come Outside and Play at Land Between The Lakes National Recreation Area. Managed by the Forest Service, U.S. Department of Agriculture, Land Between The Lakes provides outdoor recreation, lake access, and environmental education for the public to enjoy.
Visitors are encouraged to review the official website at www.lbl.org often for Calendar of Events, updates on programs and policies, safety information, maps, temporary trail and road closures, and more, or call 800.LBL.7077 or 270.924.2000.
Follow LBL on Twitter @LBLScreechOwl or @LandBtwnLakes. USDA is an equal opportunity provider and employer.