Here is a letter I got from a friend this week. I thought I would share it in hopes it might help others.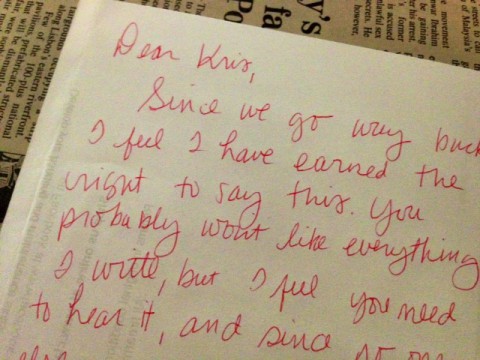 Dear Kris,
Since we go way back, I feel I have earned the right to say this. You probably won't like everything I write, but I feel you need to hear it, and since no one else will give it to you straight, I will.
Today is a great day. Today you can trust God to do His job. Of course you can trust Him everyday but some reason, you lay down your concerns and pick them back up before giving God a chance to reveal His plan. You can't solve everything; you can't fix everything. You are not a miracle worker. You are not a super hero. You are a person, with human expectations, human impatience and an inherent lack of the ability to see the big picture (even though you pride yourself on just that.)
You steal your own joy. Your sabotage your own happiness. As hard as you try to do good, you truly are your own worst enemy. In your search for happiness, you have bounced around from this to that. You ran into a friend at the store the other day, and she said that you are always between two things. Another friend said that you can't say no. Another said that you don't finish as well as you start. What does all that tell you? Here's a plan: start less; finish more. Say no. Stop raising your hand. Stand still, breath, just
be
.
Find comfort in this verse: You are my refuge and my shield; your word is my source of hope. (Psalms 119:114). God has you covered, and when you wonder if your future will be a good one, get in the word. And while you're in the word, read Ecclesiastes 2:22-26 and remember that everything you have is because of Him, and who can enjoy anything apart from Him? What is the point of having it all figured out if you don't know what to do with it or how to enjoy it once you get it?
In other words, instead of obsessing over careers and plans and the future, spend time with Him. Read the Bible. Find confidence in the word. Enjoy today: the little stuff, a meal, downtime, chores, a walk to the mailbox, and a drive to the store. It's all good. And guess what? People are watching, especially your kids, and they need a better example than you are currently setting. Joy is a choice; show them how to choose it!
For your sake, and for mine, relax and enjoy.
Forever yours,
Your future self
P.S. You are giving me gray hair with all of your midnight worrying. Take it down a notch please!