Clarksville, TN – Austin Peay State University head coach Kirby Cannon has gone north to add a couple of familiar faces to the Governors' 2013 roster.
Running back Tim Phillips, who enjoyed an incredible prep career in Louisville before spending the last four seasons at Central Michigan, and safety Leron Eaddy (pronounced ee-dee), who played for Cannon the past three seasons in the Chippewas secondary, will play their final respective college seasons as Governors.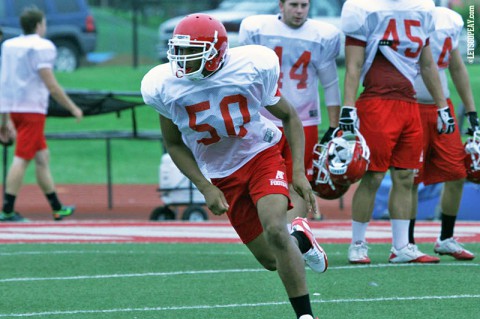 Those are just two of the additions Cannon announced Wednesday. Also joining the Govs is Montrieze (pronounced mon-trays) Lillard, an inside linebacker from Pearl Cohn High School in Nashville via Independence (KS) Community College.
Phillips and Eaddy, although already on APSU campus, are finishing Central Michigan online classes to complete their respective undergraduate degrees. They both will enter graduate school at APSU.
Lillard, meanwhile, also is completing work at Independence before joining the Governors. All three are expected to be available for practice as early as Friday.
The Governors also have added two incoming freshman recruits in linebacker Antonio Turner, out of Louisville (KY) Western and wide receiver Rashaan Coleman, from Portage (IN) Central.
Meanwhile, Trey Taylor, a quarterback originally from Germantown Houston who has been at Central Arkansas the past two seasons, has transferred to APSU. He will sit out this season as a transfer but will have two seasons of eligibility remaining.
Phillips was Central Michigan's leading rusher in the spring game, running for 57 yards and a touchdown on 11 carries. In three seasons—he missed 2010 with an injury—he had 289 yards rushing and two TDs. He had 214 yards in 2011, including a career-best 84 yards against Western Michigan.
The 5-7, 174-pound back enjoyed an almost unparalleled career at Trinity High School. The Louisville native was part of four straight title teams. He scored four touchdowns (three rushing, one receiving) in the 2008 championship contest and rushed for 167 yards and two TDs in the 2007 contest. He left the program as its all-time leading rusher with 4,587 yards. In his final 10 high school playoff games spanning two seasons he had at least 100 yards rushing in each.
"Tim Phillips is an outstanding player, a dominating high school player," Cannon said. "Tim was involved in a logjam at the tailback position there (CMU). I think Tim, in his final year, envisioned himself as a bigger part of the football team there. Apparently that was not going to happen.
"He chose here for three reasons: first, a chance to be a dominant player; secondly, to be closer to home and third, his relationship with me. He is just an outstanding young man with great character—a very good student, very active in the FCA. Tim is one of the best conditioned athletes you can find. He is going to bring a lot to our program."
Eaddy, meanwhile, played three seasons for Cannon at Central Michigan after redshirting in 2009. He comes to APSU having played in 30 career games, including one start. He has been credited with 31 career tackles, including 28 over the last two seasons. He is expected to challenge for a starting spot at one of the safety positions.
"Leron is a very good player and his situation is similar to Tim's," Cannon said. "He wanted to be a bigger part of a program in his final season. He was a productive player at Central but the idea of being able to be a major contributor motivated his decision.
"I am very familiar with his abilities and will try to utilize him for what he is—an outstanding blitz safety, a very physical player and a very good student of the game."
Meanwhile, the 6-0, 225-pound Lillard is expected to bring athleticism to the linebacker position.
"Physically he is always what you are seeking at inside linebacker," Cannon said. "He has size, speed and is a very aggressive tackler. He has a chance to come in and be a special linebacker for us.
"He's a good recruit for us. He is a local player, originally from Nashville. In addition, our athleticism at linebacker needs to improve. He is multidimensional—he can play stand-up linebacker but is also very good as a blitzer. He really enjoys the game. He really enjoys the game—he really enjoys the game and will bring some of that enthusiasm into our program."
Turner is another linebacker who will add athleticism to APSU's linebacker corps. The 5-11, 200-pound defender was a four-year starter at Western High School. He earned all-district honors as a senior and was chosen for Kentucky All-Star team, earning MVP honors for the West squad.
"As we increased our recruiting presence in the Louisville area this spring, Antonio was a player we had recommended to us by a coach," Cannon said. "We followed up and he was a player who was heavily recruited by FBS schools—he was offered one by a Big 12 school but that school filled up and he lost the opportunity to play at that level.
"He is an outstanding athlete and a really good student. He is one of those kids who can do it all. He reminds me of Lillard and what he probably looked like when he was 18. He has good size and very good speed. Antonio is a young man, who once he figures out where he is going, will be a major factor in this program. He may be a freshman-ready player and if he is, we are going to make sure he has the opportunity to be successful as a freshman."
The 5-10, 190-pound Coleman, meanwhile, is expected to bring speed to the wide receiver corps after playing that position along with running back and strong safety in high school. As a senior at Portage High School, he rushed for more than 1,000 yards—his father Earl Coleman is a former Purdue running back—and had another 400 yards receiver. On defense he was credited with 45 tackles while hauling in three interceptions. Her earned all-conference, all-area and All-State honors as a senior.
Cannon recruited him as a junior for Central Michigan.
"Rashaan had an injury-filled senior season and was not offered a scholarship by an FBS team," Cannon said. "Once the FBS option never materialized, he wanted the combination of academics and athletics. We stayed on him and emphasized the advantages of coming both as a player and student. He and his family came down here in mid-July and like most people do, fell in love with Austin Peay.
"He is just a good football player. Rashaan can play a multitude of positions like he did in high school. He is a thick-muscled kid who can do a lot."
Taylor, meanwhile, was recruited by the Governors out of Germantown Houston where he was a two-time all-district quarterback. He left the program as its all-time leading passer, completing 156 passes out of 275 attempts for 2,341 yards. He also rushed for 784 yards. He was the 2010 Liberty Bowl All-State Game MVP.
"Like the guys at Central Michigan I think Trey just got caught in a logjam at Central Arkansas," Cannon said. "Trey sees his opportunities better in a program that is building.
"He will have to sit because he is a lateral transfer. He is an outstanding student and brings a lot of character, another Tennessee athlete into our program. As we have gotten to know Trey, he has leadership written all over him, the way he conducts himself. Even though he will serve as our scout team quarterback this year, we will continue to develop his skills at quarterback. He is excited to be able to contribute that way this year was but looks forward to competing for a starting job next spring."