Glencoe, AL – Austin Peay State University women's golf team produced its best tourney round and, as a result, finished in third place at the 18th Annual Chris Banister Golf Classic, played at Silver Lakes Golf Course.
Led by seniors Tala Mumford and Rachel Deaton, the Lady Govs closed with a 313, four strokes better than Sunday's round. The 950 score allowed them to slip into third place one stroke ahead of Ohio Valley Conference rival Belmont (951). Host Jacksonville State (881) ran away with the tourney with UALR second (921).
"I was pleased overall with how they played," APSU coach Sara Robson said. "We fought hard all the way to the end. We lost some shots on the final holes, but today they weren't mental mistakes. In golf you are not always going to hit great shots—you live with that."
For a second straight day it was seniors Mumford (76) and Deaton (77) leading the way. But they received help from two freshmen. Morgan Gardner produced her second sub-80 round with a 78 while Morgan Kauffman added an 82 for the 313 total. Sophomore Jessica Cathey, the Lady Govs' top returning player, struggled with an 84.
"Both Tala and Rachel played well the last two rounds—they stepped up," Robson said. "But overall I think almost everyone played well today. I heard some of them talking that even though we played better today they said 'we know can do better.'"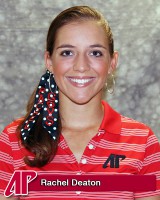 Individually, another freshman, Amber Bosworth (Southlake, Texas) produced APSU's best tourney round on the final day, shooting a 75. Coupled with Sunday's 77 and a first-round 84, she finished tied for 10th in her first college tournament with a 236.
Junior Meghan Mueller also finished with back-to-back sub-80s scores with a 79, Monday, for a 243 total. Freshman Kelsey Schutt authored her tourney's best round with a final-day 80 for a 251 total.
The Lady Govs will have just a few days to rest before returning to action Monday and Tuesday in the 54-hole MSU Drake Creek Invitational in Ledbetter, KY.
"Overall, we really putted well in this tournament," Robson said. "What many of us have to work on is our chipping and our wedges.
"Some others just need to hit a lot of golf balls."
Box Score – Day 3
Chris Banister Golf Classic
Silver Lakes Golf Course
| | | | | | |
| --- | --- | --- | --- | --- | --- |
| Finish | School – Players | Round 1 | Round 2 | Round 3 | Totals |
| 3 | Austin Peay State University | 320 | 317 | 313 | 950 |
| 13 | Tala Mumford | 83 | 78 | 76 | 237 |
| T 14 | Morgan Gardner | 78 | 82 | 78 | 238 |
| T 14 | Rachel Deaton | 83 | 78 | 77 | 238 |
| T 18 | Morgan Kauffman | 79 | 81 | 82 | 242 |
| 22 | Jessica Cathey | 80 | 80 | 84 | 244 |
| | | | | | |
| T 10 | Amber Bosworth | 84 | 77 | 75 | 236 |
| 21 | Meghan Mueller | 86 | 78 | 79 | 243 |
| 28 | Kelsey Schutt | 86 | 85 | 80 | 251 |
| | | | | | |