Clarksville, TN – Walker and Judy McCutcheon are big Elvis Presley fans.
HUGE!
And if you know the two retired Fort Campbell school teachers, then you know what a big understatement that is.
But their love and appreciation of the music of their generation, runs deeper than just the legend the world knows simply by his first name….Elvis.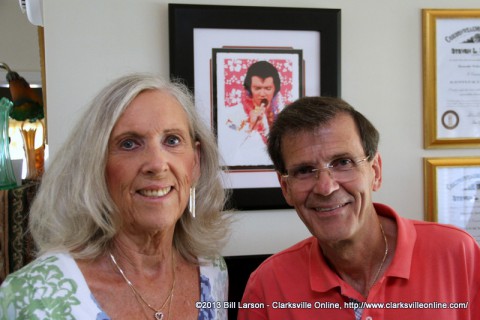 Walker McCutcheon met Judy Barnes while teaching at Fort Campbell Middle School in 1970.  He was teaching 9th graders, and eventually became supervisor of  the "in school suspension" program.
Judy had begun her career in 1968 after graduating from Austin Peay.
Military families are unique in that the father figure is typically gone for long periods of time, and that presents some problems at home.  Those problems end up at school.
"These were some tough times on these children, with their fathers gone all the time" said Walker.   "There just wasn't any discipline at home, so we had to try and keep these kids from getting in more trouble" said Walker. "I would often go to Judy for suggestions on how to handle some situations.  We were trying to keep these kids from getting in more trouble.  It was a tough time for them," he said.
It was during this professional relationship, that Walker and Judy would get to know each other.
"I just thought she was the prettiest thing in the world" said Walker.  "I would see her everyday, and finally, a mutual friend told me I should ask her out on a date, and I did."
"I was attracted to Walker from the moment we met" said Judy.  "When he asked me out, I said yes.
42 years later, Walker and Judy McCutcheon are still in love, and loving their life together.
One of the many things they have in common is their love of Elvis Presley, but how they came to appreciate Elvis and what the music meant to them, would be life changing.
"He was just everything" Walker would say about Elvis.   "He was from Mississippi, he grew up in the church, he sang gospel music, he served in the military.  He was just this clean cut All-American  boy" said Walker.  "What was not to love?"
"Well, all the girls just loved him" said Judy.   "He was good looking, he was a rock and roll singer, he had those moves, are you kidding me?"
But there was more.
Each of them would experience life changing events, that would forever endear them to Elvis Presley.
In 1965, a teen aged Walker McCutcheon was diagnosed with Guillain-Barre Syndrome.
Guillain-Barre Syndrome:
Guillain–Barré syndrome (GBS) (French pronunciation: ?[?i?l?? ba??e], English pronunciation: /??i?læn?b?re?/), sometimes Landry's paralysis or Guillain–Barré–Strohl syndrome, is an acute polyneuropathy, a disorder affecting the peripheral nervous system. Ascending paralysis, weakness beginning in the feet and hands and migrating towards the trunk, is the most typical symptom, and some subtypes cause change in sensation or pain, as well as dysfunction of the autonomic nervous system. It can cause life-threatening complications, in particular if the respiratory muscles are affected or if the autonomic nervous system is involved. The disease is usually triggered by an infection.
The biggest threat comes with the paralysis of the diaphram, and the patient cannot breathe on his own.  This would require  the patient to live in an iron lung to help them breathe.  At the time, it was a rather intimidating situation,  and the prognosis was a little depressing.  Walker watched two other patents die at Vanderbilt, in an iron lung, during his hospital stay.
The late great Andy Griffith suffered from Guillain-Barre Syndrome.
So there was this scared little 16 year old boy, not sure if he would ever leave the hospital, laying flat on his back, in this intimidating machine, just to stay alive. Walker would spend 31/2 weeks in an iron lung.  He couldn't even see the television in his hospital room.
But he had this transistor radio.  He had music and the music was Elvis.
"I was sixteen years old when I was diagnosed" said Walker.  "All I had was this little radio, and it was tuned to WKDA.  All the big hits of the day were being played."  "There was Sam the Sham and the Pharoahs, the Beatles, and Elvis" he said.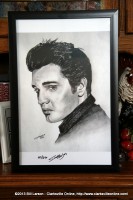 "When "Crying in the Chapel" came on for the first time, I was just overwhelmed. It just struck a chord with me" according to Walker. "It just was the greatest song I had ever heard."
It was a life changing experience.  All Walker had was the music.  The world he lived in was so uncertain.
Judy McCutcheon also had a distinct, life changing connection to Elvis.  Her brother Randy.  Randy was a special needs child.
Randy was a dwarf.
Dwarfism:
Dwarfism is a condition of short stature. It is defined by the advocacy group Little People of America (LPA) as an adult height of 4 feet 10 inches or under, as a result of a medical or genetic condition. Although other groups may extend the criteria for certain forms of dwarfism to 5 feet, the average height of an adult with dwarfism is 4 feet.
Dwarfism can be caused by any of more than 200 conditions. Causes of proportionate dwarfism include metabolic and hormonal disorders such as growth hormone deficiency.
The most common types of dwarfism, known as skeletal dysplasias, are genetic. Skeletal dysplasias are conditions of abnormal bone growth that cause disproportionate dwarfism. 
Judy would lose two  brothers to the condition.  One at birth, the other shortly thereafter.
When Walker and Judy married, they decided not to have children.
But they had each other and they had their music. And they loved all of it.
"Randy just adored Elvis," said Judy.  "Special needs children just seemed to be attracted to his music.  I don't know what it is, but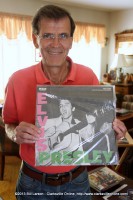 Randy would just "light up" when heard an Elvis record. "
"We took Randy to Memphis to visit Graceland, and he absolutely loved it," Judy remembers.  "Back then, Elvis would sometimes come to the gates of Graceland and meet his fans and even though we didn't see him when we took Randy, it was one of the thrills of his life."
One of their fondest memories was the opportunity to see Elvis in concert, and it was all because of Randy that they got to go.
It was July, 1973, Municipal Auditorium, Nashville Tennessee.  Walker remembers the story all too well.
"I had mailed off my money for Elvis tickets to see one of the two shows he was performing in Nashville" said Walker.  "I didn't get the tickets, they were sold out."  "So, one day, we were over at Judy's parents and her father asked me if we had gotten our tickets to the show, and when I told him we didn't, he asked us if we would like to go?"
"I said, of course, are you kidding me?"
You see, Judy's father had gotten three tickets and he offered them to Walker and Judy, under one condition.
"You have to take Randy, I bought the tickets for him" he said.
So on that memorable day in July, 1973, Walker and Judy McCutcheon, with her sweet brother Randy, went to see  Elvis Presley for one of the greatest concerts they would ever attend, and for one of the fondest memories they would ever have of Randy.
"It was one of the greatest memories of my brother I will ever have," said Judy.
"And do you know what I remember most about that day?" asked Walker.  "Randy wanted to eat at Captain D's.  He had the time of his life, and so did we."
Randy died exactly six months to the day after the death of Elvis Presley.  He was 28 years old.
So now, Walker and Judy McCutcheon are having some of the best times of their lives as they enjoy their retirement, and one of their favorite things to do is to go to Memphis.
"Now that we're retired, we have nothing to tie us down here, so off we go," says Walker.
One of their most anticipated trips of the year,  is the annual "Elvis Week,"  held on the anniversary of Elvis's death,  where fans come from all over the world to spend the week at the home of rock and roll.  They take tours, go to performances and just soak themselves with their favorite rock star and enjoy the many events that are planned during the week.
And they've made so many new friends.
"The internet has enabled us to meet so many people, from all over the world, who share our love of Elvis Presley" said Walker.
"We just love it, and we're having the time of our life" said Judy.
But the music they love so much , reminds them of the times in their lives that changed them forever.
Memories of how precious life is.
And all because of the man the world knows by just his first name….Elvis.
Photo Gallery