Clarksville, TN – Shooting just one stroke over his age, Dick Blackston recorded a round of four-under 67, Saturday, September 14th at Swan Lake Golf Course, to lead the Senior Division of the Mayor's Golf Classic by three strokes.
Blackston carded six birdies, including four on the back nine, to go with two bogies in his round – which is his best round ever at Sawn Lake, besting a round of 69 that occurred about 15 years ago.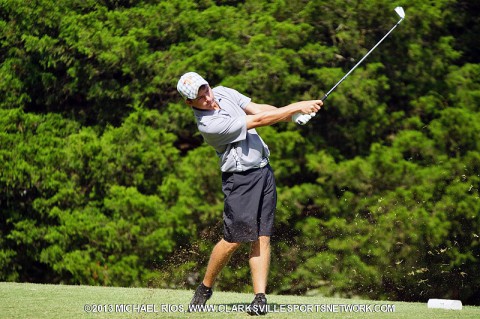 "My wife and daughter are on a trip to New York and they are never going to believe it when I call them," Blackston said. "I've never been in this position since I was about 16 years old, but I've not complaining.
"Making putts was the key for me today. I didn't have a three-putt all day and that's unusual out here on this course. I wasn't hitting it all that close, but the putts was going in the hole."
Rich Richardson was the only other senior to go under par, finishing with a one-under 70, with Steve Blackwell and Marcus Sartain coming in at even par 71.
"The 70 was my best round out here this summer," Richardson said. "I just tried to keep it in the fairways and not gamble from the short tees.
"The last three of four weeks, I also changed my putting stroke from a claw to a professional putting stroke and its really helped my putting a lot."
The trio of Greg Guinn, Bill Wilkinson and Bruce Walker are five shots back at one-over 72.
In the Open Division, Tyler Guy, Brian Balthrop and Tyler Phillips sit atop the leaderboard with even-par rounds of 71, with David Saldana two shots back with a two-over round of 73.
"I finished well with that birdie on 18, but I didn't really play very well today," Balthrop said. "I had a lot of errant shots with the wind being pretty brutal, so you had to use a lot of controlled shots.
"I got off to not a very start and trying to battle by way back to get under par at the turn. I made a birdie at 13 and then made a silly double (bogie) on 14, but I was able to get into the clubhouse with a birdie on 18 so that should be some good momentum going into tomorrow."
Aaron King sits in fourth place, three shots back after an opening round 74, with Jamie Webb and Hunter Richardson tied for fifth place with rounds of 75.
The classic concludes September 15th, with the first group teeing off at 7:30am and the final grouping starting their round at 11:30am.
Photo Gallery