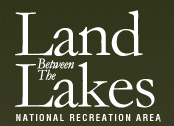 Golden Pond, KY – Celebrate your public lands on Saturday, September 28th. Land Between The Lakes (LBL) National Recreation Area will waive fees at participating day-use facilities and have a trail clean-up opportunity in honor of National Public Lands Day.
General admission to The Homeplace, Woodlands Nature Station, Elk & Bison Prairie, and the Golden Pond Planetarium show at 1:00pm will be free. Also, Wranglers Campground will waive day-use riding fees.
Participate in a trail clean-up at Wranglers Campground from 9:00am-3:00pm. Bug spray, gloves, and lunch will be provided. Use your horse or your own two feet. For more information or to register, call 270.924.2007, register at Wranglers Campground gatehouse, or email
.
Land Between The Lakes joins other National Forests and National Parks across the United States in participating in our nation's largest one-day volunteer event for public lands.
"Get out and get active on National Public Lands Day," says Emily Schmadeke, Volunteer Coordinator for the LBL Association. "This is an inspiring way to celebrate public lands and give back to your favorite places."
For more information on volunteer opportunities at Land Between The Lakes, visit www.friendsoflbl.org.
Come Outside and Play at Land Between The Lakes National Recreation Area. Managed by the Forest Service, U.S. Department of Agriculture, Land Between The Lakes provides outdoor recreation, lake access, and environmental education for the public to enjoy.
Visitors are encouraged to review the official website at www.lbl.org often for Calendar of Events, updates on programs and policies, safety information, maps, temporary trail and road closures, and more, or call 800.LBL.7077 or 270.924.2000.
Follow LBL on Twitter @LBLScreechOwl or @LandBtwnLakes. USDA is an equal opportunity provider and employer.