Clarksville, TN – It took a playoff for a winner to emerge from the eight elite golfers Sunday afternoon in the final round of the Mann, Smith & Cummings Tournament of Champions at Swan Lake Golf Course.
The leaders from the 1st round, two-time former champion Brian Balthrop and UT-Martin standout Tyler Guy, went to extra holes after finishing the two regulation rounds tied at 136. Both hit solid approach shots on the second playoff hole that set up short putts for birdies. However, Balthrop's putt lipped out and he had to settle for par. Tyler Guy lined seized his opportunity, and after making his birdie putt, the Tournament Championship was his.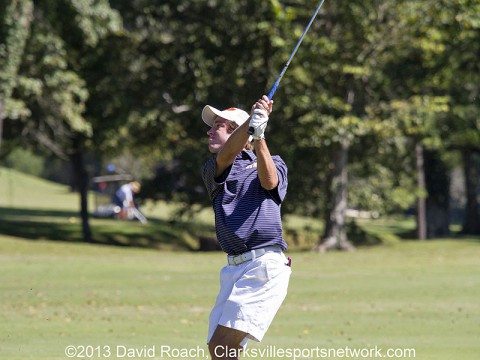 "It means a lot. This is the strongest field we have," Guy said. "It is the smallest, but it's the strongest because it is the top 8 players in the city that play. It's the first city tournament that I've won other than the 2-man. To win this one means a lot. Battling Brian all day, it was a lot of fun going back and forth."
After shooting a 3 under par round of 68 on day one, Guy started the second day as leader, one stroke ahead of Balthrop and within 3 shots of both Tyler Phillips and Hunter Richardson. He shot 3 under on the front nine and had a 3-shot lead going into 14.
However, Guy hit his tee shot on 14 out of bounds and double-bogeyed the hole. Balthrop capitalized on the opportunity and birdied the hole. The two were even going into 17. After 18, Balthrop had shot 4 under, improving his round 1 score by 2 shots and Guy had shot another 3 under.
"I didn't see that one coming," Guy said. "I tried to play it smart the whole way around today and keep it in the fairway, and make birdies and pars, not get in trouble and make any bogies. When your four up with 5 to play, you don't think that you are going to be going into a playoff. That is the last thing on your mind."
As the winner of this tournament the last two years, Balthrop was ready for an opportunity to make it three in a row.
"We both played really good on the front. Tyler shot 3 under and I shot 2 under," Balthrop said. "All day I knew I needed to have a key moment in the round to get some momentum back. That came on 14. He had a mistake and he hit one out of bounds. It opened the door and gave me a chance to get back in it. I was able to capitalize with a birdie."
Spectators enjoyed watching all eight players play as well as the final battle between Guy and Balthrop. The two players who finished the day after a playoff enjoyed the competition as well.
"I shot a 67 today. I can't be upset," Balthrop said. "Any other day, that is probably good enough to win. But it just so happened we tied and went to a playoff. I had a really good chance at the second hole and lipped out that birdie putt. He was able to make it. Great for him. He played very well. I think he only missed maybe one shot all day. He played exceptionally well. I can't be upset."
This was Guy's second time participating in the Tournament of Champions.
"I just got fortunate a couple of times and some good breaks. Luckily it turned out in my favor."
Tournament of Champions Scores
Tyler Guy …………..68 / 68 – 136
Brian Balthrop ……. 69 / 67 – 136
Tyler Phillips ………70 / 73 -143
Hunter Richardson .. 71 / 74 -145
Justin Burney ……. 73 / 76 -149
Graham Sleigh …… 77 / 75 -152
Jamie Webb ……… 80 / 79 -159
Corey Cornell ……..84 / 77 – 161