Charlston, IL – Austin Peay State University's volleyball team saw a two-set lead dissipate before it fell in five sets (25-23, 28-26, 22-25, 16-25, 11-15) to Eastern Illinois, Friday night, in Ohio Valley Conference at Lantz Arena.
Austin Peay (8-15, 5-2 OVC) has struggled on the road this season with just one win in seven previous road outings.
The Lady Govs entered this road trip shorthanded as senior Calyn Hull was ruled out for the weekend after suffering a lower-body injury during practice Thursday.
Still Austin Peay entered Friday's contest with a four-match OVC win streak and plenty of momentum.
The Lady Govs needed all of that momentum to win the match's first two sets as they pulled out the victory in the final points each time. Austin Peay trailed 23-22 in the opening set but rallied with back-to-back kills from senior Lauren Henderson and junior Liz Landon to gain set point, which they won courtesy a block by Landon and sophomore Samantha Strother.
The Lady Govs were in deeper trouble in the second set, facing a set point a 24-22. Henderson single-handedly tied the set with consecutive kills. Austin Peay would fend off two more set points before freshman Sammie Ebright and Strother put together back-to-back kills to give APSU a 27-26 lead. Eastern Illinois would hand the Lady Govs the set with an attack error on the next point.
Austin Peay could not find a way to escape its fate in the third and fourth sets. Eastern Illinois scored five consecutive points in the third set to turn a 20-18 APSU lead into a 23-20 EIU advantage. Austin Peay would fend off one set point but Eastern Illinois' Amy Martin secured the set with a kill for the 25-22 win.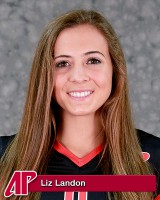 After three hard-fought, see-saw affairs, Eastern Illinois controlled the fourth set in wire-to-wire fashion. The Panthers grabbed an 8-3 lead and held that advantage en route to the 25-16 victory to tie the match a two sets each.
Austin Peay got out to a 3-1 lead in the decisive fifth set, but it could not hold the lead as Eastern Illinois tied the set at 6-6 with a 3-0 run. The Panthers would take their first lead at 8-7 and scored the next point after the changeover to grab a 9-7 advantage. Austin Peay could not erase that deficit and EIU closed with a 4-2 run to post the 15-11 victory.
The Lady Govs have relied on their front-row defense to stymie opponents during their 5-1 OVC start and it opened the EIU match with five blocks in the first set and three in the second to help win both frames. However, Austin Peay would record just five blocks in the final three sets, including none in the fourth frame, and saw its lead evaporate.
"Our blocking helped us win the first two sets," said Lady Govs head coach Taylor Mott. "Offensively, we made too many hitting errors so a strong defensive effort was necessary. We got that in the first two sets but it disappeared in the final three sets. That allowed Eastern Illinois' offense to find a rhythm and with our offense having an off night it wasn't a good combination."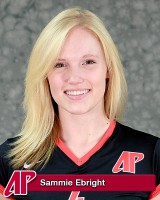 Austin Peay was held to 62 kills and posted just a .172 attack percentage. Landon led the Lady Govs with a career-high 17 kills. Henderson had 13 kills, a team-best .458 attack percentage and posted eight blocks. Ebright also had 13 kills. However, junior Jada Stotts was limited to 10 kills while committing 11 attack errors on 48 attempts.
Eastern Illinois posted 69 kills and a better .217 attack percentage. Reynae Hutchinson led the Panthers with 22 kills and a .217 attack percentage. Chelsea Lee added 14 kills and Lexi Brown chipped in 10 kills.
Austin Peay continues its road trip with a 2:00pm, Saturday OVC contest at SIU Edwardsville.
Box Score
Austin Peay vs Eastern Illinois
(October 18th, 2013 at Charleston, IL)
Austin Peay
ATTACK
SET
SERVE
SRV
DEF
BLOCK
GEN
##
Player
SP
K
E
TA
PCT
A
SA
SE
RE
DIG
BS
BA
BE
BHE
Points

1

FIELDS, Cami

5

0

1

1

-1.000

27

0

0

0

9

0

0

0

3

0.0

4

EBRIGHT, Sammie

5

13

6

39

.179

0

0

0

0

6

0

1

0

0

13.5

8

LANDON, Liz

5

17

7

39

.256

1

0

1

0

6

0

4

2

0

19.0

10

STROTHER, Samantha

5

5

4

19

.053

2

0

0

0

1

0

2

0

0

6.0

12

HENDERSON, Lauren

5

13

2

24

.458

2

1

2

0

3

2

6

2

0

19.0

14

STOTTS, Jada

5

10

11

48

-.021

1

0

2

1

17

0

2

0

0

11.0

3

ADAMS, April

5

0

0

0

.000

2

0

0

0

14

0

0

0

0

0.0

5

BALES, Lizzy

5

0

0

0

.000

0

1

0

0

11

0

0

0

0

1.0

7

MARSELLIS, Aubrey

5

4

0

10

.400

26

0

0

0

2

1

5

2

1

7.5

13

LITCHFIELD, Syd

5

0

0

0

.000

0

1

0

2

2

0

0

0

0

1.0

Totals

5

62

31

180

.172

61

3

5

3

71

3

20

6

4

78.0

TOTAL TEAM BLOCKS: 13.0
TEAM ATTACK BY SET
Set
K
E
TA
Pct
Sideout
Pct

1

13

6

40

.175

14-24

58%

2

17

8

38

.237

15-26

57%

3

12

5

43

.163

14-25

56%

4

13

8

41

.122

13-25

51%

5

7

4

18

.167

8-15

53%

64-115

55%

SET SCORES
1
2
3
4
5
TEAM RECORDS

Austin Peay

(2)

25

28

22

16

11

8-15 (5-2 OVC)

Eastern Illinois

(3)

23

26

25

25

15

10-10 (4-3 OVC)
Eastern Illinois
ATTACK
SET
SERVE
SRV
DEF
BLOCK
GEN
##
Player
SP
K
E
TA
PCT
A
SA
SE
RE
DIG
BS
BA
BE
BHE
Points

2

LEE, Chelsea

5

14

9

43

.116

1

0

0

1

6

1

4

2

0

17.0

7

HUTCHINSON, Reynae

5

22

9

60

.217

5

0

1

2

11

0

2

0

0

23.0

9

ARNOLD, Stephanie

5

6

1

12

.417

0

0

0

0

1

0

7

1

0

9.5

10

BRADBURY, Marah

5

7

3

20

.200

52

0

1

0

15

0

4

0

1

9.0

11

ROGGEMANN, Kelsey

4

4

3

10

.100

0

0

0

0

0

0

2

2

0

5.0

15

BROWN, Lexi

5

10

3

26

.269

0

0

0

0

4

0

2

0

0

11.0

6

WALLACE, Stephanie

5

0

0

1

.000

3

0

0

0

14

0

0

0

0

0.0

8

SPRINGER, Dakota

5

0

0

0

.000

4

2

0

0

9

0

0

0

0

2.0

12

BROOKE, Kelsey

5

0

0

1

.000

1

1

3

0

14

0

0

0

0

1.0

19

MARTIN, Amy

3

6

1

11

.455

0

0

2

0

1

0

3

0

0

7.5

Totals

5

69

29

184

.217

66

3

7

3

75

1

24

5

1

85.0

TOTAL TEAM BLOCKS: 13.0
TEAM ATTACK BY SET
Set
K
E
TA
Pct
Sideout
Pct

1

14

8

51

.118

13-24

54%

2

15

8

38

.184

15-28

53%

3

18

8

44

.227

14-22

63%

4

13

2

33

.333

14-17

82%

5

9

3

18

.333

8-11

72%

64-102

62%

Site: Charleston, Ill. (Lantz Arena)
Date: Oct 18, 2013 Attend: 364 Time: 2:08
Referees: Felix Madera, Eric Bulmahn
Ohio Valley Conference contest …
… 35th meeting between Panthers & Lady Govs
2013 Homecoming Weekend


| | | | | | | |
| --- | --- | --- | --- | --- | --- | --- |
| | 1 | 2 | 3 | 4 | 5 | Total |
| Tie scores | 13 | 6 | 9 | 1 | 4 | 33 |
| Lead changes | 7 | 1 | 5 | 0 | 4 | 17 |