Clarksville, TN – On October, 18th, 2013, at 12:44 hours, an Officer, with the Clarksville Police Department, observed a blue GMC Sonoma, driving erratically, northbound on Fort Campbell Boulevard, near Concord Drive, making quick lane changes, from left to far right, and back several times.
The vehicle was stopped at a traffic signal, several vehicles ahead of the Officer, at Fort Campbell Boulevard and 101st Airborne Division Parkway.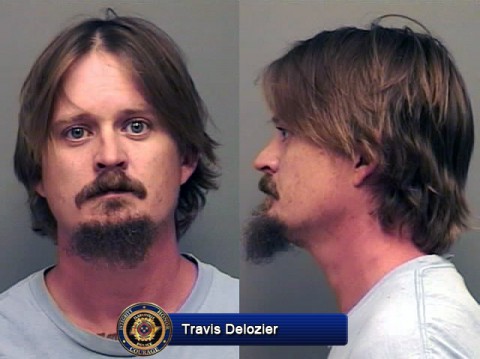 Once through the signal, the vehicle, again, changed lanes from the right side to left, pulling into the continuous left turn lane near Riner Furniture.
The vehicle re-entered traffic northbound and the Officer initiated a traffic stop, at 2006 Fort Campbell Boulevard.
The driver, identified as Travis Delozier, 30 years of age, of Clarksville, TN, stated he had been involved in an incident northbound along Fort Campbell Boulevard, with another vehicle, that had cut him off, and the other driver cursed at him.
A 911 emergency call was placed during the traffic stop by the other party, a juvenile, who advised that the blue truck had been trying to ram him off the road and, while stopped at the intersection at 101st Airborne Division Parkway, the driver had exited his vehicle and approached the victim with a knife, attempted to enter his vehicle, and threatened to assault him.
A knife was located in Delozier's blue GMC Sonoma and he was taken into custody, charged with Aggravated Assault and Simple Possession.
Travis Delozier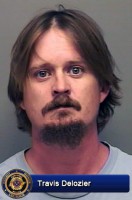 Name: Travis Delozier
Date of Birth: 2/ 16/ 80
Gender: M
Race: W
Given Address: 798 Sugarcane Way, Clarksville, TN
Arresting Officer: Melissa Spielhagen
Charged With: Aggravated Assault and Simple Possession
Booked Into: Montgomery County Jail
Bond: $2,250.00