Clarksville, TN – On Friday, October 11th, 2013, six Officers, from the Clarksville Police Department graduated, from 10 weeks, at the Tennessee Law Enforcement Training Academy (TLETA).
Along with the success of graduating, three of the six Officers were recognized for their accomplishments.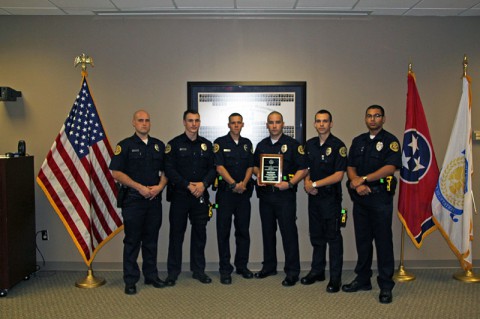 Out of 82 students, at the academy, from multiple law enforcement agencies in Tennessee, Officer Zachary Forfang was recognized for the Outstanding Officer Award; Officers JT Knoblock and Robert Ervin III earned the right to be added to the Physical Training Wall; and Officer Robert Ervin III was the Vice-President.
We want to congratulate all these Officers for successfully graduating the academy and welcome them into 16 weeks of Field Training.
Officers, straight out of Academy, are trained by experienced Field Training Officers before they go out on their own.